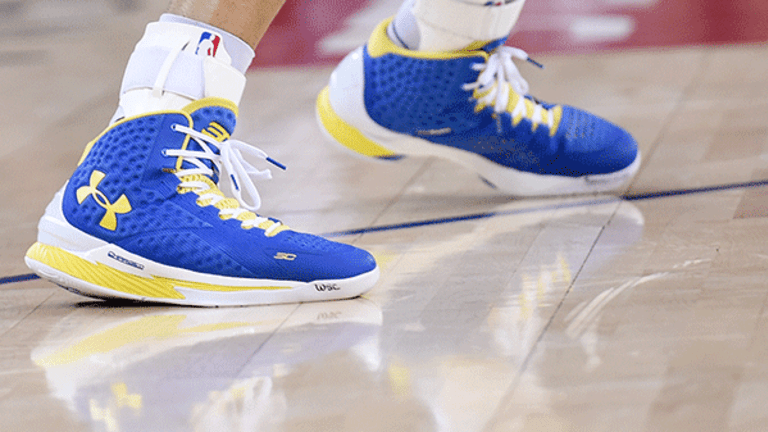 Publish date:
Under Armour Is Under Water
Under Armour stock has taken a beating. Should investors stay away?
Under Armour stock has taken a beating. Should investors stay away?
Shares of Under Armour (UA) - Get Under Armour, Inc. Class C Report (UAA) - Get Under Armour, Inc. Class A Report look to end the year down 27%. The shares have really taken a beating. Can Under Armour get back in the game?
In October, I previewed the third quarter and said I would sit on the bench and wait to see how the quarter plays out.
On Oct. 25, Under Armour reported third-quarter earnings of 29 cents per share, 4 cents better than the consensus estimate. Revenue rose 22.1% to $1.47 billion. Wholesale revenue rose 19% to $1.01 billion and direct-to-consumer grew 19% to $408 million.
In a few days, the stock lost 19% of its value as investors cried foul.
Third-quarter gross margin fell 130 basis points to 47.5% as the company blew out excess inventory and increased promotions. If that wasn't bad enough, the company guided to fourth-quarter revenue growth to just 20% or approximately $1.4 billion vs. the consensus estimate of $1.43 billion. If you recall, last year, the fourth quarter grew 30.8%, so that 20% number is a big disappointment.
Management sees fourth-quarter operating income in the range of $186 million to $191 million, representing just 5% to 8% growth over the year earlier.
Management kept its fiscal 2018 revenue goal at $7.5 billion, but that implies the company will post growth in the 23% to 24% range for 2017 and 2018. Under Amour is expected to end fiscal 2016 with revenue of $4.9 billion.
Under Amour is expected to announce its fourth-quarter and year-end results on Jan. 31. (Note: Under Armour changed its stock symbol to UAA on Dec. 7. UAA has voting rights, so that's the symbol we will use to trade.)
To me, management's forecast looks increasingly unlikely. First, the company has to re-accelerate the top line. But revenue growth is clearly slowing. In fiscal 2014, the company posted revenue growth of 32.3%. This year it will be lucky to do 24%. Analysts think the company can do 24% revenue growth in 2017, but the company is up against tough comparisons in the first half. Last year, Under Armour grew revenue by 30.2% in the first quarter and 27.7% in the second quarter.
Second, Under Armour has to jump-start margins. Lower product gross margins and higher expenses are squeezing operating margins. Gross margin will be down about 100 basis points this year from last and operating expense will be up 60 to 80 basis points.
To reach the earnings "growth" numbers analysts are looking for, Under Amour is going to have to buy back a lot of stock.
A lot of analysts have assumed Under Armour would simply bounce back from the Sports Authority bankruptcy and liquidation. But Sports Authority was just 3% of Under Armour's revenue. There is something more going on than just the bankruptcy of Sports Authority.
Last week, Nike (NKE) - Get NIKE, Inc. (NKE) Report "beat" analyst estimates by 7 cents, but most of the beat came from a sharp reduction in expenses, which drove operating margins 270 basis points higher. Combined with a lower tax rate, management was able to find the extra 7 cents. Gross margins fell 140 basis points to 44.2% and inventories rose 9%. Furthermore, Nike said gross margins would remain under pressure.
Business doesn't seem to be rebounding at Nike either.
I would steer clear of Under Armour until management can get its head back into the game.
This article is commentary by an independent contributor. At the time of publication, the author held no positions in the stocks mentioned.