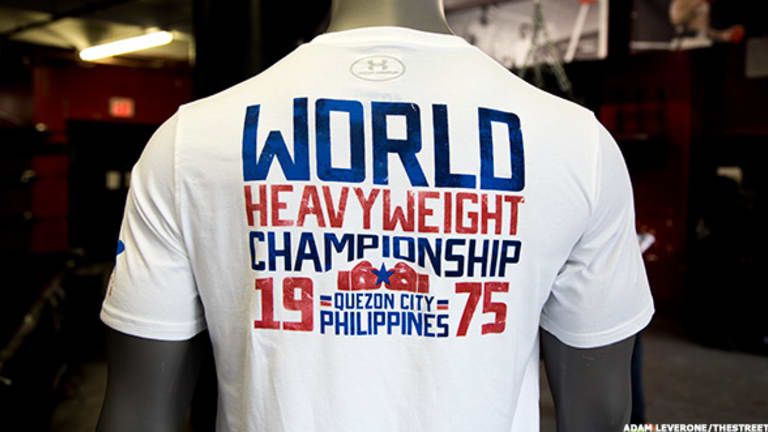 Under Armour Continues to Embarrass Nike
Under Armour (UA) is scoring big deals, much to Nike's (NKE) dismay.
Under Armour (UA) is scoring big deals, much to Nike's (NKE) dismay.
When it comes to inking headline grabbing sports marketing deals, scrappy Under Armour (UA) - Get Report continues to embarrass its larger opponent Nike (NKE) - Get Report in the ring.
The latest major win for Under Armour came on Monday, as it confirmed a 10-year deal with Major League Baseball to be the exclusive provider of all on-field uniform components, including jerseys featuring Under Armour branding, for all 30 Major League Baseball teams. It's the first time Under Armour has landed a uniform deal with an entire pro sports league.
Under Armour will also provide exclusive connected fitness offerings -- likely wearable devices and specially tailored apps -- to MLB teams. The deal kicks off for the 2020 MLB season. Terms of the contract weren't disclosed.
In short, score another whale of a deal for Under Armour that will give it high visibility among consumers globally. Nike, once again, is left out in the cold.
Under Armour signed a 15-year, $280 million sponsorship contract in late May with one of the most iconic college sports programs in the country -- UCLA. The university will reportedly receive $15 million in cash up front from Under Armour and will subsequently be paid approximately $11 million annually in rights and marketing fees.
Under Armour agreed to supply roughly $7.4 million worth of clothing, shoes and equipment each school year and contribute an additional $2 million over the next eight years for upgrades at facilities such as the Morgan Center and the Acosta Athletic Complex.
The deal is reportedly the most lucrative in the history of college sports. Nike set off a spending frenzy for college sponsorship deals last summer. First was a deal with Michigan at a then-record $169 million, followed by Texas at $250 million and finally Ohio State at $252 million. Under Armour previously signed a 10-year sponsorship extension with the University of Maryland, which is where founder Kevin Plank went to school.
But splashy college -- and now MLB -- deals isn't the only area where Under Armour has been able to close ranks with its nemesis. It has developed a knack for signing up and coming pro athletes to help market its wares, and at the same time dipped its toes into Hollywood for an assist in moving athletic clothes out the door.  
After Nike bungled the negotiations, Under Armour signed Golden State Warriors star Stephen Curry in October 2013 for a reported $4 million. In September last year, the company extended its contract with Curry to 2024 and gave him an equity stake.
Meanwhile, in January last year Under Armour scrapped the remaining two years of an endorsement deal with golfer Jordan Spieth and signed him to a new 10-year deal.
To kick off 2016, box office star Dwayne "The Rock" Johnson and Under Armour announced a long-term marketing deal under which the apparel maker will design products including footwear, apparel and accessories inspired by Johnson's current films. Under Armour is preparing a major product push with Johnson in early 2017 after finding early success with a line backpacks and t-shirts.
As for the next battleground between the two companies? It may be a war over top talent in Nike's long-time backyard of Portland, OR. Under Armour is on track to open its sprawling new global headquarters in the region in the spring or summer of 2017.