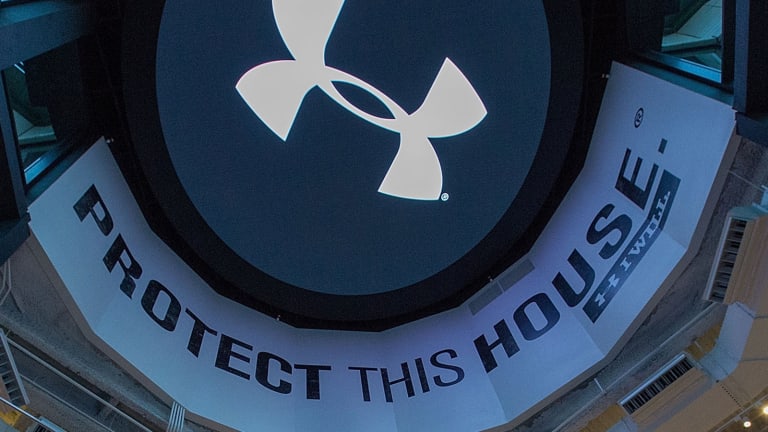 Under Armour Founder Kevin Plank: We Are Getting Better Every Single Day
Under Armour shares surge following the release of fourth-quarter earnings. Is the performance apparel and sneaker company on the road to recovery? TheStreet talks with founder and CEO Kevin Plank.
Has Under Armour Inc.  (UAA) - Get Under Armour, Inc. Class A Report turned the corner after a tough 2017? Founder Kevin Plank -- and Wall Street -- thinks the answer is yes.
"We are getting incrementally better every single day, and we are feeling that right now," Plank told TheStreet in an interview. "We are certainly not declaring victory and waving flags at this point --  it's a journey, but we feel good about it."
Under Armour shares exploded 18% on Tuesday as fourth-quarter sales rose 5% from the prior year to $1.4 billion, beating Wall Street estimates of $1.31 billion. Excluding one-time items, Under Armour's bottom line came in at break-even for the quarter, in line with forecasts. 
The company's performance by segment seemed to temper some of Wall Street's concerns on the year ahead, as did a fresh round of restructuring designed to save costs.
Footwear sales popped 9% on the back of strength in running shoes, and the gains came despite weakness in the company's once-hot basketball category. Accessories and apparel sales gained 6% and 2%, respectively. 
Under Armour said it will spend an additional $110 million to $130 million in 2018 related to various restructuring actions. In 2017, the company spent about $129 million on restructuring. 
"In a nutshell, the brand is very strong and is still in the early innings of global growth -- the top-line is starting to trough and margins are improving, which means upward earnings per share revisions will start to materialize," Jefferies analyst Randal Konik wrote. "With valuation compressed and overly-negative sentiment, we see a buying opportunity with significant upside."
Konik has a buy rating on Under Armour with a $24 price target, projecting a 41% increase from current levels. 
Said Plank, "We just need to build a great company. If we build a great company Wall Street will get everything it's looking for."
So far, so good on that 2018 mission.
Did you miss Morning Jolt today? Why did you? We had an exclusive call with PepsiCo (PEP) - Get PepsiCo, Inc. Report CFO Hugh Johnston after earnings.