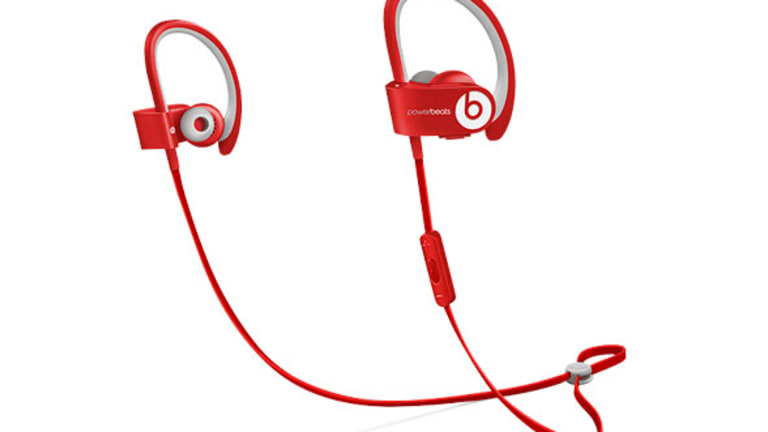 Under Armour, Apple Battle Over Wireless Headphone Market This Holiday Season
Consumers in the market for wireless headphones will have a number of choices this year.
Under Armour (UA) - Get Under Armour, Inc. Class C Report will be trying to capture some sales from Apple's (AAPL) - Get Apple Inc. (AAPL) Report well-known headphone brand Beats this holiday season.  
Under Armour's $199.99 UA Sport Wireless Heart Rate edition headphones that it developed alongside JBL mark the athletic wear maker's initial foray into the music listening category. The big selling point with Under Armour's gadget: it tracks your heart rate by simply tapping on the right side earpiece.
Meanwhile, Apple isn't sitting on its hands this holiday season when it comes to headphones, which are a segment of the growing electronics market as more people strive to work. Although Apple recently delayed its unusual looking new wireless AirPods, the company's Beats brand will sell its new PowerBeats 3 wireless headphones, also for $199.99.
TheStreet put each company's headphones to the test to see which one deserves to be in your shopping cart.  
Headphone Battle: Under Armour vs. Apple
It's not that the PowerBeats are ugly, it's just that UA's look much better.
Look
Winner:Under Armour
Under Armour has set one basic expectation into the minds of consumers with anything it puts out: in addition to enhancing performance on the field or gym, what is sold will probably look pretty cool. These headphones deliver.
The Under Armour headphones are absent the chunky piece of plastic that holds the new PowerBeats 3 wireless headphones together. Also, they come with a tiny clip that fixes the wire of the headphones to a piece of clothing for extra stability during a workout or run. It seemed to work better in our testing than the adjustable PowerBeats drawstring. 
Who are we to argue with basketball legend LeBron James.
Sound
Winner: Beats
Beats revolutionized the headphone market by keying in on people's love for heart-thumping bass. Suffice it to say, the PowerBeats 3 delivers up to the brand's lineage even though a portion of the bass is drowned out.  
On the other hand, Under Armour's wireless headphones didn't impress me with their listening experience.
While certainly crisp and nicely static free for a Bluetooth-enabled device, the headphones lacked that pounding bass that is always a workout motivator. Adjusting things such as bass and treble aren't an option on the headphones, but we wish they were -- especially while testing the headphones lifting weights in the noisy gym and on the streets of New York during a run.
Yes, I adjusted higher the base settings on my iPhone's EQ. There was no discernible difference.
Tap your ear with Under Armour's new headphones, get a heartbeat reading. Great feature.
What You Pay For
Winner: Tie
Beats had an easier hurdle relative to Under Armour to clear here: its headphones are known for simply sounding great. It jumped over that hurdle with ease.
As for Under Armour, its headphones have three big selling points. The first is they can track your heart rate in real time by simply tapping on the right earbud. I found this feature to be a great addition to a pair of headphones.
The device detected my heart rate relatively quickly via a light tap on the earbud and continued to track it consistently throughout a two-hour workout. It was nice not to have to look down at my Apple Watch to get a heart rate reading, nor open an app. If anything, the heart rate monitor under-reported the heart rate reading on my Apple Watch -- but it felt like a truer measure based on the activities I was performing at the time.
The second feature is that somewhat pesky silicon wraps are supposed to thwart off sweat and prevent internal corrosion of the earbuds. They seemed to deliver on this promise. Finally, the headphones integrate easily with Under Armour's various workout apps such as UA Record. No problems getting that to work, either.
Under Armour's headphones need work on battery life.
Battery Life
Winner: Beats
The PowerBeats 3 claim 12 hours or so of battery life. They also offer what Beats calls a "Fast Fuel" charge: plugging the headphones in for five minutes is supposed to equal one hour of play. Although we were very skeptical of both claims heading into the review, the Beats surprised by delivering on both fronts. In short, the PowerBeats 3 never seemed as if they wanted to die.   
Unfortunately, it was the opposite for Under Armour. 
We appreciated the headphones sending us voice reminders that the battery was running low (they actually freak you out a bit while listening to music). But, the reminders came all too often.
According to Under Armour, the headphones are supposed to last five hours on a full charge. But they conked out on me during an almost two-hour trip into New York in which electric dance music was playing consistently via Pandora. They lasted about three hours on average.
The narrow win goes to Beats.
The Verdict
Overall Winner: Beats
The better sound quality and longer battery life of the PowerBeats 3 were too much to ignore. But that doesn't mean Under Armour's first crack at headphones isn't worthy of serious consideration while wandering a Best Buy (BBY) - Get Best Buy Co., Inc. Report store in December.  
In typical Under Armour fashion, it found a hole in the marketplace (heart rate sensor in your ear) to exploit and something that could be done better (preventing sweat from destroying expensive headphones). The sound quality and battery life needs to be improved, however, and I know Under Armour could do better on both fronts.
The company delivers on its sales pitch and the headphones are priced competitively to other wireless headphones that don't include a heart rate monitor or integration with helpful fitness apps.