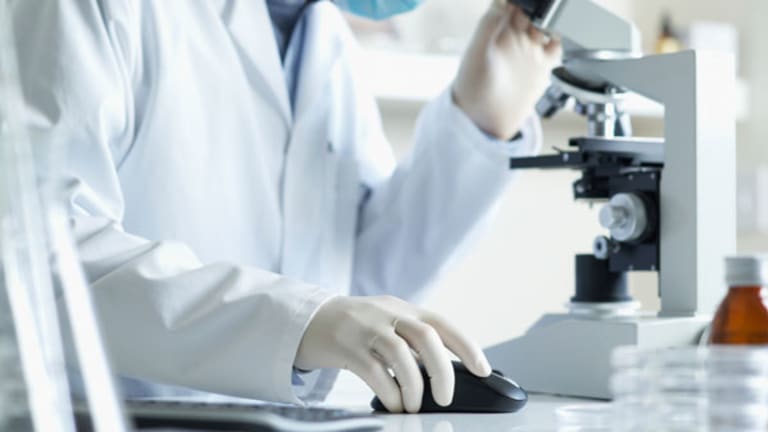 Unconfirmed PML Cases Dent Biogen, Elan
A conference call does little to allay investor fears that more incidents of the serious brain infection could emerge in Tysabri patients.
Senior writer Adam Feuerstein contributed to the reporting of this article.
Shares of
Biogen Idec
(BIIB)
and
Elan
(ELN)
sank deeper Friday on investor fears that additional cases of a serious brain infection in patients taking multiple sclerosis drug Tysabri may surface in the near future.
On a conference call early Friday to discuss the
of progressive multifocal leukoencephalopathy (PML) tied to Tysabri treatment, Biogen Idec officials refused to disclose or discuss the number of Tysabri patients overall suspected to be afflicted with the serious and potentially fatal brain infection.
Biogen shares were sinking $18.16, or 26%, to $51.60, while Elan shares were plummeting $8.89, or 44%, to $11.16, in recent trading Friday.
There are currently 12 suspected cases of PML involving Tysabri patients detailed in the U.S. Food and Drug Administration's Adverse Event Reporting System (AERS) database.
Copies of this database information noting the suspected PML cases have circulated for weeks among some institutional investors. When Biogen reported no new PML cases on its July 22 earnings conference call, however, it appeared as if these suspected incidences of PML were false alarms.
The two confirmed PML cases announced Thursday have reignited fears that some of these other possible PML cases might also turn into the harmful disease. The fact that Biogen won't say how many suspected cases of PML exist or how many have turned out to be negative creates uncertainty as to the real incident rate of PML in Tysabri patients.
That unknown is weighing on shares of Biogen Idec and Elan.
Biogen spokeswoman Naomi Aoki declined to provide any more specifics about the suspected PML cases, stating that a "vast majority of suspected cases are not PML but are part of the
effects of multiple sclerosis. But we don't want to get into the whole business of discussing suspected cases."
The two cases of Tysabri-related PML, disclosed in a regulatory filing Thursday, are the first confirmed reports since approval of the multiple sclerosis drug in the EU and the re-entry of the drug into the U.S. market two years ago.
The patients were on Tysabri for 17 months and 14 months, respectively. One is clinically stable and ambulatory at home and the other is hospitalized.
PML is caused by a virus that damages the white matter of the brain. In healthy people, the virus lays dormant and isn't dangerous, but it can be reactivated in people with weakened immune systems.
Tysabri was previously removed from the market after being linked to three cases of PML. The drug was subsequently relaunched with a label that warns doctors and patients about the risk of PML.
"We've said in the past, and the FDA has also said, as is clearly stated in our label that we've anticipated seeing additional cases of PML," Biogen spokeswoman Aoki said Thursday night. The label currently indicates that the expected rate is 1 occurrence in 1,000 patients, which was calculated at the time of the drug's reintroduction to the market.
According a survey conducted in October 2007, physicians indicated that they may reduce Tysabri usage by 26% in the instance of a PML case, according to Citi analyst Yaron Werber, who has a hold rating on the stock. "We thus expect slowdown in Tysabri weekly growth rate and possibly scaling back in usage. However, we believe the damage will really depend if this is the first two cases of many to come and what the true incidence will be."
As of the end of June, more than 31,800 patients were on commercial and clinical Tysabri therapy worldwide. Deutsche Bank analyst Mark Schoenebaum estimates that there are 14,000 patients who have been on the drug for more than a year. Considering there have been four PML cases observed in MS patients and one in a Crohn's disease patient, it is not in excess of the rate indicated on the label.
Still, despite the fact that PML is a known risk-factor with Tysabri, Jeffries analyst Adam Walsh, like Citi's Werber, says that a survey he's conducted suggests that two new cases of PML would lead to an abrupt and sustained decrease in Tysabri use amongst MS doctors.
The survey shows a relatively steep drop-off in Tysabri use with each additional new case of PML. This is in contrast to consensus belief that physicians will be comfortable using Tysabri so long as the rate of PML is no greater than described in the label (i.e. 1/1000), writes Walsh. The analyst has a hold rating on the stock and decreased his price target to $50 from $71.
The company said on the Friday call that its guidance for 100,000 patients on the drug by 2010 -- which Wall Street has already viewed as ambitious -- does include expected cases of PML as is indicated on its label.
"We have
the TOUCH safety program in the U.S. and we have a risk management program in Europe, and we've done a lot of work to make sure that treating physicians know how to spot signs of it," says Aoki. "Our feeling has been that heightened clinical vigilance is the best way to monitor for PML and that certainly was the case with these two patients."
Tysabri isn't alone when it comes to instances of PML. There have been a number of other immunosuppressant drugs linked to PML, notes Summer Street's Carol Werther, including
Genentech
(DNA)
and Biogen Idec's Rituxan. Also, the Food and Drug Administration issued
a communication
on May 29, following a review of postmarketing reports of PML in patients who took
Roche's
CellCept and
Novartis'
(NVS)
Myfortic, drugs used to keep the body from rejecting transplant organs.
Meanwhile, as Elan and Biogen got hammered further Friday, shares of
Teva Pharmaceutical
(TEVA)
-- which markets Copaxone, an MS drug with a different mechanism of action from Tysabri -- got a nice boost, climbing $1.49, or 3.3%, to $46.22 in recent trading Friday.