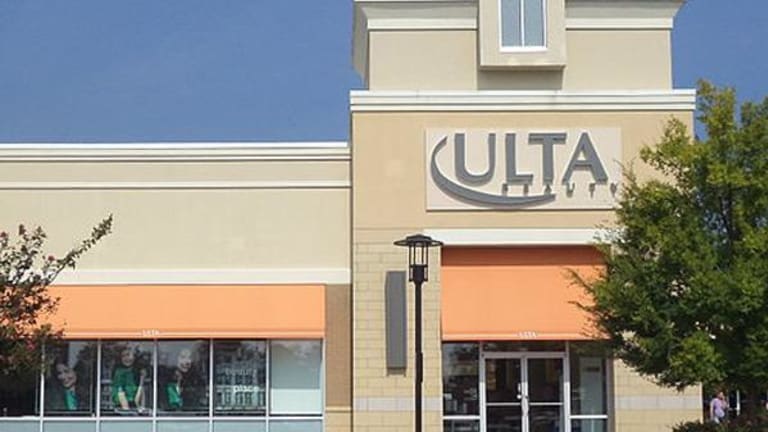 Ulta Beauty Rips to an All-Time High After Strong Quarter -- Here's the Trade
Shares hit a record on better than expected first quarter earnings.
Ulta Beauty (ULTA) shares popped as much as 5% in after-hours trading Thursday as first quarter earnings trounced estimates. 
Can Ulta stay pretty or will things get ugly?
Earnings came in at $2.05 a share vs. estimates for $1.80 a share. Same-store sales surged 14.3% compared to analyst forecasts for an 11.1% increase.
This year looks to be another strong one of growth. Last year, total sales increased 23.7%, total comparable sales jumped 15.8% and EPS rose 30.9%. The company even found a way to increase salon sales, which advanced 15.2% to $241.1 million.
Ulta ended fiscal 2016 with 974 stores and square footage of 10.3 million, representing an 11% increase over the fourth quarter.
At the company's analyst day last October, Ulta was on track to end fiscal 2016 with over 20 million loyalty program members. Loyalty rewards drive customer retention, differentiation and helps to drive customers in the door. ULTA's loyalty program is one element that keeps Ulta Beauty out of the clutches of Amazon (AMZN) , especially when it comes to replenishment of beauty products.
There are more than 70,000 places to buy beauty products in the U.S., including mass merchants, drugstores, grocery chains and department stores. The company's loyalty program works to keep "beauty enthusiasts" coming back for more.
In fact, 87% of women use skin products, 85% use fragrance and 83% wear make-up. And beauty enthusiasts do more than just replenish -- 57% spend more than 45 minutes getting ready for a typical day and 77% own more than 11 lip products. Over 91% own more than five make-up brushes.
Management believes there is plenty of opportunity ahead. The company estimates the beauty market at $127 billion in the U.S. alone and Ulta has just 4% of the market. In fact, the company estimates the services portion of the beauty market (such as salon services) is worth $53 billion and the company has a less than 1% share of that.
Beauty enthusiasts make up 57% of female shoppers and 77% of the money spent on beauty products. Ulta estimates there are 127 million females over 18 years old and it has just 16% market share of women and only 20% share of the 72 million beauty enthusiasts.
Ulta's Platinum members get even more perks, including, early access to events, appreciation days, larger discounts, and store samples to name a few.
The company is using its loyalty program to drive sales. For example, when Urban Decay launched a new lip line, the company dove into its database to find loyal Urban Decay users as well as its top lip buyers who had not previously purchased Urban Decay. Ulta mailed 150,000 free samples to members and ended up driving a 41% sales lift over the group of users who never received a mailer.
Ulta is not giving up on e-commerce sales either. The company has a plan in place to generate 10% of its total sales from e-commerce by 2019. Omni channel guests spend more. Indeed, while the online buyer only spends $112 in just two transactions, the Omni channel customer does an average of 10 transactions and spends $474 a year.
In terms of valuation, I believe ULTA can trade as high as $310, or 32 times fiscal 2018 EPS estimates of $9.79 by this time next year. I would look for selloffs and buy into weakness, since Ulta has a solid growth plan over the next few years.
Read More Trending Articles:
Amazon's Bookstores and Fire Sticks Are Great, but Here's What's Really Driving It Toward $1000
This article is commentary by an independent contributor. At the time of publication, the author held no positions in the stocks mentioned.