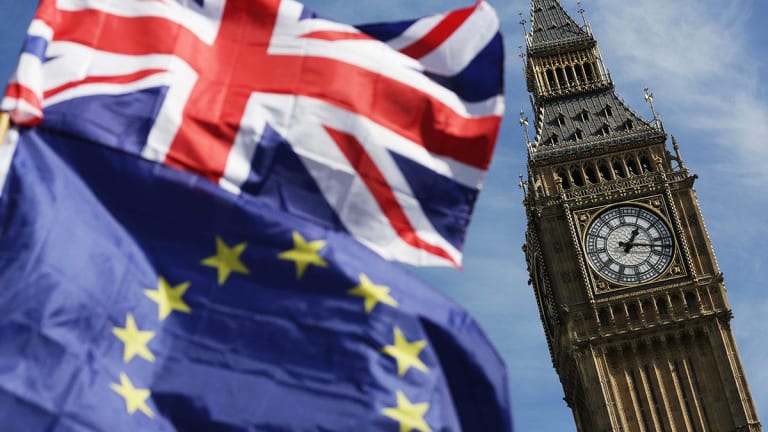 U.K. Pound Jumps Most in a Decade as Boris Johnson Closes In on Brexit Deal
The pound surged to its highest levels in more than three months Friday, extending a two-day gain of more than 3.7%, as investors reacted to news of a potential breakthrough in the long Brexit deadlock between Britain and the European Union.
The pound surged the most in more than a decade Friday, extending a two-day gain of more nearly 4%, as investors reacted to news of a potential breakthrough in the long Brexit deadlock between Britain and the European Union.
With just 20 days remaining until the U.K.'s Halloween deadline to leave the block, following two extension requests, myriad parliamentary votes, a national election and endless public debate since the Brexit referendum in June of 2016, investors seem more certain than ever that Prime Minister Boris Johnson can cobble together a pact that would win approval from lawmakers and home and EU officials in Brussels.
Johnson met with Irish Prime Minister Leo Varadkar yesterday in a small hamlet town near Liverpool in a last-ditch attempt to reach at least some common ground with the Republic on the thorny issue of Northern Ireland's future once Britain leaves the bloc. The two men emerged from the talks, which come less than a week before a key EU Leaders' Summit in Brussels, claiming to have found a "pathway" to a deal that could be reached before the end of the month.
Their progress was matched by positive signals from the EU's chief Brexit negotiator, Michel Barnier, who had what his spokesperson called a "constructive meeting" with U.K. lawmaker Steve Barclay, who added "if there's a will, there is a way" towards reaching a prospective Brexit deal.
The pound was marked 1.92% higher on the session, the biggest single-day gain in more than 10 years, following a 2% gain yesterday, that takes it to a late June high of 1.2686 against an admittedly weaker U.S. dollar. 
U.S.-listed shares of U.K. banks, meanwhile, soared on Wall Street, with Royal Bank of Scotland (RBS) - Get Royal Bank of Scotland Group Plc Report rising 12.02% to $219.40 each and Barclays (BCS) - Get Barclays Plc Report gaining 7.36% to $160.18 each.
Significant barriers to a deal still remain, however, in so much as the inescapable fact that a deal which would satisfy Brexit-supporting lawmakers in Britain, who are keen on striking new trade deals once the country finally exits, is unlikely to pass muster with EU officials in Brussels, who must protect the integrity of the single market while ensuring there is no "hard border" between Northern Ireland and the Republic.
Avoiding the hard border, EU officials say, would leave Ireland, a single-market member, vulnerable to unsafe or unchecked goods, and have suggested that Northern Ireland remain in the EU Customs Union. 
Britain, for its part, has said that would effectively mean a border between itself and the Provence "along the Irish Sea", something it would not be prepared to allow.
Given that Gordian knot, Brexit success could depend largely on the opinion of lawmakers in the British territory, known as the DUP, who have both propped-up Johnson's now-minority government while insisting that Northern Ireland must not be separated, in any form or fashion, from the broader United Kingdom.
DUP leader Arlene Foster said earlier this week that the current plans to solve the Irish border issue would "trap Northern Ireland in the EU Customs Union forever", and insisted her party will "not accept any such ultimatum or outcome".