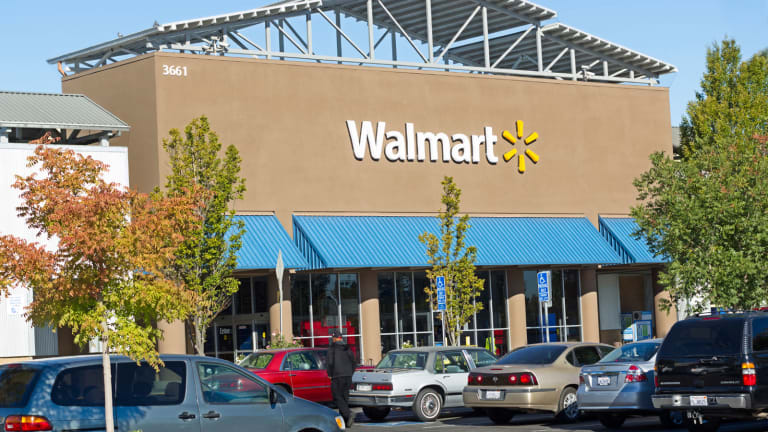 Walmart Shares Sank More Than 10% on Tuesday
The world's largest retailer still beat analyst expectations for revenue and same-store sales, however.
Could there be trouble in paradise?
Walmart Stores Inc.'s  (WMT) - Get Walmart Inc. Report   shares were down more than 10% at the end of trading on Tuesday after missing Wall Street forecast for earnings in its fourth quarter.
The company also reported an earnings per share (EPS) of $1.33 compared to the projected $1.37. Same-store sales and revenue, however, beat analyst estimates. Same-store sales rose 2.6%, compared to the expected 2.2% growth rate, and revenue reached $136.3 billion to the expected $134.9 billion.
The company cited restructuring charges, impairment from discontinuing certain real estate projects and loss on extinguishment of debt as among the negative impacts on EPS the past quarter. 
In the fourth quarter, its online sales also increased slower than previous rates: 23%, compared to 50% in its third quarter. Total sales, meanwhile, rose 4.1% from the same period last year to total $136.3 billion. 
In Walmart U.S., same-store sales rose 1.6%, while the average shopper ticket also grew 1%. 
"We're making real progress putting our unique assets to work to serve customers in all the ways they want to shop," CEO Doug McMillon said in a statement. "We're making decisions to position the business for success and investing to win with customers and shareholders."
For the entire fiscal 2017, revenue reached $500.3 billion, reflecting an increase of 3% compared to 2016. E-commerce rose 44% overall, while the company returned $14.4 billion to shareholders through stock buyback and dividends. 
Company CFO Brett Biggs said during the earnings call that the effective federal corporate tax rate for 2019 will be between 24% and 26%, due to the new tax law; before the change, Walmart's tax rate was 32.5%. He added that including the benefits of the tax change, the company expects a cash benefit of $2 billion for this year. "Our priorities for capital allocation remain unchanged," he added, offering no specifics. "We'll focus first on investing on our business and other growth initiatives."