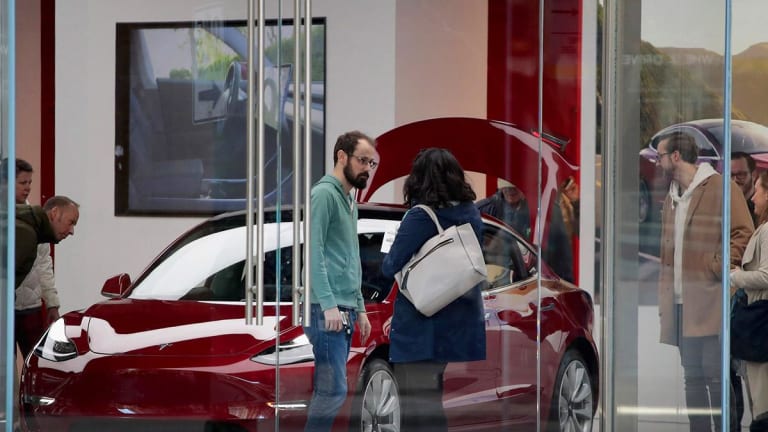 UBS Rips Apart Tesla's Model 3 and Finds Some Areas Seriously Lacking
Tesla is always a hot button topic on Wall Street. A new look at Tesla Model 3 quality by UBS raises some concerns.
The last thing Tesla (TSLA) - Get Tesla Inc Report needs right now are more stories about inferior Model 3 build quality. 
Unfortunately, UBS didn't care about that one. The investment bank tore apart a Model 3 from Nov. 2017 and found a host of build quality issues. The quality issues extended to their test drives.
"The engineers performed a fit & finish quality audit looking at 1,500-2,000 gap measurements in the vehicle in order to come up with an overall quality score. The Model 3 scored 2,390 which is in the below average range. In addition, the team independently rated the noise within the vehicle, finding the body/wind noise as "borderline acceptable." Neither score is impressive for a car that is priced at $49,000," says UBS analyst Colin Langan. 
While UBS acknowledges the test car was an early model and Tesla has since tried to address some issues, it came away thinking fixing Model 3 build quality won't happen easy. 
Adds Langan, "In our experts' opinions, the manufacturing issues around gaps and noise are much larger structural issues and do not lend themselves to being fixed quickly. Their view is that many of the issues have to do with the basics of stamping out frame parts or the attachment thereof, which requires extensive retooling investment and shutdown time to fix."
Top 7 Model 3 Build Issues Via UBS
Inconsistent gaps and flushness throughout the vehicle.
Missing bolts in certain parts of the vehicle (ex. driver side fender).
Usage of zip ties likely as a result of failed manufacturing processes.
Usage of multiple different bolts on the same system, driving potential assembly issues.
Loose tolerances on overall assembly (ex. glass rattles when doors are closed).
Excessive force required to close doors/trunks.
Lack of manual rear door handle. 
A Tesla spokesman had this to say about the report via an email to TheStreet:
"Our customer satisfaction scores for Model 3 quality have averaged about 90% since January, with steady improvement through the year, even as the number of cars delivered has rapidly multiplied. Tesla customers never have to worry because if they are unhappy with their car when they receive it, they can either give it back for a full refund, allow us to address any issues, or ask for an entirely new Tesla.
As of April 2018, the standard deviation of all gaps and offsets across the entire car had already improved by nearly 40% on average, with particular gap improvements visible in the area of the trunk, rear lamps and rear quarter panel. Today, Model 3 panel gaps are competitive with Audi, BMW, and Mercedes models, but in the spirit of relentless improvement, we are working to make them even tighter. Our goal is to produce a perfect car for every customer."
Read more about Tesla's future from TheStreet here.