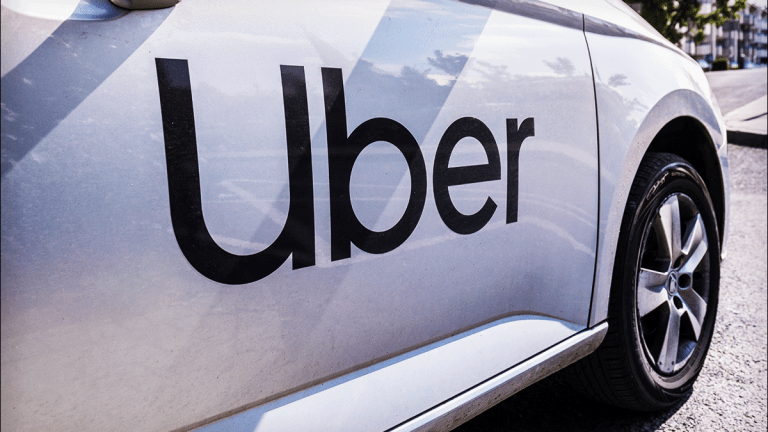 Uber Says It'll Be Profitable By 2021
Uber executives told investors that the company is focused on improving cost efficiencies across the business.
Uber says that profitability is around the corner. 
Shares of Uber (UBER) fell after the ridehailing giant posted its third-quarter financial results. Despite reporting a narrower-than-expected loss and better-than-expected revenue, Uber's stock dropped 5% in after-hours trading. 
On a shareholder call, Uber management told investors that it's primarily focused on improving efficiencies across the business and will be profitable on a consolidated basis for the full year 2021. 
Profits will arrive "as we see the benefits of global scale and efficiency," said Uber CEO Dara Khosrowshahi on the call. Among other cost-cutting efforts, Uber laid off hundreds of employees during the third quarter, its third round of layoffs since going public in May 2019. 
Uber CFO Nelson Chai added that increasing "rationalization" in the ridehailing and food delivery markets, along with continued improvements in Uber's technology and business model, will allow it to deliver profitability on a full incorporated basis in 2021.
Uber management didn't discuss in great detail how specific line items would get them to profitability, on what quarterly timelines, but said that improving take rates -- the total cut it takes from each fare -- are one important piece of the puzzle. 
For the third quarter, Uber's ridehailing take rate came in at 22.8% compared to estimates of 20.9%. Meanwhile, revenue came in at $3.813 billion compared to forecasts $3.628 billion; its net less was 68 cents per share compared to forecasts of 70 cents.
Other details were less positive, however, with gross bookings ($16.5 billion versus $16.7 billion expected) and monthly active users (103 million versus 107 million expected) falling short of analysts' forecasts. 
Uber shares are down 25.2% to $31.08 year to date.