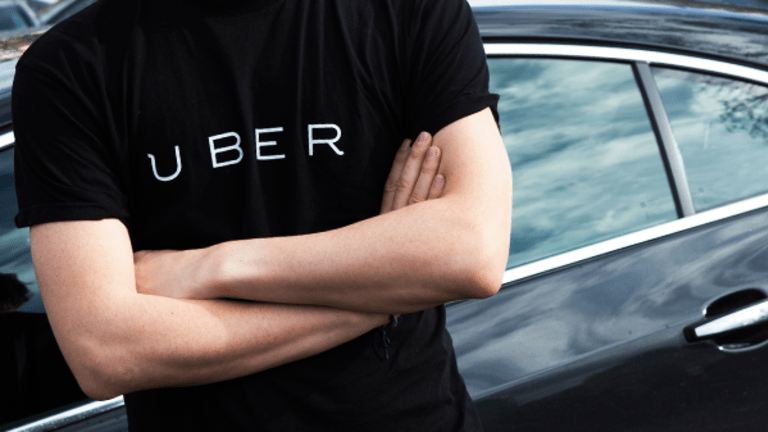 Will Uber's New CEO Lead an IPO of More Than $100 Billion?
An early Uber investor told The Street that the ride-hailing startup could go public soon if it can fix its internal issues.
An early Uber investor told The Street that the ride-hailing startup could go public soon if it can fix its internal issues.
Uber Technologies Inc. chose Expedia Inc. (EXPE) - Get Report CEO Dara Khosrowshahi as its new CEO on Sunday, and now he'll inherit a laundry list of daunting tasks, including prepping the world's most valuable startup for a long-awaited initial public offering. 
For the past several months, the ride-hailing startup has been rocked by one controversy after another, resulting in a stream of executive departures and the resignation of former CEO Travis Kalanick. Amid all this, Uber's business has remained solid, aside from its growing losses, and it has attracted a near $70 billion valuation.
The company's sky-high valuation has left some wondering if and when Uber will go public. Tusk Ventures founder Bradley Tusk, who was an early investor in Uber beginning in 2011, believes an Uber IPO could happen as soon as within 18 months.Tusk wouldn't specify the value of his stake in Uber beyond saying it's at least nine figures.
If Khosrowshahi can trim Uber's losses, get it on a path to profitability and demonstrate that he's cleaned up its corporate culture so that people want to work there, the company could in much better shape for an IPO, Tusk said. Uber could also be pushed into an IPO if rival ride-sharing company Lyft decides to go public, which has been rumored previously, he noted. 

Uber's incoming CEO Dara Khosrowshahi.
"I think the IPO will come a lot sooner than three years or five years," Tusk added. "There's no real reason that can't happen in 18 months."
Khosrowshahi kept busy at Expedia with several sizable acquisitions, including online travel company HomeAway for $3.9 billion and its $1.6 billion purchase of Orbitz. Tusk said Khosrowshahi might be able to put that strategy to work at Uber, since he'll have a good sense of what markets make sense for the ride-hailing company to dominate, and which others it should move on from. Uber has ceded several markets to local competitors through the sale of its China business to Didi Chuxing and by partnering with Russia's Yandex.
"It's good that he's a deal maker," Tusk said. "What's clearly on his to-do list is what are the parts of the world where Uber should be on its own -- U.S., Europe, Latin America -- and other places where having a local partnership helps."
More of What's Trending on TheStreet:
Once Uber resolves its corporate culture issues, Tusk argues that the company could be worth as much as $100 billion. 
Another factor weighing on any possible IPO is Uber's ongoing legal battle with Alphabet Inc.'s (GOOGL) - Get Report Waymo. The case centers around allegedly stolen trade secrets related to Uber's autonomous vehicle technology, which if proven true, could be crippling to the startup's self-driving car initiative.Uber's new CEO will have to chart a vision for autonomous cars, but given Khosrowshahi's lack of experience in that market, he might look to Kalanick for help. 
Even though Kalanick relinquished his role as CEO, he still holds one of the seats on Uber's board and was heavily involved in the search for its new chief executive. Khosrowshahi will undoubtedly have to deal with Kalanick even after he takes the helm.
"On one hand, Travis certainly regrets stepping down and would like to be CEO again," Tusk noted. "But he also truly loves Uber and he loves pursuing new ideas, so Khosrowshahi will have to engage him intellectually."
"[Kalanick has] got to feel so engaged in what he's doing that it becomes more important to him than his own title," he added.
Overall, Tusk said he's pleased with Uber's choice for a new CEO, adding that it brings a resolution to what has been an otherwise nerve-wracking last couple of months. 
"I feel a lot better today than I did yesterday," Tusk explained. "We ended up with a really terrific CEO."