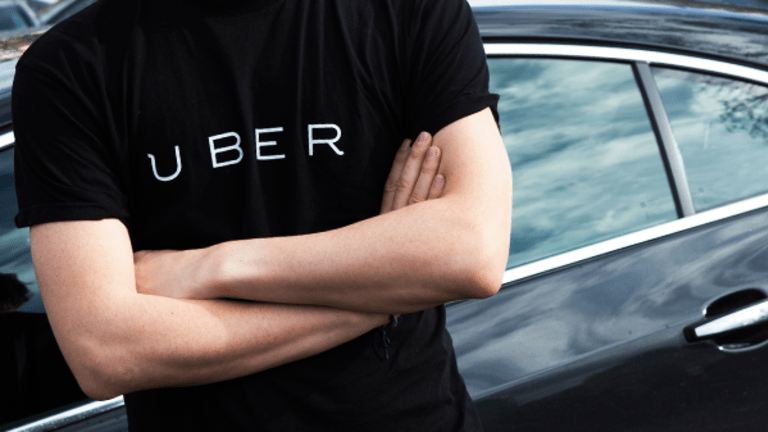 Uber's Firing of Former Star Levandowski Is a Sign of the Times
The ride-sharing company bought Anthony Levandowski's autonomous-truck startup Otto for $680 million less than a year ago, but has now fired him amid litigation from Google.
Updated with comments from Alphabet CFO Ruth Porat.
Uber fired self-driving car engineer Anthony Levandowski Tuesday as a legal battle with Alphabet's (GOOGL) - Get Alphabet Inc. Class A Report Waymo unit over allegedly stolen trade secrets escalated. 
The dispute is the latest in a series of high-profile trade secrets lawsuits in Silicon Valley, with tech elites such as Facebook (FB) - Get Meta Platforms Inc. Class A Report , Tesla (TSLA) - Get Tesla Inc Report and Google among the litigants. As the technology for self-driving cars, augmented reality and similar applications attracts astronomical value, disputes over the underlying intellectual property are flaring.
Waymo's lawsuit was somewhat out of character for Alphabet, but in this case the company felt it had no other choice, said Google CFO Ruth Porat said at Recode's Code Conference in Rancho Palos Verdes, Calif. on Wednesday.
"We never sue, but when we do sue it's in our view so compelling that we don't have any option but to sue," Porat explained. "There was only one right path." 
Judge William Alsop ordered Uber to turn over documents that Levandowski allegedly stole last year when he left Google to found Otto, his self-driving truck startup that Uber later acquired, by the end of the month. 
Uber General Counsel Salle Yoo had threatened Levandowski with termination in a letter if he did not turn over the documents by May 23. A company spokesperson said that Levandowski did not meet the deadline. 
Lawyers for Levandowski argued that Alsop essentially forced their client to choose between his livelihood and his Fifth Amendment rights, in a motion to modify Alsop's order filed with the court earlier in May. In the pleadings, Levandowski's lawyers argued that their client's choice essentially came down to "waive your Fifth Amendment rights . . . or I will have you fired."
Levandowski's termination marks a dramatic reversal between Uber and its former trophy hire.
When Uber bought Otto for $680 million in August 2016, the company described the union as a "dream team" in a blog post. Uber called its new hire "a prolific entrepreneur with a real sense of urgency."
Waymo contended, however, that Levandowski's sense of urgency exceeded what was legal. The company accused him of stealing 14,000 documents when he left to found Otto in January 2016.
Eric Meyhofer, who took over Uber's Advanced Technologies Group in April, will continue to lead the self-driving engineering team, Uber said.
Self-driving cars, augmented reality and other tech niches represent new platforms for computing and communications for Silicon Valley powers such as Facebook, Tesla and Google. Increasingly, the value in these technology hot spots resides in the underlying intellectual property. 
Facebook was forced to pay gamemaker Zenimax $500 million in a similar dispute. A Zenimax employee took "thousands" as he left for Oculus shortly before Facebook acquired the company for $2 billion in 2014.
Tesla recently sued a former program manager of its Autopilot advanced driver assistance system unit in January for taking "hundreds of gigabytes of Tesla confidential and proprietary information," court pleadings. The parties settled in April. 
Lawyers for Tesla described the outsized incentives that make software development in areas such as self-driving cars a high-stakes proposition. "Small teams of programmers with little more than demo-ware have been bought for as much as a billion dollars," they wrote in pleadings.
The consumer market for self-driving cars may still be years away.
Google has invested substantially on a bet that autonomous cars will be the ultimate mobile devices. Jim Cramer and the Action Alerts PLUS team recently noted that Waymo could be worth as much as $70 billion, according to a Morgan Stanley report. Get a free trial subscription to Action Alerts PLUS.
Read more of today's top stories:
Verizon and AT&T Show Silver Linings Despite Recent Underperformance