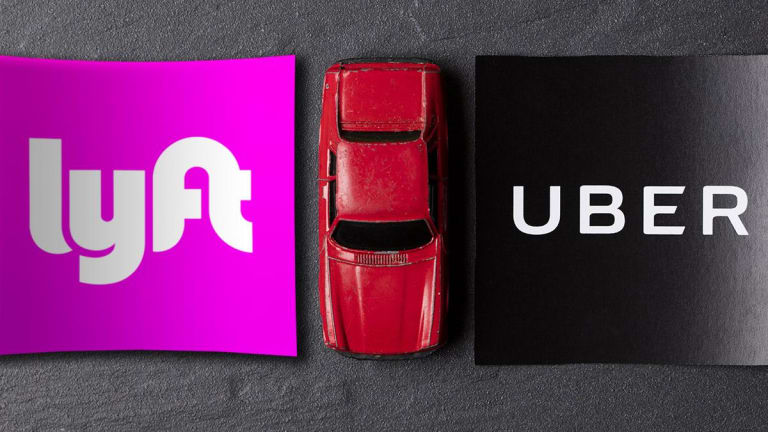 Uber, Lyft Driver Strikes on Wednesday Highlight a Key Risk for Investors
Both Uber and Lyft have called out the potential classification of its drivers as employees as a major risk to their business models.
Days before Uber's big planned IPO, drivers are demanding a bigger share of the spoils.
Drivers for Uber and Lyft -- many of whom drive for both services -- planned a strike on Wednesday in order to call attention to low wages and labor standards affecting the millions of global drivers employed by the two. Drivers in the U.K. were staging a strike from 9 a.m. to 4 p.m. local time, while those in several major cities in the U.S., including New York, Chicago and San Francisco, planned to strike from 7 a.m. to 9 a.m. local time. In their respective S-1 filings, Uber reported 3.9 million active drivers on its platform, while Lyft placed its driver figure at 1.1 million.
Lyft (LYFT) shares were down slightly to $59.16 on Wednesday morning after reporting a generally positive initial quarter as a public company after the close on Tuesday. Uber, meanwhile, is expected to price its IPO on Thursday evening and begin trading on Friday. Uber has proposed an offering range of between $44 to $50 a share, which would raise up to $9 billion for Uber and value it at as much as $84 billion.
In a press release, a group representing a contingent of striking drivers, called Rideshare Drivers United, called for an increase in minimum rates to $28 per hour, or $17 per hour after expenses. That wage minimum is already required in New York City, despite an unsuccessful effort by the ridehailing firms to have that rule, along with a cap on drivers in the area, overturned.  
"We provide an essential service, but Uber and Lyft investors are only ones reaping the benefits. Our picket and rally will show that rideshare drivers will not be invisible -- we demand justice," said Karim Bayumi, a Lyft driver who works in the Los Angeles area. The press release noted that in Los Angeles, Uber recently cut driver compensation from $0.80 to $.60 per mile, while Lyft eliminated certain pay incentives that allowed drivers to earn more than $0.80 per mile -- a common circumstance for longtime drivers who have faced fluctuating rates over time. 
Given the part-time hours drivers may choose to work, there is plenty of variation in how much drivers earn in total.
Uber reported that drivers have earned $78.2 billion on their platform since 2015, as well as an additional $1.2 billion since it introduced a tipping option, but has not recently reported average earnings. According to a May 2018 study by the Economic Policy Institute, drivers take home $9.21 an hour on average, subtracting platform fees, expenses, mandatory payroll taxes and the cost of a modest benefits package.
Uber pointed to improved wage, insurance and education benefits for its workers in a request for comment on the driver strike, while Lyft noted that its drivers' hourly earnings have increased over the last two years and that many work on a part-time basis.
"Over 75 percent drive less than 10 hours a week to supplement their existing jobs. On average, Lyft drivers earn over $20 per hour," Lyft said.
Wedbush analyst Dan Ives estimated that Uber's and Lyft's "take rates" -- essentially the total commission they earn per ride -- are 20% and 21.7%, respectively. That's likely to be a closely-watched metric for investors in either company. 
It's unknown what, if any, direct material impact Wednesday's strike will have on either company. The companies' drivers have organized strikes before, to little effect thus far. 
However, the nationwide strike is a reminder of a key risk to Uber's and Lyft's business models that has the potential to seriously affect their profitability. 
The employment status of Uber and Lyft drivers as independent contractors, rather than W-2 employees, has faced challenges in the courts for years. In various U.S. jurisdictions, courts have affirmed the contractor status of drivers -- but that's not the case everywhere. In the U.K. last year, a tribunal ruled that Uber drivers be considered employees -- a ruling that Uber is appealing to the U.K. Supreme Court. 
An uncertain landscape of laws and regulations -- from driver pay to potential ride caps to other laws enacted by municipalities -- was acknowledged by both Uber and Lyft in their IPO paperwork. 
Pointing to numerous lawsuits that it's facing over worker classification issues, Lyft warned investors in its S-1 filing that a law that classified drivers as employees may require the company to "significantly alter our existing business model and operations and impact our ability to add qualified drivers to our platform and grow our business."
Uber included similar language in its filing, and also hinted at some of the specific additional costs that would arise should their appeal in the U.K. court fail. 
"Losing the case may lead the UK tax regulator (HMRC) to classify us as a transportation provider, requiring us to pay VAT (20%) on Gross Bookings both retroactively and prospectively. It may also determine us to be an employer for tax purposes, resulting in 13.2% national insurance contributions being payable by us on driver income. Further, if Drivers are determined to be workers, they may be entitled to additional benefits and payments, and we may be subject to penalties, back taxes, and fines," Uber stated. 
Both companies are offering bonuses to longtime drivers who have driven extensively for them to celebrate their public offerings.  
Lyft shares are down about 18% from their initial offering price of $72, with some citing concerns about when Lyft would be able to become profitable.