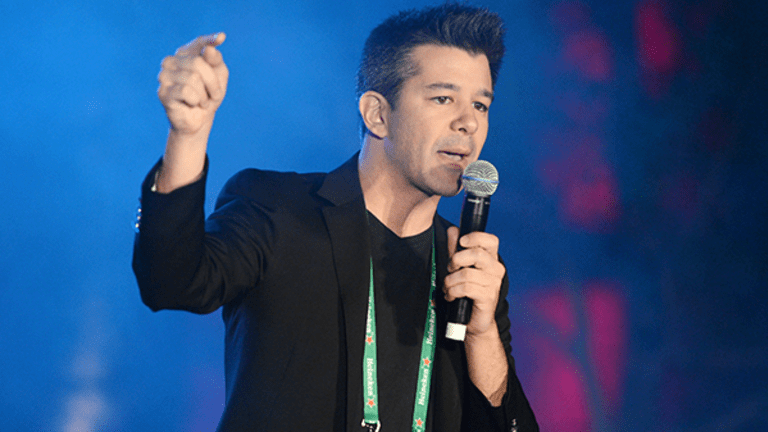 We Are Astonished By How Far Uber Has Deviated From Its Original Master Plan
Here's what Travis Kalanick first told investors when Uber was still a fledgling ride-hailing startup.
Say what you will about Uber's controversial track record, but the embattled ride-hailing startup has come a long way since its inception. 
Nowhere is this more evident than Uber's original pitch deck, presented to investors in 2008, which co-founder and board member Garrett Camp shared on Tuesday to mark the company's nine-year anniversary. The 25-slide presentation provides a glimpse into Uber's early days, showing which initiatives stuck and others that were eventually discontinued. 
Uber was originally proposed as a disruptor to the traditional taxi industry that would only exist in major cities and primarily serve as a VIP car service for executives. It's now become a lot more accessible and is among the top 15 apps on the App Store. Perhaps most importantly, Uber is the highest-valued private company in the world, with a monster $68 billion valuation. 
But it hasn't gotten there without some major (and at times disastrous) stumbles. There was the #deleteUber movement that began in January; former engineer Susan Fowler's blog post detailing systemic sexist and discriminatory behavior; the stream of high-level executives that  began to depart shortly after that; and then Alphabet Inc.'s (GOOGL) - Get Alphabet Inc. Report self-driving car unit Waymo sued Uber over allegedly stolen trade secrets. The climax of Uber's tumultuous year came when former CEO Travis Kalanick resigned from the company, following the results of an investigation spearheaded by former Attorney General Eric Holder's law firm.  
Before all that, UberCab -- the company's original name -- had a very different vision. Here's a look at what Uber told investors when it was still a fledgling ride-hailing startup:
Don't miss these top stories on TheStreet:
The "NetJets of car services" 
Uber originally wanted to position itself as the "NetJets of car services." If this reference is a bit lost on you, it's understandable. The Berkshire Hathaway-owned (BRK.B) - Get Berkshire Hathaway Inc. Report company provides on-demand private jets, but hasn't exactly disrupted the airline industry like it was expected to. 
Kalanick and his team likely made the comparison to emphasize Uber's ambitions as a luxury car service. Originally, the company said its fleet would only be comprised of Mercedes and Lexus models. Clearly, this isn't the case anymore, as Uber drivers use both high-end and low-end models, like Ford (F) - Get Ford Motor Company Report , Honda and Toyota, depending on whether you choose to order an UberX, UberBlack or UberXL.
Uber was also targeted as a "members only" service that would only be accessible via an invite from an existing member, while attracting "respectable clientele," like executives. Now, the company is pretty ubiquitous and can be accessed for free via the Uber app.
More of What's Trending on TheStreet:
A blast from the past 
The slide deck shows just how much technology has changed since 2008. Case in point: A graph that shows which smartphones requested an Uber cab the most. Blackberry's undefined RIM OS took the largest share, followed by Microsoft's (MSFT) - Get Microsoft Corporation Report Windows Mobile OS, HP's (HPQ) - Get HP Inc. Report Palm, Apple Inc.'s (AAPL) - Get Apple Inc. Report iOS, T-Mobile's (TMUS) - Get T-Mobile US Inc. Report Hiptop OS (used on the Sidekick) and lastly Nokia's (NOK) - Get Nokia Corporation Sponsored American Depositary Shares Report Symbian OS. All but one of those mobile operating systems are now dead -- the iOS, obviously -- which makes it a great walk down memory lane. 
Other fun, outdated concepts include a slide suggesting that customers book an Uber on a computer, using Ubercab.com. There, Uber says consumers can book trips, view the car's status and see their trip history -- all things that are now a part of the Uber app. The company also touts integration with Google maps, that allows users to pin their pickup location on a map.
Limited availability
In its infancy, Uber solely focused on building out its service in San Francisco and New York City, with ambitions of expanding to Los Angeles, Chicago, Houston, Philadelphia and Dallas. "This covers 50% of the entire U.S. market," the company said in its presentation.  
Uber's scale has expanded significantly since then, now reaching beyond U.S. borders. Over the past several years, it's opened up shop in practically one new city a day, in burgeoning markets like Asia, Europe, Australia and South America, as well as the Middle East. Lately, Uber has found greater success entering international markets by partnering up with local companies, such as Russia's Yandex, China's Didi Chuxing and Singapore's Grab.
"Profitable by design" 
Uber suggested that its business strategy makes it "profitable by design," but the company is now nine years old and is far from becoming profitable. Excluding its China business (a loss leader that was eventually sold to Didi), Uber lost about $2.8 billion in 2016. 
That said, it also more than doubled gross bookings in 2016 to $20 billion, according to Bloomberg, eclipsing the $4.2 billion market value outlined in the presentation.
The beginnings of UberPool?
Uber presciently mentioned several times throughout the deck that users might want to share rides or carpool. In 2014, Uber launched UberPool, which allows users to book a ride at a cheaper rate by sharing their trip with another rider along the way. 
UberPool has taken off in the years since, now accounting for 20% of all its ride globally, according to TechCrunch. The company said in April that Uber had surpassed 100 million Pool rides. It's also caused competitors like Lyft and Via to launch similar services.
Don't miss these top stories on TheStreet: