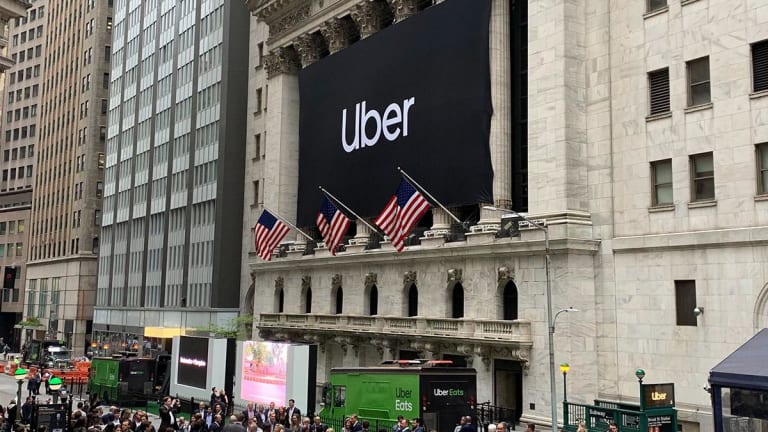 Uber Tumbles on IPO Debut; Ride-Hailing Group Sheds $12 Billion in Market Value
Uber shares traded sharply lower Friday to close well below its $45 initial public offering price on its NYSE debut, tumbling nearly 7% amid a volatile session for U.S. stocks and persistent questions surrounding its profitability and business practices.
Uber Technologies (UBER)  shares traded sharply lower Friday to close well below its $45 initial public offering price on its NYSE debut, shedding more than $12 billion in market value amid a volatile session for U.S. stocks and persistent questions surrounding its profitability and business practices.
The opening trade of 32 million shares at $42 each was a disappointment for the bookrunners, who had priced the shares at $45 each last night and watched the market retreat. Uber shares were indicated at $46 to $48 each at the opening bell after the company priced the 180 million-share offering at $45 each, near the bottom of the $44 to $50 range its Wall Street advisers had marketed the stock to investors in the weeks prior to Friday's listing.
Uber closed at $41.57 each, down 7.62% on the session and a price that values the San Francisco-based group at $69.7 billion, some $12.4 billion shy of its IPO valuation and $6.3 billion south of its last private equity estimate. 
Uber fell amid a volatile session for U.S. stocks, which reversed early declines sparked by President Donald Trump unleashing a torrent of comment on social media that suggested there was "no rush" to reach a trade agreement with China just after after he opted to increase tariffs on $200 billion worth of imports in the latest escalation of the ongoing trade war. Trump again intimated -- incorrectly -- that China would pay the cost of the tariff increases, which rose to 25% from 10% at midnight last night on around 5,700 different goods, and repeated his threat to apply levies to a further $325 billion of Chinese imports.
The comments took the air out of early gains for U.S. stocks, sending the Dow Jones Industrial average down as much as 358 points at one point. However, stocks later reversed and the Dow ended the day up 114.01 points at 25,942.37 as investors bet on a breakthrough in U.S.-China trade talks.
The Uber IPO is the biggest for a U.S.-based company since Facebook's Inc. (FB) flotation in 2012. The listing will earn Uber $8.1 billion -- an amount that nearly matches the ride-sharing group's losses over the past three years -- and give it a market value of $82.4 billion.
Uber was also hit by a troubling sell-off in shares of ride-sharing rival Lyft Inc. (LYFT) , which debuted on March 29, rose to $87 a share in the opening minutes of trading before plunging 40% over the following weeks -- including a 5.6% slide Friday -- to trade at a record low $51.06 per share. Lyft finally closed down around 7.4% to $51.09.
Uber, however, is in a much better position than Lyft to keep investors on board, despite its long strong of annual losses that the company says are likely to continue over the near term.
With revenues expected to rise 20% this year and 25% in 2020 -- to $13.5 billion and $17 billion respectively -- Uber is at least generating cash flow as it seeks to capitalize on its dominant position in the biggest ride-sharing markets in the world. In fact, even with an $82 billion valuation, Uber could be seen as a cheap way to invest in a market that could be worth as much as $5.7 trillion in the coming years, according to some estimates, as more and more people shun traditional car ownership in favor of the new "transportation as a service" model of business.
Uber also has a leg up on Lyft with a secondary revenue stream -- the Uber Eats food delivery service -- that booked $7.9 billion worth of business last year and is the world's largest outside of the Chinese market.
In fact, CEO Dara Khosrowshahi touted the group's ability to leverage "transportation as a service," and not simply ride-hailing, in his pitch to investors over the past few weeks, citing opportunities in shopping, grocery delivery and larger freight movement.
That tack might not be surprising, however, for a group who's ride-sharing business is under attack from regulators around the world, many of which accuse the company of skirting transportation regulators by claiming to be a technology company, and who's drivers are becoming increasingly vocal -- and publicly defiant -- over wages and working conditions.
U.K. opposition leader Jeremy Corbyn, the bookies favorite to become prime minister at the next general election, tweeted earlier this week that "Uber cannot be allowed to get away with huge payouts for their CEOs while refusing to pay drivers a decent wage and respect their rights at work," a view that suggests the group's challenges in London, the biggest market in Europe, won't be easily dismissed.
U.S. presidential hopeful Bernie Sanders, meanwhile, has targeted the $143 million in compensation paid to senior management, including $45 million for Khosrowshahi, as he tweeted support for striking Uber drivers in major cities around the country.
Ask Cramer | Get Answers to Your Most Pressing Market Questions