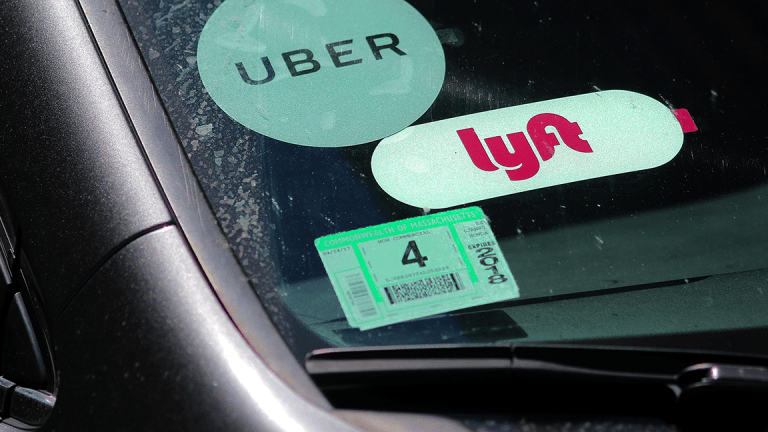 Uber's Impending IPO Filing Looms Over Lyft Shares
The release of detailed financials for its arch-rival Uber will be an important test for Lyft shares, which have sagged since their debut on March 26.
Lyft (LYFT) - Get Lyft Inc Class A Report and Uber Technologies will soon be taking their road rivalry to the public markets.
Lyft went public just 11 days ago, and it's been a rough road since then. Shares are down 23.2% since they began trading on Mar. 29, but were up 1.47% on Thursday.
One big cloud over Lyft's stock? The impending S-1 filing of Uber Technologies, which is targeting a May IPO that would raise $10 billion and value the firm at $100 billion, according to Reuters. Lyft's valuation at its initial offering price of $72 per share was more than $20 billion. 
Uber is expected to file its detailed S-1 IPO documents with the SEC on Thursday, and would then begin its road show for potential investors soon afterwards.
Analysts are parsing out what Uber's IPO will mean for underdog Lyft.
"Given that smaller, number two players will always scale at a lower margin than dominant players, we think Lyft deserves a discount to other ride-hailing players that dominate their markets," wrote HSBC analyst Masha Kahn on Thursday. "Near-term competitive intensity could remain fierce as Uber potentially defends its market share under a new management team."
Uber's S-1 will reveal key metrics about around its growth and the strengths of its business -- as well as potential downsides -- and investors will finally have a chance to scrutinize how the companies stack up against one another. Lyft's own S-1 filing noted its heavy competition with Uber, and associated costs of competing for drivers and riders, as one of the risks facing the business.
"The primary issue is around the underlying metrics that Uber will discuss around take rates, ride sharing data, driver ecosystem, and a myriad of other metrics relative to Lyft which may put the company in a more negative light," wrote Wedbush's Dan Ives in a note on Thursday morning. "That said, while Lyft is viewed by many as the 'little brother' to Uber, this continues to be a hand holding and gut check time for Lyft and the tech IPO world to see how this stock continues to trade given it was the first one out of the box."
Other big-ticket IPOs coming soon include Pinterest and Slack, both of which are expected to list in the coming months.