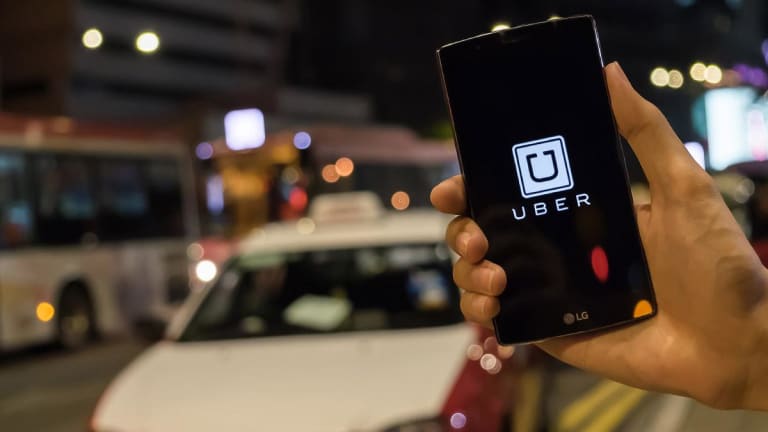 Uber Investors Could Be In for a Bumpy Ride
Investors are hoping to avoid a repeat performance of Lyft's decline since its IPO, but market turmoil plus scrutiny of Uber's top line metrics could lead to some volatility.
Uber's IPO is almost upon us -- and it could be a wild ride.
Amid broader turmoil in the markets, Uber is expected to list its shares on Friday in what will be the largest IPO since Alibaba (BABA)  debuted in 2014. And investors are eager to see how Uber's stock holds up in the weeks and months ahead. Uber set an initial price range $44 to $50 per share in its IPO, and reportedly plans to price shares at the middle or low end of that range, which would value Uber somewhere between $80.53 and $84 billion. 
There are plenty of predictions about where Uber goes from here.
Inevitably, Lyft makes for the best immediate comparison -- and its stock has sunk almost 27% since it went public at $72 per share on Mar. 29, partly on skepticism around its profitability and more recently, a first quarter loss that was wider-than-expected. 
Mitchell Green, a partner at Lead Edge Capital and an early Uber investor, said that Uber will "price it to make it work," potentially avoiding the hangover we've seen in Lyft shares after an initial spike on its first day of trading. Fellow tech unicorns Zoom (ZM) and Pinterest (PINS) have fared better since their IPOs, with shares up 18% and 17%, respectively, from their initial offering prices.  
Uber and Lyft are different animals, however -- and the coming quarters will help to shed light on which ridehailing model, and unprofitable ones at that, the public investors favor. 
Wedbush analyst Dan Ives likened Uber to Amazon in a recent note, arguing that it can transform its core ridehailing business into a "broader consumer engine with Uber Eats, Uber Freight, and autonomous initiatives "just scratching the surface" of the full monetization potential of this platform over the next decade."
Ives set a 12-month price target of $65 per share, a healthy premium over its initial range.
Lead Edge Capital's Green noted that "the pricing range doesn't matter; what I care about is where the stock price is 6 or 12 months from now," Green added. "These guys are pros; they know how to deal with investors, and I think you'll see [Uber CEO Dara Khosrowshahi] execute."
Others are taking a more cautious look at the the blockbuster IPO -- and how Uber's stock will do in the near term.
So what might investors expect after the initial "pop" of 20% or more that is typical in many IPOs? 
In an analysis of Uber's S-1 filing, EquityZen pointed out Uber's flattening revenue combined with downward pressure on its "take rates" -- what it makes per ride -- boils down to a multi-front pricing war it's fighting in numerous markets around the world.
Unlike its U.S. rival Lyft, Uber competes fiercely in a multitude of global markets, facing Didi Chuxing, Grab, Yandex.taxi and others that could put further pressure on Uber's top line metrics. 
"We believe Uber's stock is in for a bumpy ride, and IPO investors may not be too pleased with their returns in the near-term," Equity Zen's report said.