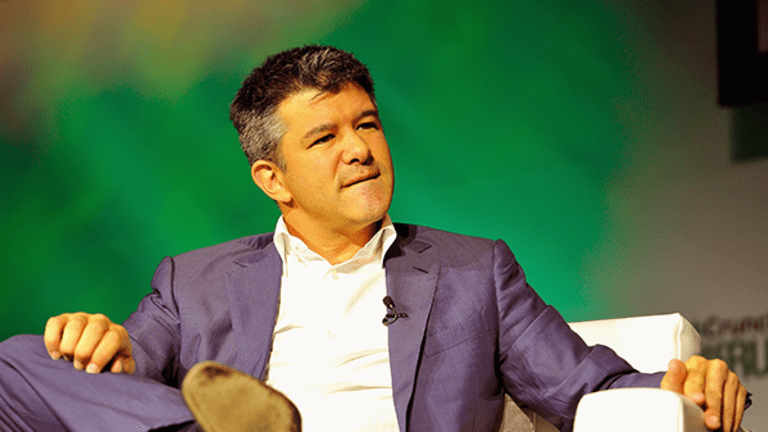 Uber Investor Says Travis Kalanick Has to Be Replaced With a Visionary CEO
An early investor in the ride-hailing startup said it's now the board of directors' responsibility to 'get it right.'
Now that Uber Technologies Inc. CEO Travis Kalanick has bowed out of his role at the company, the embattled ride-hailing startup's future remains even more unclear. 
On Tuesday, Kalanick made the decision to step down after several major investors wrote a letter to him entitled "Moving Uber Forward," in which they told him that he must resign immediately and make way for new leadership, according to the New York Times. Kalanick will keep his seat on Uber's board of directors. Representatives from Uber weren't immediately available for comment. 
The move comes just days after Kalanick said he would take a leave of absence from Uber to grieve the loss of his mother, who died in a boating accident. At the time, Kalanick wrote that building "Uber 2.0" would require him to work on "Travis 2.0" to move the company forward. Former U.S. Attorney General Eric Holder had also instructed that Kalanick take on a diminished role at the company as part of his 13-page report on the company's toxic workplace culture.
As Uber begins its search for a new chief executive, one investor says who the board chooses to replace Kalanick with will determine whether or not he keeps his stake in the company. 
"Obviously the board felt they had to get out of this mess and if they felt there was no way to do that with Travis, they did what they had to do," said Bradley Tusk, founder of Tusk Ventures, who was an early adviser to and investor in Uber beginning in 2011. "But if the new person isn't a visionary...I may get my money out. It's on [the board] to get it right." 
Tusk was an early adviser to and investor in Uber beginning in 2011. He wouldn't specify the value of his stake in Uber beyond saying it's at least nine figures.
Travis Kalanick isn't the only prominent CEO to have been forced out of his own business. 
Kalanick resigning on his own was the smoothest path to getting him out of that role, Tusk said. Uber has a founder-friendly governance structure, which gives seven members of the nine-member board super-voting shares, meaning that Kalanick and his allies hold most of the voting power, the Times noted. It meant that board members had little opportunity to force Kalanick out. Investors may have also weighed the option of litigation, according to Axios. 
Tusk said it's unclear whether the board will look to Kalanick's direct reports -- who are currently in charge of steering the company -- as potential replacements for his role. The company still faces a crisis of confidence, as consumer favorability of the service continues to slide, a steady wave of negative media reports have consistently plagued the company and internal morale remains gloomy. The controversies have left a gaping hole in Uber's management team, with its COO, CFO, president, general counsel and senior vice president of engineering roles all vacant. 
"They need a whole new C-Suite," Tusk said. "The board may feel like they need to bring in all new people for all those roles."
Tusk believes the board will appoint a new CEO that can successfully carry Uber through the IPO process, which could mean that they have an interim leader for a few years. He said Rachel Holt, who runs Uber's North America operations, has done an excellent job of helping to steer the company amid the controversies. But Holt's quick ascension at the company (prior to running the U.S. operations, she ran Uber's Washington, D.C. business) may mean she lacks the management experience.
Either way, Tusk said Uber will have to find a CEO that has Kalanick's disruptive vision in order to succeed.
"There's not really an appetite among investors to have Travis stay on, but now they don't have someone who is really a genius of innovation," Tusk explained. "Long term, if all the person does is meet the status quo, I consider that a disappointment."
More of What's Trending on TheStreet:
Travis Kalanick Has Resigned As CEO of Uber: A Timeline of Uber's Recent Struggles