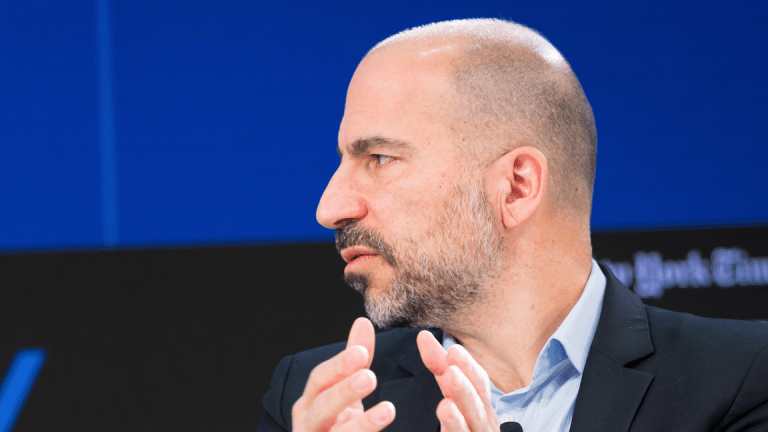 Uber Rises on Earnings Report, Says Competition With Lyft to Get 'More Healthy'
Uber will compete on brand and quality rather than through aggressive incentives and discounts, according to executives on the company's first earnings call as a public company.
On the company's first-ever earnings call after the close on Thursday, Uber executives faced a battery of questions about where the business goes from here.
Shares of Uber (UBER) were up close to 2% morning trading on Friday after the company posted a smaller loss than Wall Street had expected, at $2.26 per share versus the $2.37 per share forecast by analysts. It posted a loss of $1 billion for the quarter, which was in line with expectations and earlier guidance by Uber.
Since going public on May 10, Uber's stock hasn't yet cracked its IPO price of $45 per share and is down about 10% since its debut. Since its IPO, its stock has faced skepticism over its uncertain profitability timeline, significant customer acquisition costs and other issues.
On a call with investors, Uber executives addressed some of the question marks surrounding Uber shares going forward, one of them being how much it must spend to maintain its dominant position and to continue growing. 
"The competition is going to be more healthy, based on brand and product and technology, which is the right way to compete versus throwing money at the problem," said Uber CEO Dara Khosrowshahi in response to an analyst question. 
Both Uber and its U.S. rival, Lyft (LYFT) , are believed to have raised spending on discounts and other incentives in order to sweeten their numbers prior to going public. For the quarter, Uber posted more than $3 billion in revenue, but also recorded higher "costs of revenue," a category that includes driver incentives, as well as higher marketing expenses versus the year ago quarter.
Executives made the case that eventually, Uber's global presence and footprint across multiple product categories -- its rideshare business, bikes and scooters, and Uber Eats -- will mean a structural advantage in the race for market share. They also talked up a forthcoming loyalty program that, if successful, will make it easier to retain customers across their various products.
"We think we have an advantage because we're acquiring customers across multiple channels," Khosrowshahi said. "Over the long term, being the bigger player, a global player, and a multi-product player will work to our advantage."
Lyft is down roughly 28% since its stock market debut in March, though its shares were rising 3.7% on Friday following Uber's earnings report.