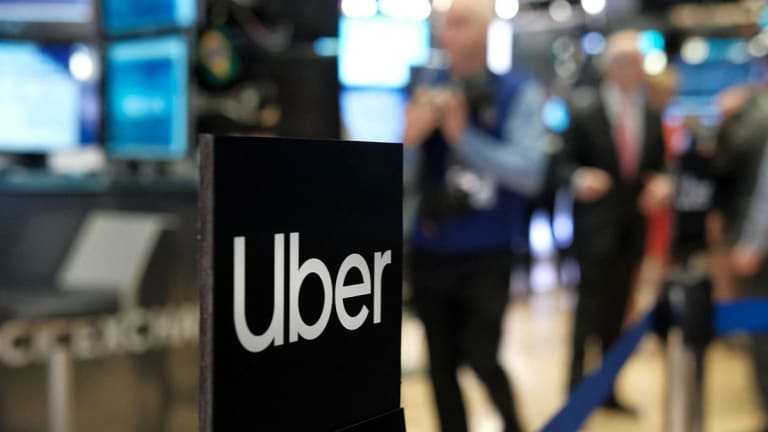 Uber CEO on Earnings: 'It's Early'
In its latest quarterly earnings, Uber's top and bottom line results missed expectations by a wide margin. Still, CEO Dara Khosrowshahi dismissed concerns about its profitability prospects as a 'meme'.
On an earnings call Thursday, Uber (UBER)  sought to reassure investors that bright days and big profits are ahead. 
In its second earnings report since going public in May, the ridehailing giant posted a much wider-than-expected loss of $4.72 per share, compared to forecasts of $2.03 a share, while revenues of $3.17 billion fell short of estimates of $3.313 billion, according to FactSet. 
Uber shares were down 6% in after-hours trading after the ugly report, and on an analyst call, Uber executives answered questions on a variety of fronts. The overarching theme: The business is still in its infancy, according to Uber. 
"I think we're very, very early in this incredible journey," said CEO Dara Khosrowshahi.
The company sought to highlight some of the more positive aspects of its report, such as a year-over-year increase of 35% in Trips and a 37% increase in Gross Bookings. It also reported more than 100 million monthly active users on its platform in July. 
Questions that arose on Uber's earnings call ranged from its possible foray into grocery delivery to its budding partnerships with transit agencies and the looming threat of regulation and new worker classification laws, such as California's Assembly Bill 5. 
"We think that there's a better way forward," Khosrowshahi said, discussing potential ways to provide some measure of worker protections. "These are like minimum earnings and benefits and a voice and kind of decisions as it relates to the system that would affect their livelihood ... We're hoping that the dialogue is a constructive dialogue, but it's early."
He didn't discuss specifics of what it would cost Uber should the state law go into effect. In California, legal challenges to Uber's classification of drivers as independent contractors date back to 2014. 
Asked about Uber's work with cities and transit agencies to allow bus or train booking within its app, he said that the option has particularly high engagement in London, and that one of the goals is to boost Uber's relevance to a broader array of consumers. 
"This one is a win-win-win, but its pretty early and we think there is a lot of kind of testing and learning going forward as we build these products," he said. 
Khosrowshahi also was dismissive of concerns that Uber can't turn a profit. 
"I think that there is a meme around which is can Uber ever be profitable," he said. "And I tell you we have a business in the rides area that has a 20-plus percent take rate, which is a very, very strong take rate. And a business at scale the way we are a global business at scale, but has network effects with a 20-plus percent take rate. I believe have the potential and if we execute should turn out to be a spectacular business long-term."
Thus far, investors don't seem all the way persuaded. Shares are down 2.8% since its May 10 IPO.