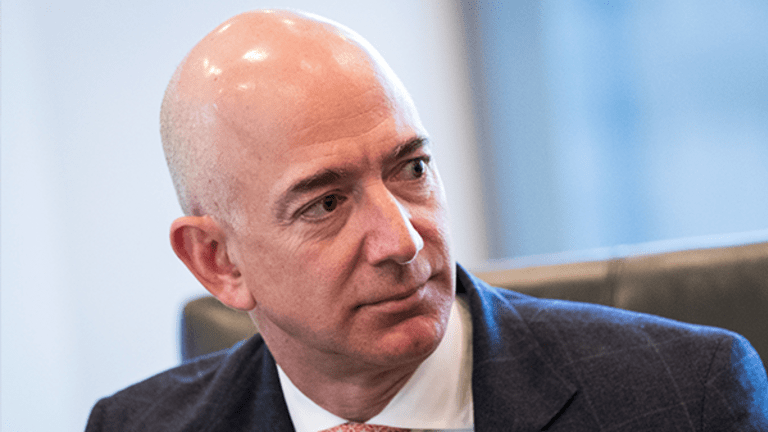 Amazon, Google and Other U.S. Tech Giants Face a Battle Over Taxes With Europe
As Google and Apple appeal heavy fines imposed by Brussels regulators, European governments are now proposing to tax tech giants based on their revenue rather than their profits.
This column has been updated from Sept. 11 to note the results of a meeting of EU finance ministers at which a new plan to tax tech giants was discussed.
Shortly after Intel Corp. (INTC) received a ruling from the EU's highest court which fueled hopes that tech giants would be able to escape their battles with Brussels regulators without serious harm, the group is again facing a serious attack from the region's lawmakers.
The attack isn't guaranteed to do major financial damage: A lot of specifics are still unknown, and it's possible that U.S. politicians will push back against what their European counterparts are proposing. But the move does underscore just how uneasy EU politicians and regulators remain about the ever-rising clout of U.S. tech giants on the continent, and what they're contributing (and not contributing) to government coffers.
In a joint letter, Germany, France, Italy and Spain's finance ministers declared that they want tech multinationals such as Amazon.com Inc.  (AMZN) and Alphabet Inc./Google (GOOGL) to be taxed based on their local revenue rather than their local profits. Though not giving a proposed tax rate, the ministers assert the funds raised through the tax "would aim to reflect some of what these companies should be paying" in corporate taxes based on net income.
Afterwards, at a meeting of EU finance ministers in Estonia, 10 countries signed a letter supporting the tax plan. Others, including Ireland, Denmark, the Czech Republic and Luxembourg, either criticized the plan or expressed reservations. Importantly, the plan needs unanimous support from EU states to be implemented.
A policy paper related to the tax plan is expected in the coming days, and the Financial Times (paywall) states EU finance chiefs "intend that intensive negotiations will take place over the coming months on tax measures targeted at the digital economy."
The effort follows years of EU probes into the funneling of overseas profits by U.S. multinationals -- including some non-tech companies such as Starbucks Corp.  (SBUX) and McDonald's Corp. (MCD) -- into subsidiaries based in tax havens such as Ireland. The FT notes EU states are at odds over whether to deal with this issue through a "quick fix" such as a revenue-based tax, or to focus on a "longer-term, international solution" such as rules that would make it easier to tax tech firms in places where they don't have an established subsidiary.
Last year, the European Commission ruled that Apple Inc. (AAPL) owed $14.5 billion in back taxes plus interest for "undue tax benefits" obtained from the Irish government from 2003 to 2014 (Apple, naturally, is appealing).
Google, on the other hand, won a favorable tax ruling from a French court in July: The court ruled that Google isn't liable for $1.3 billion in taxes on profits routed to an Irish subsidiary, since it doesn't have a permanent base in France. A push by EU governments to tax local sales aims to close loopholes such as this.
In theory, such taxes could be massive. Google recorded $16.6 billion in revenue from the EMEA region during the first half of 2017, and could do over $35 billion in local sales this year. A 10% tax would spell $3.5 billion in payments, while a 15% tax would equal a $5.25 billion bill.
Jim Cramer and the AAP team hold positions in Apple and Alphabet for their Action Alerts PLUS Charitable Trust Portfolio. Want to be alerted before Cramer buys or sells AAPL or GOOGL? Learn more now.
More of What's Trending on TheStreet:
Hurricane Irma Spurs Price Gouging Accusations at Happiest Place on Earth Disney
Apple iPhone X Likely to Ship in October, JPMorgan Says
On average, analysts expect Apple to do $54 billion in EMEA sales in fiscal 2017 (it ends this month), and $60.8 billion in fiscal 2018. Facebook Inc.'s (FB) European revenue is expected to total $9.1 billion this year and $11.7 billion next year. For its part, Amazon garnered $23.6 billion in revenue from Germany and the U.K. alone last year -- the U.K. revenue, of course, won't be subject to EU rules long-term thanks to Brexit -- and will probably see over $30 billion in total European sales this year.
One big problem with the ministers' proposal is that it does nothing to account for differences in the profit margins that tech giants see for local revenue streams. Amazon is especially likely to raise this issue: The company's International e-commerce reporting segment is expected on average to post a $2.8 billion operating loss this year, and while Indian investments have much to do with the red ink, it doesn't look as if the company's European operations are all that profitable, either.
But it's worth keeping in mind that politicians claim they only want to see tax payments match what would normally be paid under local corporate tax rates. Chances are that Amazon would be given the chance to avoid revenue-based taxes by agreeing to have any local profits recorded by a subsidiary in the country in which they were earned.
While European finance ministers look for ways to collect more tax revenue from tech giants, antitrust and privacy regulators continue waging their own battles. Four year after the U.S. FTC cleared Google over the same issue, the company was hit with a $2.9 billion fine in July over its integration of Google Shopping results within Google Search. An appeal was just filed, and a recent EU General Court ruling calling for the review of a $1.3 billion antitrust fine Intel received in 2009 raises hopes that Google could get a favorable appeal as well.
However, the EU has also charged Google over its Android app/service-bundling practices, and over the exclusivity agreements imposed on publishers using Google's AdWords search ad platform. Meanwhile, EU online ad rules (due to go into effect in May 2018) that require companies to get a user's explicit consent to engage in online tracking and targeting will be a headache for Google and Facebook, among others.
As the EU continues to press U.S. tech giants on multiple fronts, one has to wonder to what degree U.S. politicians will defend them in response -- either by pressuring EU officials to back off during trade talks, or threatening to retaliate against European multinationals doing business in the U.S.. That's particularly true since the Trump Administration has slammed the trade policies of both the EU in general and those of individual member states as being protectionist.
However, tech giants clearly had stronger ties with the Obama Administration than the Trump Administration. One could also note that President Trump has taken shots at Amazon from time to time over its U.S. tax payments, and that his administration is likely aware of a growing populist backlash towards the growing size and influence of giant tech companies. The Trump Administration has backed Apple's appeal of the EU's tax ruling against the company, but has thus far kept quiet about Google's antitrust disputes.
For now, one can't assume that U.S. tech giants will get massive political support as their European disputes continue. And with the continent's politicians and regulators only getting more aggressive about policing the actions of these companies as their local economic and cultural impact continues to swell, it's a safe bet that we'll see fresh battles between Silicon Valley and Brussels break out over the next couple of years.
Amazon isn't the only way to invest in the cloud, Jim Cramer explains.