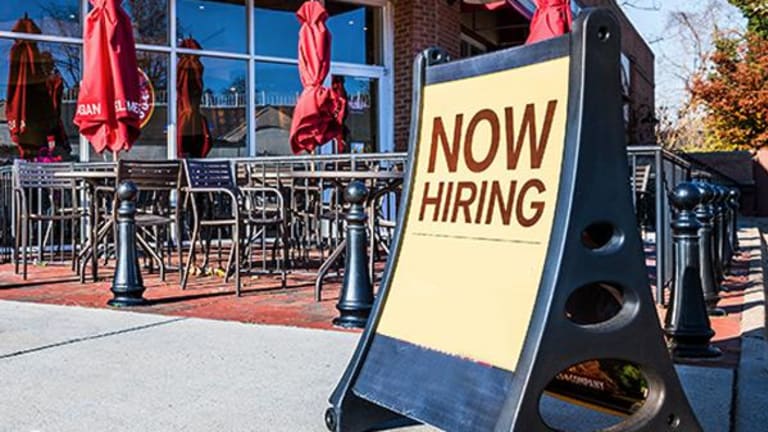 Unemployment Rate Hits 10-Year Low With Blowout Month for Payrolls
The unemployment rate ticked even lower to 4.4%, as employers added jobs in leisure and hospitality firms, restaurants and bars and finance companies.
Unemployment dropped to 4.4% in April, the lowest in 10 years, as an expanding travel and leisure industry helped payroll growth rebound from a dreary March.
Employers added some 211,000 jobs, the U.S. Labor Department reported, topping an estimate of 170,000 from Bank of America (BAC) - Get Bank of America Corp Reportand an average of 185,000 from economists. Gains for March were cut to 79,000 from a previous report of 98,000, which had already lagged estimates by a wide margin.
The numbers strengthen the Federal Reserve's hand in raising interest rates, which have been increased only three times after hovering near zero for seven years following the 2008 financial crisis. They also reflect optimism that President Trump will eventually deliver the economic growth he promised on the campaign trail, despite early setbacks such as a delay in repealing his predecessor's health-care plan.
"April employment data should put to rest concerns that somehow the economy was slowing to a complete stall," Steven Blitz, chief U.S. economist with TS Lombard, said in an e-mailed statement. "The Fed views employment data as more accurate indications of the economy's direction, and today's report leaves no doubt the direction is up.
The leisure and hospitality industry alone added 55,000 jobs in the fourth month of 2017, the department said, while 26,000 workers found posts in restaurants and bars and another 19,000 went to work in the finance industry.
The Easter holiday, which typically brings a surge in shopping for clothes and shoes at stores from Nordstrom (JWN) - Get Nordstrom, Inc. Report to Ralph Lauren (RL) - Get Ralph Lauren Corporation Class A Report , may have benefited retail numbers, which climbed by 6,000 after two months of double-digit declines, Joseph Song, a Bank of America economist, said in a note to clients.
"We remain somewhat bearish on the job market in the retail sector," he added, "as we think growing share of e-commerce will lead to a long-term structural shift in the demand for labor."
A broader indicator of labor market health, the so-called underemployment rate that includes discouraged workers and those in part-time jobs who want full-time work, narrowed 30 basis points to 8.6%, the department said. 
"The much lower underemployment rate strikes me as something the Fed will have to look at closely," said Peter Tchir, a Brean Capital managing director who writes for Income Seeker, TheStreet's premium site for fixed-income investors. 
While some members of the Fed's monetary policy committee have voiced reservations about slack in the labor market, shrinking underemployment and a consistent participation rate make it "hard to see much slack left," Tchir said. 
Joseph LaVorgna, a Deutsche Bank (DB) - Get Deutsche Bank AG Report economist, had predicted a month ago that April might see payroll gains of as much as 200,000 if March was really a temporary blip. That would be enough for the U.S. central bank to keep lifting interest rates, which it boosted to a range of 0.75% to 1% in March.
Indeed, LaVorgna said after the announcement, the gains reported Friday would jibe with two more hikes this year. They might also enable Chair Janet Yellen to detail plans before the end of December to trim a balance sheet that quadrupled to about $4.5 trillion as the Fed invested in Treasury bonds and mortgage securities to buoy the economy after the crisis.
"The April employment report was clearly what the Fed wanted to see: rebound in hiring activity and further indications that slack in the labor market continues to decline," said Bank of America's Song. "Today's report clearly increased the risk of a hike in June."
Trading in interest-rate futures backed up that assessment, with the odds of a June hike rising 6.2 points to 100% on Friday morning. Yellen has previously suggested just 75,000 to 125,000 new jobs each month would keep the unemployment rate level.
And gains will eventually slow toward that level as the economy reaches full employment, Ryan Sweet, director of real time economics at Moody's, said in an interview before the report.
"We're not going to be able to maintain growth of 200,000 jobs a month going forward," he said, when gains of just 100,000 a month are necessary to keep up with the working-age population.
Trying to get more bang for your buck? Peter Tchir of Income Seeker, our premium site for fixed-income investors, suggests talking with an active manager if you're putting money into high-yield bonds.
Editors' pick: Originally published May 5.