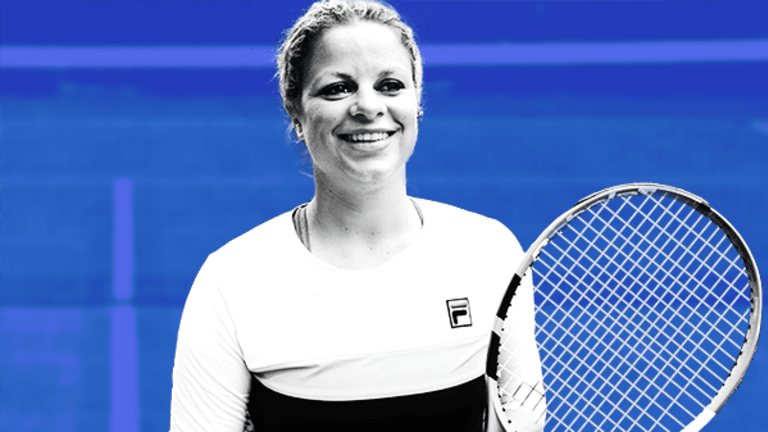 U.S. Open Champ Kim Clijsters -- Don't Swing at Every Opportunity in Life
The former No. 1 women's player in both singles and doubles says, "When know yourself, you become a better player, and a better human being."
Not every business deal ranks as solid. 
That's true if you're competing on Wall Street or for the world's most coveted tennis titles. 
Just ask Kim Clijsters, retired tennis champion and three-time Grand Slam singles winner of the U.S. Open Tennis Championship.
TheStreet talked with Clijsters on Friday, Aug. 25, at an event for her tennis racket sponsor Babolat, in advance of the New York held tournament to talk business, tennis and what she misses about playing on the pro circuit.
The Belgium-born Clijsters, a former No. 1 women's player in both singles and doubles, was a darling of the circuit, who made headlines when she came out of retirement and won the U.S. Open in 2007 after leaving the game two years earlier to have a baby. She returned with a vengeance. Clijsters was the first unseeded player to win the tournament, the first un-ranked player to score a Grand Slam and the first mother to win a major since Australian player Evonne Goolagong in 1980. 
Here's what Clijsters had to say. This interview has been condensed for length and content.
Q.What registers as a sound business proposition?
A. I try to get as much information as I can. Now that I'm retired from playing, there's a lot more business coming directly to me. And there are always nice surprises. 
Q.What kinds of surprises?
A. One was from an artist who builds furniture and sculptures outside for city halls and other places. His goal is to select celebrities he admires and recreate them in one of his visions. It could be an object in a garden or an item of clothing. He made a handbag that reminds him of me. The proposal came out of the blue, was new and original, and I said yes.
Q.When do you say no?
A. My name on my own is almost like a business. An opportunity has to match who I am. I've had offers for a lot of money, but they were wrong. If it's not healthy for kids, for example, I'm not going to endorse a product. I don't want to give the wrong impression. We try to live a healthy lifestyle and if it doesn't match me as a person, I turn it down. To have my name on a product, I want to be behind it fully. 
Q.What do you miss about competing?
A. Being with my team, my fitness coach, my trainer, my coach. We would set short-term and long-term goals around the upcoming tournaments and try to make those goals reality. We would say, for example, in eight weeks we're traveling to New York for the Open. In November, we would be training two months ahead for the Australian Open. Now I have different thought processes with the kids [her youngest child of three is nine months old], getting ready for school and vacations. But I loved training and reaching goals in tennis. 
Q.What advice do you have for new players?
A. The more you get to know yourself, the better tennis player you become, and the more you grow as a person. Be mindful of all that is happening around you. Know that you're going to make mistakes both on and off the court and learn from it. At the end of the day, knowing yourself will make you not just a better player, but a better human being.
More of What's Trending on TheStreet: