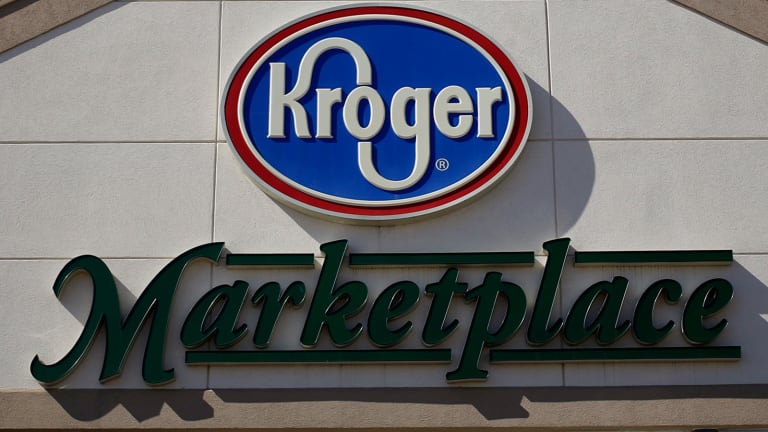 U.S. Grocer Kroger Has Gone Berzerk Because It's About to Be Invaded by a Ruthless German Rival
An analysis by one analyst found that new Lidl stores will be in close proximity to existing Kroger and Walmart locations.
As grocer Lidl plans its U.S. launch, American incumbents like grocer Kroger (KR) are bracing themselves for heightened competition from the low-cost German rival.
Lidl plans to open its first U.S. stores on June 15, with 20 stores opening this summer in Virginia, North Carolina and South Carolina and a total of 100 East Coast locations by next summer. The privately held German chain operates over 10,000 stores in Europe and is known for its price competitiveness.
According to an analysis by Oppenheimer analyst Rupesh Parikh, there will be four Lidl stores within one mile of a Kroger location and nine within one mile of a Walmart (WMT) . Expanding the radius to ten miles, all 20 Lidl locations overlap with a Walmart, while 13 of them overlap with a Kroger.
Parikh also noted that in some southern stores, Kroger is cutting prices primarily in private label products and advertising its price cuts on giant billboards. The cuts are "mainly in center of store categories and in some private label perishables" and average 20%.
Regardless of Lidl's upcoming launch, Kroger is also maintaining its long-time pricing rivalry with Walmart.
"We suspect the price reductions we observed are here to stay and likely reflect proactive reductions ahead of Lidl's entry and/or to Walmart," Parikh wrote. "We do not believe Kroger management will let their pricing gaps erode vs. Walmart and others." Some of the price changes "could be a move to lower everyday prices," as the reductions "on paper appear significant," he noted.
Kroger also cut prices an average of 7% on a few branded items, according to Parikh's store checks, including Hain Celestial's (HAIN) MaraNatha nut butters and Celestial Seasoning teas and KraftHeinz's (KHC) Heinz turkey gravy and Velveeta pasta.
While the cuts will hurt Kroger's profitability, "over time we suspect these efforts will help to preserve the company's competitive position and drive market share gains," Parikh wrote, adding that it's unclear if vendors are cutting prices or if input costs are lower.
A Kroger spokeswoman did not immediately respond to a request for comment.
Editor's Pick: Originally published May 25.
Trending stories on TheStreet: