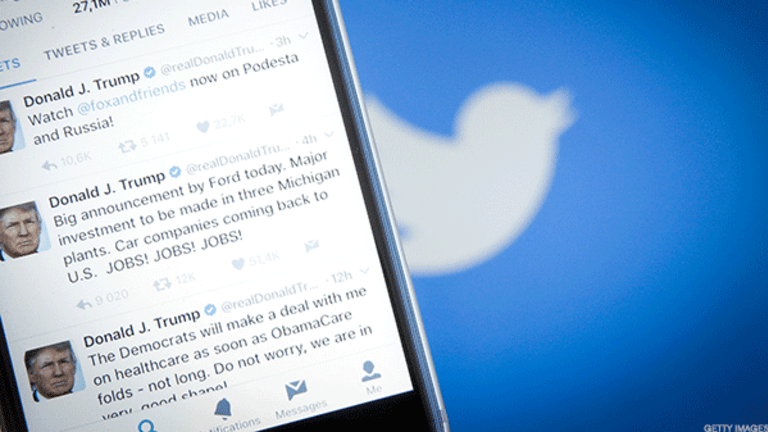 Homeland Security Launches Internal Probe Following Effort to Unmask Anti-Trump Twitter Account
The Department of Homeland Security is looking into why the U.S. Customs and Border Patrol issued a summons for Twitter to release information behind an anti-Trump account.
On April 7, the U.S. governmentwithdrewits summons for Twitter (TWTR) - Get Free Report to turn over the real name(s) of the person(s) behind the anti-Trump account @ALT_uscis after Twitter filed a 25-page lawsuit against the Department of Homeland Security and U.S. Customs and Border Patrol (CBP) claiming that it was "unlawfully abusing a limited-purpose investigatory tool" in order to make Twitter unmask the user.
Although the CBP withdrew the request, Sen. Ron Wyden of Oregon wrote a letter on April 7 asking for an internal investigation into its issuance. An investigation was opened into the matter by April 11, according to a letter written last week from U.S. Department of Homeland Security Inspector General John Roth in response to Wyden. 
In the letter, Roth said his team would look into whether the CBP "abused its authority" by issuing the summons to Twitter. He also noted that his team works to make sure their actions do not have a chilling effect on individuals' free speech rights. As of now, it is not know whether the White House knew about the summons, as it was signed by a Florida-based supervisor, Reuters reported earlier this month. 
The account in question claims to be run by at least one current government employee and has criticized the new administration's immigration policies. Since the lawsuit was filed on April 6, @ALT_uscis followers have increased from 32,000 to 194,000. After the government withdrew the summons, @ALT_uscis tweeted out a thank you to Twitter and the American Civil Liberties Union (ACLU) for their help in defending its privacy and right to free speech. The account then tweeted that it was "taking a break" because the matter had been "extremely difficult and full of anxiety." 
ALT_USCIS is one of a number of "alt" accounts that popped up after the inauguration of President Donald Trump in January that claim to be former federal agency employees or other persons with special insight who want a platform to voice their opinions that are "alternative" to the actions and policies of the new administration. The alt accounts will typically include which agency they used to work for or currently work for in the bio section of their profile, such as seen on the profiles of @alt_labor and @blm_alt. In this particular case, @ALT_uscis claims to be run by at least one current employee of the US Citizenship and Immigration Services (USCIS). 
Twitter claims that the government sent a summons on March 14 for the user names, account login, phone numbers, mailing addresses and I.P. addresses of the person(s) behind @ALT_uscis. However, the government's summons was "unlawful" because it was resting its claim for why it needs the information on rules typically reserved for investigating imported merchandise, which has nothing to do with Twitter accounts, according to the lawsuit. 
Robert Cattanach, a partner at law firm Dorsey & Whitney, said that the government's request demonstrated an escalated pressure on tech companies to turn over information on users. In the past, the government has had more valid reasons, such as national security concerns, but this time the reasoning was more concerning. "Investigation of tweets critical of the President, even if [the user is] potentially within the government ranks, raises disturbing free speech issues," he said.
First Amendment Coalition Executive Director David Snyder said that the government's justification for why it needed the information didn't seem to make sense and didn't meet the standards that the First Amendment requires it to in order to request that type of information from a company. The tweets from the account that Snyder has reviewed don't seem to touch on the issues the government cited. "The government's case is pretty weak," he said. 
Jennifer Granick, director of civil liberties for the Stanford Center for Internet and Society, said the reasoning was so off that it seemed the government wasn't being honest about why it wanted the information, Recode reported. "It seems like the government lied to Twitter about why it wanted the information," she told the technology news site. "It's not entitled to the information under the statutory authority it cites.
Twitter's lawsuit pointed out that its users have the right to free speech, including anonymously voicing their political views. Snyder noted that political speech is highly protected by the First Amendment. "In some ways that's the main point of the First Amendment," he noted. "It lets people expose inefficiencies in the government and to hold it accountable." 
In the past, Twitter has defended its user's privacy in several other cases. In 2012, Twitter spent months fighting a subpoena from the Manhattan District Attorney Office for information on Occupy Wall Street protester Malcolm Harris, including tweets he sent over a three-and-a-half month period that had been deleted, as well as his I.P. addresses. Twitter ended up having to turn over the information to a New York criminal judge after it was threatened with sanctions and Harris pleaded guilty to disorderly conduct. 
In 2014, Twitter cited its First Amendment rights in a lawsuit against the US Justice Department for its rules on how much information it could reveal to the public about how many requests it receives for user data. "It's our belief that we are entitled under the First Amendment to respond to our users' concerns and to the statements of U.S. government officials by providing information about the scope of U.S. government surveillance -- including what types of legal process have not been received," Twitter vice president Ben Lee wrote in a blog post. "We should be free to do this in a meaningful way, rather than in broad, inexact ranges." Last year, a California court partially dismissed the lawsuit. 
Twitter isn't alone in its fight to keep user data private. Earlier this year, Amazon (AMZN) - Get Free Report fought against the request for it to turn over the audio recorded by one of its Echo devices near the scene of an alleged murder in Arkansas. Police wanted the audio from a 48-hour period, claiming it could help them determine if the victim, Victor Collins, was murdered since he was found dead in the bath tub at the house of his friend James Andrew Bates. Amazon turned over the requested audio last month after defendant Bates gave it permission.  
Last month, Facebook (FB) - Get Free Reportupdated its privacy policy to say that it is no longer allowing the data it has on its nearly 2 billion members to be used for surveillance purposes, such as locating activists and protesters. This move came after the ACLU found that software developers at Geofeedia were using data from Facebook, Instagram (owned by Facebook) and Twitter (TWTR) to help police officers locate participants in the racially charged protests in Baltimore and Ferguson, Mo.
Finally, fellow tech giant Apple (AAPL) - Get Free Report was caught up in a related case last year when it refused to accommodate the U.S. Federal Bureau of Investigation's (FBI) request that it unlock the iPhone of Syed Farook, who had shot 14 people in San Bernardino. Apple CEO Tim Cook said the request was "chilling" considering the company would have to build new software that could then be used to unlock millions of other iPhones. The FBI ended up using a third party to gain access to the smartphone.
While its admirable that all of these big tech companies are fighting to protect user data, they also have a business interest in doing so, Snyder noted. For example, if Apple had cracked the code on its own phone, then people would worry that their phone code could also be cracked. "Something like that could diminish people's confidence in Apple's products," he said. "These companies all have a real business interest."