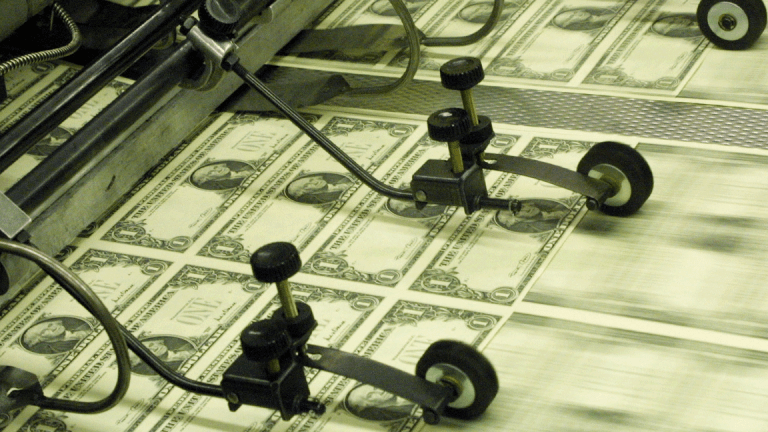 The U.S. dollar has been on a tear in recent weeks, trading higher in 14 of the last 20 trading sessions in May so far.
As political turmoil in Europe and the flight to risk-off assets continued this week, the U.S. dollar index on Tuesday, May 29, hit a six-month high at 95.03, putting the greenback on track to tally its biggest monthly gain in more than a year and a half.
In early Wednesday trading, the dollar - compared to a basket of six global currencies - dipped about 0.53% to 94.34. But the dollar remains higher with a gain of more than 4% in the last three months.
While a strong dollar means cheaper imports and cheaper tourism abroad, it could be bad news for large U.S.-based multinational corporations that count on international revenue for a large chunk of their top lines. When the dollar is weak, the income those companies earn in foreign markets decreases in value on their balance sheets.
Some of the more well-known U.S. firms that could suffer as a result of the stronger dollar include McDonald's Corp. (MCD) - Get McDonald's Corporation (MCD) Report , which tallied a 2% increase in total revenue from international lead markets in 2017. During the same time, total revenue from U.S. markets shrank 3%.
Coca-Cola Enterprises Inc. (CCE) , the marketer, producer and distributor of Coca-Cola products in Western Europe, could also struggle. Revenue for the European arm of Coca-Cola grew 17.5% in 2017, while revenue for U.S. counterpart Coca-Cola Co. (KO) - Get Coca-Cola Company Report contracted 15.4% during the same period.
Procter & Gamble Co. (PG) - Get Procter & Gamble Company Report could tumble, as well. In 2017 the company had about 45% of its net sales in the U.S., but the company tallied 23% of its sales in Europe; 9% in the Asia Pacific region; 8% in China; 8% in Latin America and 7% in India, the Middle East and Africa.
Philip Morris International Inc. (PM) - Get Philip Morris International Inc. Report has focused exclusively outside of the United States since it was spun off from former parent Altria Group Inc. (MO) - Get Altria Group Inc Report in March 2008. Philip Morris registered 32% of total operating income in the European Union in 2017, putting it at risk in a strong-dollar environment.