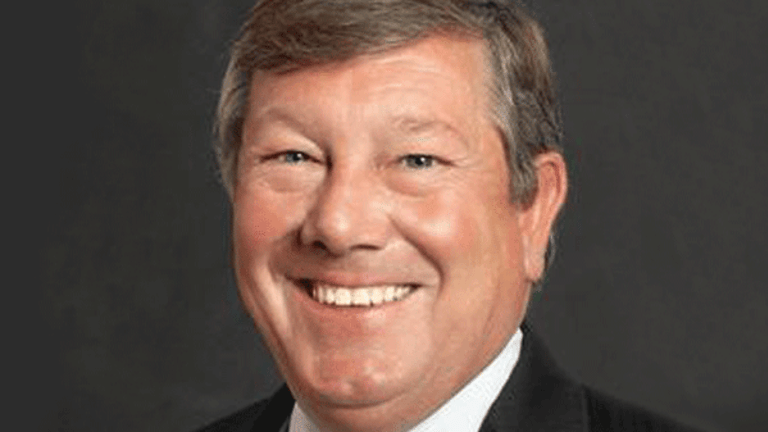 U.S. Concrete CEO Talks Trump, Infrastructure and The Wall
U.S. Concrete CEO tells TheStreet about the outlook for infrastructure in America and when Trump's proposed plans could create an impact.
As investors get ready to close out 2016 and move into 2017, President-elect Donald Trump's proposed infrastructure policies are reinforcing some of the work that the Obama administration began laying the ground work for in 2015.
As U.S. Concrete (USCR) - Get U.S. Concrete, Inc. Report CEO William Sandbrook noticed, Trump mentioned infrastructure in the first few minutes of his acceptance speech. "He didn't talk about racial healing, he didn't talk about ISIS, he talked about infrastructure, meaning it's on the top of his mind," Sandbrook told TheStreet in a recent phone interview.
Building on the FAST Act, which represented the first investment in infrastructure since 2008, Trump plans to pour $550 billion into the infrastructure. The president-elect says he wants to "build roads, highways, bridges, tunnels, airports and railways of tomorrow." Trump also reaffirmed, but slightly amended, his plans to build a wall along the U.S./Mexico border, saying that a fence would be acceptable in certain areas, but a wall is necessary in other location on CBS' "60 Minutes" Sunday, Nov. 13.
With this in mind, the outlook for the companies that would be responsible for constructing the infrastructure and transportation "of tomorrow," are presented with opportunities for upside growth.
Furthermore, Trump's plans to make America energy independent, which include building pipelines and opening onshore and offshore leasing on federal lands, only appears to strengthen this infrastructure play.
However, on Friday, the Obama Administration and the U.S. Department of the Interior issued new guidelines for the offshore oil and gas leasing plan for 2017 to 2022. The program focuses on oil and gas development in the Gulf of Mexico, while areas in the Arctic will not be included.
Even with Trump's promises, there is a belief among some that the 70-year-old president-elect will be able to get his plans passed.
"In order to get [infrastructure spending] passed, you're going to need an outsider with the political will and courage to get some sort of consensus on funding," Sandbrook said. "He's the only outsider who can get it done."
Additionally, Trump's proposed corporate and income tax reductions will allow more money in the economy, the U.S. Concrete CEO believes, and that stimulates concrete consumption.
"What drives concrete consumption is a growing, vibrant economy," Sandbrook said.
Considering that concrete is used for roads, bridges, airports, and in energy infrastructure, all the things Trump wants to build, there is ample opportunity for companies to continue to add to their project backlog.
While Sandbrook anticipates financial impact from FAST Act projects in 2017, he believes that Trump's infrastructure projects won't show any true impact until 2018. "There will be a healthy number of projects to bid on, but going forward, it will take a while for these infrastructure projects to become biddable projects," Sandbrook said.
Even though U.S. Concrete has "many large-scale projects in process or in its backlog," as Sandbrook said to analysts during a Nov. 3 conference call, he told TheStreet that he is "not looking at wholesale hiring in 2017" because he anticipates more projects in 2018.
One of those potential projects: The so-called Trump Wall.
Concrete is one of a few suitable materials that could be used to build the 1,000-mile-long wall along the U.S./Mexico border that has been a primary point in Trump's policies, specifically regarding immigration.
The height of the wall has ranged from 35 feet to 50 feet, but would require approximately 12 million cubic yards to 13 million cubic yards, Sandbrook says.
The cost of building such a wall would be enormous, yet Trump insists Mexico will pay for it -- that remains to be seen.
Still, U.S. Concrete is ready if needed. "We have concrete operations in Laredo and a portable concrete plant division that travels around the country supplying concrete to large scale, remote projects," said Sandbrook. "So we would be well positioned to bid on any opportunities that may develop if the plan for a wall moves forward."
Aside from the government projects, there's been an increase in activity in the oil and gas industry, particularly in the Permian Basin, which lies in the western part of Texas and the southeastern part of New Mexico.
Sandbrook said there was "tremendous growth" in the Permian region between 2011 and 2013. However, the influx of those workers diminished during the oil price collapse in December 2014, he continued.
On Tuesday, the U.S. Geological Survey revealed the largest estimate of continuous oil ever assessed in the U.S. -- and it is located in the Midland Basin portion of the Permian Basin. It contains an estimated 20 billion barrels of oil, 16 trillion cubic feet of associated natural gas and 1.6 billion barrels of natural gas liquids.
The development is certainly newsworthy, especially as Trump plans to make America energy independent. But oil prices remain volatile, especially ahead of the Nov. 30 Organization of Petroleum Exporting Countries meeting in Vienna, when the cartel is supposed to reach an agreement on curbing production. If OPEC can reach an agreement, oil prices will likely move higher.
Sandbrook believes that if oil gets back to between $50 and $60 a barrel, the Permian will be busy again. That being said, U.S. Concrete has minimal indirect exposure, less than 2%, to the energy markets.
With all of these potential projects in the pipeline, there is an "overall feeling that materials suppliers can benefit," Sandbrook said. Investors are already jumping in on this infrastructure play as well as USCR shares have increased 18% since Trump was announced as the president-elect. Other companies such as AECOM (ACM) - Get AECOM Report and Jacobs Engineering Group (JEC) - Get Jacobs Engineering Group Inc. (J) Report have gained 18% and 17%, respectively.
AECOM CEO Michael Burke said there's a renewed excitement around infrastructure on CNBC's "Power Lunch" Friday. Burke believes one of the most likely sources of revenue is going to be "coupling the infrastructure initiatives with international tax reform." He also said the company ready to meet the demand for improved infrastructure.
That being said, Deutsche Bank analyst Chad Dillard thinks the Trump-driven infrastructure rally has moved "too far, too fast."
"Although we are constructive on infrastructure spending over the long term, the benefits of a Trump plan are unlikely to hit for another 3 to 4 years," Dillard wrote in a recent research note. " This echoes Sandbrook belief that the project pipeline will be most robust in 2018.
So, even though President Obama laid the groundwork for growth, the industry is depending on Trump to continue growth during his administration.
Employees of TheStreet are restricted from trading individual securities.
Deutsche Bank does and seeks to do business with companies covered in its research reports. Thus, investors should be aware that the firm may have a conflict of interest that could affect the objectivity of this report. Investors should consider this report as only a single factor in making their investment decision.