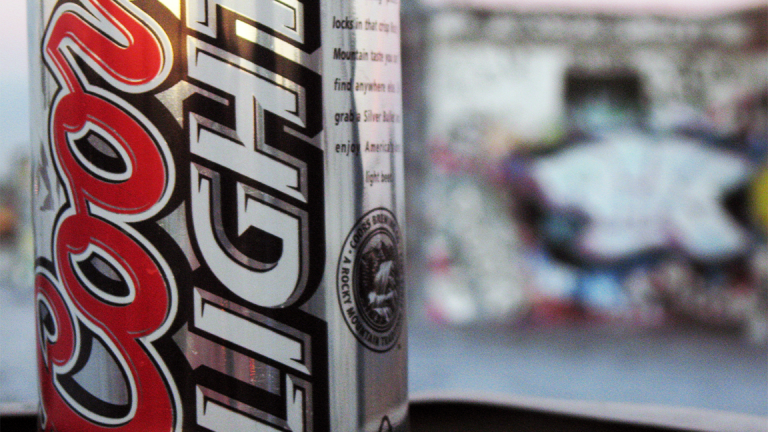 U.S. Companies, Trade Associations Outraged by Trump's Steel, Aluminum Tariffs
From beer makers to automobile producers to mining companies, firms both domestic and abroad, including Molson Coors and ABInBev, issued statements in opposition to Trump's proposed import duties Thursday.
U.S. and global companies, from beer makers and car manufacturers to mining companies, expressed concern and some outrage Thursday, March 1, after President Donald Trump announced his intention to impose a 25% tariff on steel imports and a 10% tariff on aluminum imports. 
The move is seen as an effort to protect two struggling U.S. industries that have seen significant drops in employment in recent years and comes after Secretary of Commerce Wilbur Ross recommend in mid-February that the administration impose some combination of tariffs and quotas on countries across the globe exporting steel and aluminum to the U.S. 
In a three part tweet, Molson Coors Brewing Co. (TAP) - Get Molson Coors Beverage Company Class B Report subsidiary MillerCoors lambasted the president's tariff decision.
Anheuser Busch Inbev NV, the world's largest beer maker, also cautioned Trump on Thursday against rushing into aluminum imports. AB InBev chief executive Carlos Brito told a news conference that any policies should encourage people to invest in the U.S. and boost employment, otherwise "it's going to be something that's going to put jobs at risk and would be against the U.S. consumer."
Various aluminum importers, including Coca-Cola Co. (KO) - Get Coca-Cola Company Report , PepsiCo Inc. (PEP) - Get PepsiCo, Inc. Report , Ball Corp. (BLL) - Get Ball Corporation Report , Dr Pepper Snapple Group Inc. (DPS) and Constellation Brands Inc. (STZ) - Get Constellation Brands, Inc. Class A Report issued a letter to the president on Feb. 1 in anticipation of the tariffs, claiming "tariffs or quotas on imports of primary aluminum would have a major negative impact on downstream U.S. manufacturers like food and beverage companies."
Speaking of Coca-Cola, TheStreet just talked with CEO James Quincey. Watch below. 
The companies said they appreciate the president's concern about the viability of the domestic aluminum smelting industry, but warned import restrictions would have the unintended consequence of harming many healthy downstream U.S. manufacturing industries.
"In sum, tariffs or import restrictions on aluminum will hurt the U.S. economy more than they will help U.S. smelters," the companies wrote. 
The American International Automobile Dealers Association echoed a similar sentiment Thursday, stating that both steel and aluminum are "crucial to the production of cars and trucks sold in America today" and the tariff "would raise the sale prices of those vehicles substantially."
Meanwhile, a proposed expansion of Exxon Mobil Corp.'s (XOM) - Get Exxon Mobil Corporation Report 362,000 barrel-per-day Beaumont, Texas, oil refinery could be affected due to the tariff, Reuters reported Thursday citing a source familiar with the matter.
Rio Tinto Group, a major exporter of Canadian aluminum into the U.S., suggested in an interview with Bloomberg that Canadian aluminum has been a "reliable and secure input for U.S. manufacturers — including the defense sector.
London-based Rio Tinto said it will continue to lobby Washington for an exemption, Bloomberg reported. 
On the other hand, General Motors Co. (GM) - Get General Motors Company Report , the U.S. largest automobile producer, said it will roll with the punches Thursday. In a statement, the company said it purchases over 90% of its steel for U.S. production from U.S. suppliers. 
"We need to better understand the details around the announcement today, but the bottom line is we support trade policies that enable U.S. manufacturers to win and grow jobs in the U.S., and at the same time succeed in global markets," the company said. "Over the last several years, we have shown we are a disciplined company with the ability to adjust and adapt to a variety of market changes around the world, and we'll do that again as needed."
Notably, Japanese auto maker Toyota Motor Corp. (TM) - Get Toyota Motor Corp. Report also said a majority of its steel and aluminum purchases come from the United States.  
Worries that the burden of the tariff would ultimately be passed on the consumer were also present Thursday. 
"Make no mistake, this is a tax on American families. When costs of raw materials like steel and aluminum are artificially driven up, all Americans ultimately foot the bill in the form of higher prices for everything from canned goods to automobiles," the National Retail Federation said in an emailed statement. "The reality is that there is nothing this country will gain from such a one-sided policy. These tariffs threaten to destroy more U.S. jobs than they will create while sending an alarming signal to our trading partners and diminishing markets for American-made products overseas."