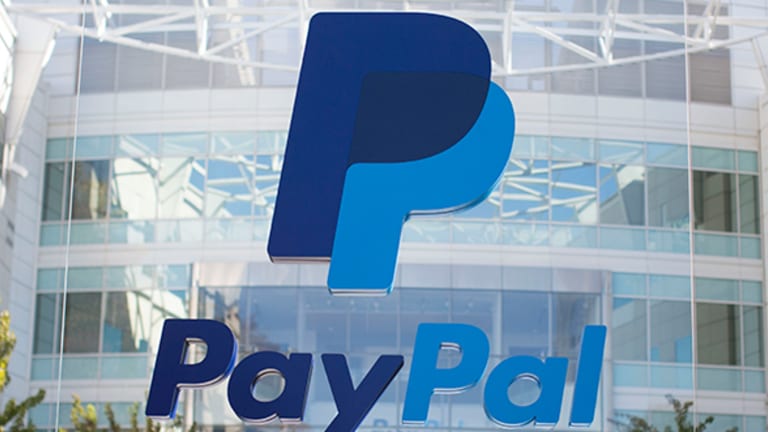 Publish date:
U.S. Banks vs. Venmo, Square and Others -- Tech Roundup
The New York Times is buying Wirecutter for $30 million, while U.S. banks roll out Zelle, a money-transfer platform.
The New York Times is buying Wirecutter for $30 million, while U.S. banks roll out Zelle, a money-transfer platform.
It's all going wireless. Everything. We might as well start looking at traditional checkbooks vanishing and it will only be so long before we stop handling cash. No, we're not talking about Bitcoin. Instead, we're looking at the way we send money to different people.
PayPal (PYPL) - Get Report is perhaps the most well-known name in the space, where users can pay for goods and services or send money to friends and family. The company acquired Venmo, which is experiencing red-hot growth, while others like Square (SQ) - Get Report are looking for a piece of the pie as well.
These companies, however, will face a little bit more competition with Zelle.
Previously, banks like JPMorgan Chase  (JPM) - Get Report , Wells Fargo (WFC) - Get Report and Bank of America (BAC) - Get Report tried to make a money-sending network called ClearXchange. However, without other banks joining in and low efforts in marketing, the platform never gained a lot of traction.
Citigroup (C) - Get Report joined the efforts last month and the platform has been rebranded as Zelle, which should start to roll out soon. By early 2017, about 20 banks are expected to be on the network and, if so, Zelle could become a formidable competitor to others who have a foothold in the industry.
Shares of PayPal closed at $43.87 Monday, down 0.6%.
We've heard of assembly line strikes, mining strikes, even strikes at Verizon (VZ) - Get Report , but rarely have we seen a strike like this: a voiceover actors strike.
Yep, that's right. 
"A union represents thousands of voiceover actors has called for a strike against 11 video game companies... over a pay dispute," reported the Wall Street Journal.
Two of those 11 include juggernauts Electronic Arts (EA) - Get Report and Take-Two Interactive (TTWO) - Get Report . Apparently, the union has been negotiating a new deal for almost two years. (Seriously, who would've known?).
The union is working on negotiating the actors' secondary compensation. Initial compensation accounts for about $825 for a four-hour session. However, the union is fighting for a piece of revenue sharing with gamemakers too.
Of course, that's not too surprising given the massive amounts of money video games bring in, as EA's revenue swelled to more than $4 billion last year.
Shares of Electronic Arts closed at $814.15 Monday, up 1.5%.
Although the AT&T (T) - Get Report  and Time Warner (TWX) deal is stealing the spotlight, why not shine a little love on The New York Times (NYT) - Get Report , which acquired The Wirecutter for a brisk $30 million.
OK, OK, so the deal is a touch smaller than the $85 billion one inked between Time Warner and AT&T. But that's not the point.
The online consumer guide, which ranks a wide range of different products from headphones to bags and travel to smarthome items, was started in 2011 by Brian Lam. Lam formerly served as an editor at Gizmodo and he has self-funded the company's growth.
The Wirecutter generates revenue through affiliate links, which occurs when customers click on links and make purchases. Perhaps this will give a boost to The New York Times' digital ad revenues, which saw a year-over-year decline last quarter.
Shares of The New York Times closed at $11.50 Monday, flat for the session.
This article is commentary by an independent contributor. At the time of publication, the author held no positions in the stocks mentioned.