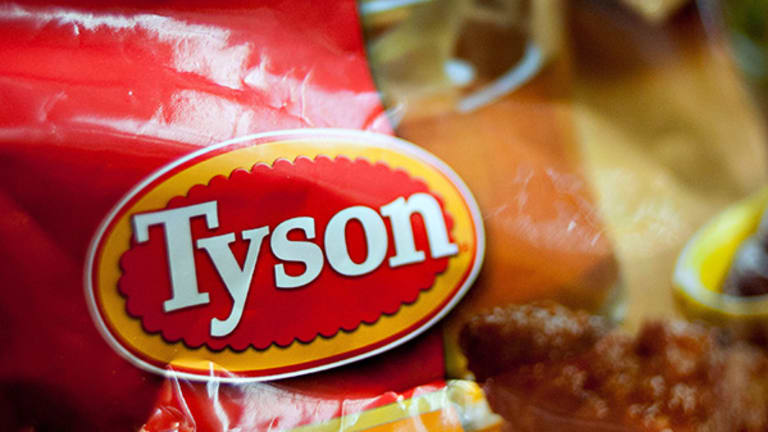 Tyson, Sleeping With the (Dead) Fishes, Slapped With $2.5 Million Fine
Tyson pleaded guilty to Clean Water Act violations pertaining to a hazardous waste incident that killed 108,000 fish in Missouri.
Tyson Foods Inc. (TSN) - Get Free Report  stock was flat in afternoon trading Wednesday after its Tyson Poultry unit was fined $2.5 million for Clean Water Act violations that left about 108,000 fish dead, according to the Springfield (MO) Business Journal.
Tyson Poultry pleaded guilty to the charges against the unit, which alleged its Monett, Missouri, slaughter and processing plant improperly dealt with acidic liquid in 2014. The liquid leaked into municipal wastewater treatment centers and killed bacteria used to reduce ammonia levels in the treated water. When the affected water was released into nearby Clear Creek, it still had high ammonia levels, resulting in large scale death of fish in the creek.
Tyson will pay a $2 million criminal fine plus $500,000 to maintain and restore waters in and around Monnet. Tyson is also on two years of probation, according to the Department of Justice. The company has been ordered to hire a third-party auditor to ensure compliance with the Clean Water Act and hazardous waste standards at all poultry plants across the country.
Tyson said it "deeply regretted" the "unfortunate mistake" in a Wednesday statement regarding the misdemeanors. The company said it has since conducted lessons learned training in its poultry operations and strengthened environmental standards. 
Wednesday's ruling comes after Tyson paid $540,000 in 2015 to settle with the state of Missouri regarding the same incident.
More of What's Trending on TheStreet: