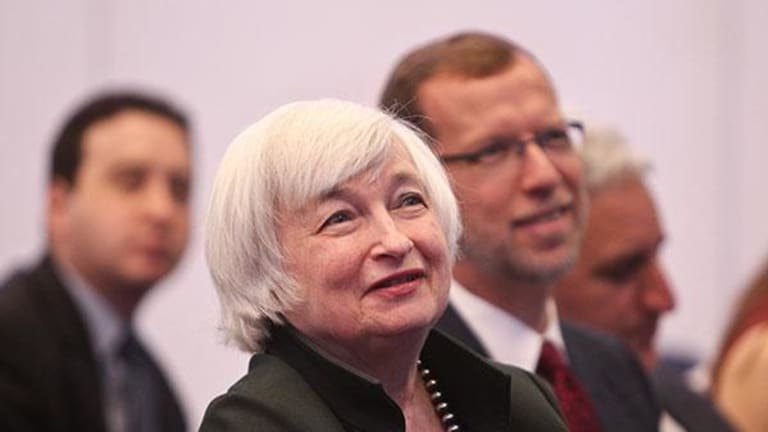 Fed Chair Janet Yellen to Consumers: Chill, It's All Good
Retailers should still be worried, however.
Retailers should still be worried, however.
U.S. consumers should rest easy despite higher credit costs in the wake of the Federal Reserve's latest interest hike, suggests Fed chair Janet Yellen.
"The simple message is the economy is doing well," Yellen said during a news conference after the FOMC's policy decision on Wednesday in response to a question on what consumers should read from the decision to lift interest rates.
Yellen added, "We have confidence in the robustness of the economy and its resilience to shocks."
That message may be of little solace to consumers and the places where they shop for goods and services.
Retail executives are surely feeling discomfort ahead of a prolonged rise in interest rates, as stocks in the sector historically have experienced valuation multiple compression and under-performed during an increasing rate environment (see charts below), Jefferies analysts Dan Binder and Dolph Warburton said in a research note ahead of the FOMC decision. 
"Ultimately, if inflation and rising rates have an impact on banks' willingness to lend in a negative way, the credit cycle softens and retail sales growth decelerates," the analysts said in the note.
Binder told TheStreet that retail is an "early cycle group" and the Fed is raising rates late in the cycle, explaining why the market is anticipating a slowdown in retail sales growth rates.
"Admittedly in this cycle the pro growth policies under Trump could be a wildcard," Binder added.
The retail industry doesn't need to add anymore headwinds to its long list of woes which includes dwindling mall traffic, still bloated store bases, heightened competition from e-commerce players such as Amazon (AMZN) - Get Report and rising rent costs. In the past week alone, Wall Street has seen bankruptcy filings from sporting goods retailer Gander Mountain, RadioShack successor General Wireless Operations, everyday value price department store operator Gordmans Stores (GMAN) - Get Report and appliances, electronics and furniture retailer HHGregg (HGG) . Children's apparel retailer Gymboree warned on Wednesday that it could run out of cash.
Meanwhile, retailers reliant on debt financing to stay alive -- such as ailingSears Holdings Corp. (SHLD) -- could be pushed to the brink in an era of higher financing costs.
In addition to slower credit growth, retailers could also be stung by consumers pulling back on using often adjustable interest rate store credit cards, which tend to already boast sky-high rates. Credit card balances also stand to increase due to the hike in interest rates. 
Trump and your taxes:Watch Jim Cramer lead a roundtable discussion on how investors and retirement savers should position their portfolio.