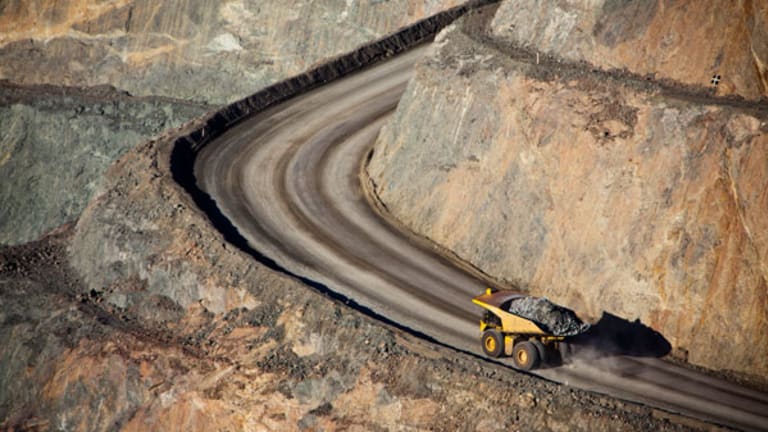 Two Gold Stocks With Something to Prove
Agnico-Eagle and Randgold had rough fourth quarters and are hoping to deliver the goods in 2011. Here's what to look for.
NEW YORK (
) --
Rangold Resources
(GOLD) - Get Free Report
and
Agnico-Eagle
(AEM) - Get Free Report
are in the hot seat to deliver the glittery goods when they report first quarter earnings.
Both had glaring misses in the fourth-quarter of 2010
and these mid-sized gold miners must show growth, profits and crisis management when they report. Agnico will report Thursday April 28th and Randgold will follow a week later.
Here's what you have to look for, beginning with Agnico:
Production
Agnico missed 2010 gold production guidance by 1.2%, delivering only 987,609 ounces of gold.
The company had lower-than-expected grade at two of its mines, Lapa and LaRonde. According to CEO Sean Boyd, the low grade was a sequencing issue and eventually both mines will deliver better gold and more of it. LaRonde is estimated to produce 157,000 ounces in 2011 and Lapa should produce 125,000 ounces. Agnico is hoping to produce 1.2 million ounces in 2011, 19% more than 2010.
Cash Costs
Agnico also reported higher cash costs in 2010 of $451 an ounce, which disappointed the Street. This was mainly due to operational issues at two if its fledgling mines, Kittila and Meadowbank, and the first quarter might be rough.
Vote: Where will gold prices finish in 2011?
Kittila had to contend with a planned maintenance shutdown that was longer than expected and the mine took longer to rev up after the fact. According to Boyd, "since December that mine has run above design capacity" and is "running well." Agnico hopes Kittila will produce 150,000 ounces in 2011 for $548 an ounce.
The biggest thorn in Agnico's side was capacity constraints at Meadowbank. This was due to the company using portable crushing facilities that didn't do their job. Investors will have to wait until the third quarter for a permanent fix, at which time, supposedly, production will ramp up big time.
Estimated 2011 gold production for Meadowbank is 362,000 ounces at $548 cash costs, but Boyd says after the third quarter the mine could deliver between 375,000 and 400,000 ounces at $550 cash costs. However, due to a fire in the kitchen and nearby facilities at the mine, daily throughput in the first quarter should be 6,900 tons lower than previously expected and at lower grades. Expect lower production and higher cash costs.
According to Boyd, Kittila will see dramatic cash cost improvements quickly and that the rest of Agnico's six operating mines will slowly improve their cash costs in the second half of 2011.
Agnico is also trying to save money by producing more silver, so the company can sell it and put the profit towards producing an ounce of gold. In 2011, the company is hoping to produce 6,190 ounces of silver.
Earnings
In the last quarter, Agnico made 53 cents a share, or $88 million, which was below expectations. Annual earnings jumped 284% year-over-year and cash flow soared 320%, but it wasn't enough to calm investors. For the first-quarter, Agnico is expected to report 54 cents a share.
The wild card is inflation, particularly in oil and labor. Half of its mines are in Quebec and are reliant on diesel. The company is currently hedged at $80 until September.
Valuation
The stock trades at 19.6 times trailing EV/EBIDTA and has 11 buys and 10 hold ratings with an average price target of $86.53. Sales are expected to grow 9.7% over 2011-2012.
JPMorgan Chase
(JPM) - Get Free Report
has a neutral rating on the stock and highlighted in a recent note concerns over more production delays and operational problems at LaRhonde.
Boyd says he has a long term outlook on his company's success. "We are not concerned ... we are disappointed ... but we will do better."
Randgold
Production
CEO Mark Bristow will be the first to tell you that 2010 was tough for Randgold. The company had pre-announced production issues at its Loulo mine due to power problems, an upgrade of the switchgear that took longer than expected and issues with mill relining.
Loulo still has some growing pains as an underground project at Yalea is redesigned and Gara, another underground project, is developed. The second quarter should be smoother for Loulo. The mine is expected to produce between 420,000 and 440,000 ounces in 2011.
Randgold's Tongon mine in the Ivory Coast has been plagued with political problems since November presidential elections where incumbent president, Laurent Gbagbo, refused to leave office to the internationally recognized, Alassane Ouattara, which caused a civil war. The political situation has been resolved, finally, with Gbagbo under arrest and while production was never stopped, there were snags.
In the fourth quarter, much of Tongon's gold was unsold, $33 million worth. The mine produced 28,126 ounces but only sold 4,698. Bristow said the political situation needed to be resolved by the middle of the year for Randgold to meet production targets and it was.
Randgold produced 132,099 ounces of gold in the fourth quarter at $766 an ounce and is hoping to produce between 750,000 and 790,000 for 2011 pending manageable input costs, currency fluctuations and no disruption at Tongon.
Cash Costs
Seven hundred and sixty six dollar cash costs were well below Bristow's target of $600 an ounce. The miss was due to higher input costs and lower grade.
"Better gold" was supposed to come from Loulo in November but only did so in December, due to lack of mining equipment. The situation "should" be resolved and the first quarter "should" account for higher grade.
Also helping the cost picture is the ramp up of the Gounkoto project, which completed its feasibility study in 2010. High grade from that project will help Loulo's cash costs and production throughput. According to Bristow, Loulo will move from 3 grams per ton in the first half of the year to 5 grams per ton over the next 15 years, which means better gold for a long time.
Earnings
The company made 29 cents a share in the fourth quarter, down 17% from a year earlier, and sold $145 million worth of gold.
Inflation is the thorn in its side with oil being the biggest inflator. Randgold, however, is moving from diesel power to grid power and hydropower over the next five years. Bristow wasn't too worried about short term oil prices, saying that the company has seen $140 oil before and managed. "We plan at $900 gold," leaving room for higher input costs as long as gold prices stay high.
Valuation
Stock trades at 46.7 times trailing EV/EBIDTA with 30% sales growth projected from 2011 through 2012. Analysts have 5 buys, 2 holds and 1 sell rating on the stock and an average price target of $103.
Stifel Nicolaus has a hold rating on the stock and warns of cash costs higher than $600 an ounce, which would underscore the continuation of issues at Loulo. However, Stifel Nicolaus estimates that the second half of the year will be better for the company as higher grade from Gounkoto kicks in and as Tongon operates at full speed.
--
Written by Alix Steel in
New York.
>To contact the writer of this article, click here:
Alix Steel
.
>To follow the writer on Twitter, go to
.
>To submit a news tip, send an email to:
.
RELATED STORIES:
>> Where will gold prices finish in 2011?
>> How High Will Silver Prices Go in 2011?
>> Gold Miners Face a Cost Crunch
Disclosure: TheStreet's editorial policy prohibits staff editors and reporters from holding positions in any individual stocks.