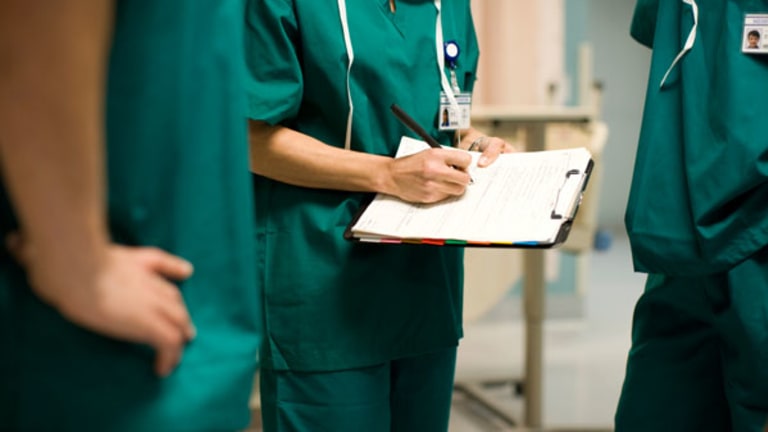 Two China Pharma Plays
Tianyin Pharmaceuticals and Biostar Pharmaceuticals have impressive product portfolios and are poised for growth.
At GeoInvesting, we have been tracking
Tianyin Pharmaceuticals
(TPI)
for some time now.
Our largest hang-up had been with the potential dilution from "in-the-money" warrants. Although the company's fiscal June 2010 net income guidance of $11.3 million represents a 43.0% increase from the fiscal 2009 reported net income of $7.9 million, the increase in shares poses some uncertainty regarding the near term EPS growth scenario, which depends upon the share price and the Treasury method of accounting for these warrants under GAAP. (Tianyin reported 32 cents per share for its 2009 fiscal year, based on 24.8 million shares.)
Having said that, on Dec. 3, Tianyin issued fiscal 2011 net income guidance of $19.6 million, implying earnings per share figure of 50 cents, fully taxed. Combine this with an overall positive outlook, a very accomplished management team, cash available to make potential future acquisitions, and the TPI story begins to gain strength.
With a vast product portfolio, the company appears poised to achieve consistent long-term growth. Tianyin currently has 39 products and a solid pipeline of 17 pharmaceutical products pending SFDA approval. The rapid pace at which TPI has obtained SFDA approval has been impressive -- 12 during the past 12 months. This bodes well for quick pipeline revenue generation and market penetration through an extensive distribution channel with full provincial coverage.
The company is also aggressively targeting the macrolide antibiotics market where it sees a significant growth opportunity. Growth should receive an additional boost from the expansion of its manufacturing capacity, which increased approximately 300% for solid dosage forms and can support annual revenues in excess of $100 million.
With $15 million in cash, about $12 million in annual operating cash flow and the potential for $25 million from warrants conversions, Tianyin has the war chest to pursue accretive acquisitions that may give upside to guidance. Bullish commentary from a recent press release elaborates on the Company's view which emphasizes that
"commercializing and broadening our product line coupled with the expansion of our production facility and capacity should continue to yield significant increases in revenue in 2010 and beyond."
While short-term investors may still approach TPI with trepidation, astute long-term investors may be begin to notice the opportunity, especially given the company's overall strong fundamental story. The stock is trading at a forward P/E of 8 on our implied EPS guidance of 50 cents per share.
Biostar Pharmaceuticals
(BSPM)
is another pharmaceutical company whose stock we own. In our interview with management, BSPM demonstrated that it has a coherent understanding of its markets and the steps necessary to accelerate growth.
Biostar manufactures and distributes 15 nonprescription, prescription and nutraceutical products.
Three aspects of Biostar's story are worth considering. First, its Hepatitis flagship drug is the only one offered over the counter in Chinese drug stores. Through our communication with Biostar CEO Ronghua Wang, we learned that two other companies have the licenses for such a drug, but failed to compete due to management's lack of market awareness.
He elaborated that one of the companies, instead of choosing to market capsules as Biostar had done, marketed cheaper and underperforming tablets which ultimately led to failure.
He also stressed that the Chinese government is not issuing anymore over-the-counter Hepatitis drug licenses and has chosen to limit advertising campaigns for prescription only Hepatitis manufacturers. This provides a significant barrier to entry. At an average cost of $2 day, this treatment is the most cost effective on the market.
Secondly, China is encouraging pharmaceutical companies to educate and provide Hepatitis treatment to the neglected rural regions where the disease is much more prevalent.
Biostar intends to respond to this significant market opportunity by being an early entrant in the rural areas. The company is utilizing this sales strategy to sell its products into small rural health clinics, where it currently has coverage for 3,512 sales outlets in Shaanxi Province, with plans to expand to 10,000 in several provinces by the end of 2010.
Finally, the company recently completed a capital raise enabling it to construct a raw materials processing facility. This vertical step helps to facilitate progress in several areas.
Biostar's goal is to utilize 25% of raw material production internally for better quality control.
The company aims to generate another source of revenue as it will sell the remaining 75% externally.
Margins should improve.
Supply disruption risks are being mitigated.
As exciting as those developments may be, we felt that investors would want to know how Biostar plans to grow with its current product pipeline and an existing mature product line. The 2010 pipeline consists of three over-the-counter drugs and eight prescription drugs. CEO Ronghua Wang addressed this issue stating that Biostar has
"a conservative management structure that is concerned primarily with quality and not quantity of products. There are several ways we can still enjoy rapid growth with our current structure. First, we don't have full province China which we expect to gain within two years. "Second, our penetration into the rural areas offers a whole new avenue of growth for new and seasoned products. Third, we can consider making acquisitions of distributors to increase our market presence into areas we are not serving. Finally we also have three to five nutraceutical products we may consider launching in 2010."
It was also encouraging to learn that it takes Biostar as little as one month to push a product through a distribution network.
As far as its capacity potential goes, Biostar could reach a capacity of $100 million in annual production output. The company is currently operating at 60% with the goal of reaching 80% in 2010.
In summary, what we have is a conservative management team with aggressive goals to grow via market penetration, emphasizing product quality and control of its raw material supply.
Investors may begin to notice BSPM if it continues to build on the EPS momentum established in the previous two quarters of 2009, boasting growth in excess of 100%. Income from operations targets of $15.9 million for 2009 and $21.1 million for 2010 affirms that Biostar may continue to post solid earnings gains in the upcoming year.
With implied 2010 EPS of 71 cents per share and a current price of $3.35 (as of the close of Dec. 9, 2009), BSPM is selling at a P/E of 4.7 in a sector that is gaining steam. In light of these statistics, both value and growth investors may find the BSPM story intriguing.
At the time of publication, Soueidan was long Tianyin Pharmaceuticals and Biostar Pharmaceuticals.
Maj Soueidan founded The Market's Edge, Ltd. in 1994, The Markets Edge Hedge Fund in 2006 and GeoInvesting, LLC in 2007. Through his involvement with the equity markets, he developed the strategies that are now at the core of the hedge fund and
. He currently leads a team of researchers and analysts (the GeoTeam) that help investors identify opportunities in today's volatile stock market. The team uses fundamental criteria to analyze stocks in the micro-cap to small-cap arena.