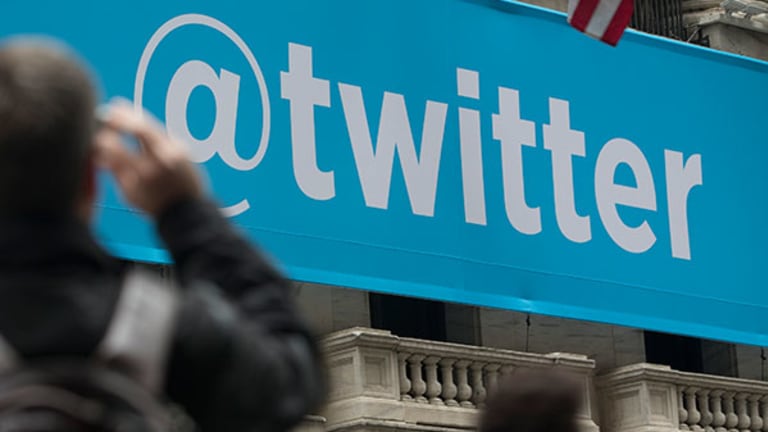 Twitter Tops Profit and Sales Expectations but Takes Ax to Workforce
The social media company posts sales of $616 million and says it will cut 9% of its global workforce.
Twitter (TWTR) - Get Twitter, Inc. Report beat analyst estimates for third-quarter sales and earnings on Thursday, sending the stock soaring more than 4% higher in premarket trading.
The social media company, which has attracted takeover interest, announced quarterly sales of $616 million, a 2% beat against the consensus for $604 million, and above the top end of management guidance for sales of $610 million.
Twitter posted a GAAP net loss of 15 cents a share, against expectations for a loss of 18 cents, and reported non-GAAP earnings per share of 13 cents vs. consensus of 9 cents. Non-GAAP net income was $92 million for the period.
Twitter stock rose by 4.2% in premarket trading, to $18.03, although the shares are down by more than 20% so far in 2016.
The San Francisco-based company also announced that it was taking the ax to its global workforce, culling headcount by 9%, as it seeks to reach GAAP profitability in 2017.
Although headcount reductions were never likely to deter the shares, they could signal a shifting mindset among the tech giant's management, which may now be looking at efficiency measures as a better source of growth as opposed to the traditional "growth" often associated with tech companies.
During the third quarter, advertising revenue totaled $545 million, with 90% of this being for mobile advertising, while data licensing revenue grew 26% to reach $71 million. Geographically, revenue growth in Twitter's home market was muted at 1% but U.S. sales of $374 million still made up the bulk of the total. International sales grew faster, at a rate of 21%, to reach $242 million.
Twitter also said it won't be delivering revenue guidance for the fourth quarter and the full year given that some new restructuring measures could impact its performance and make sales more difficult to predict. But the group said that it expects full-year adjusted Ebitda to be somewhere between $700 million and $715 million.