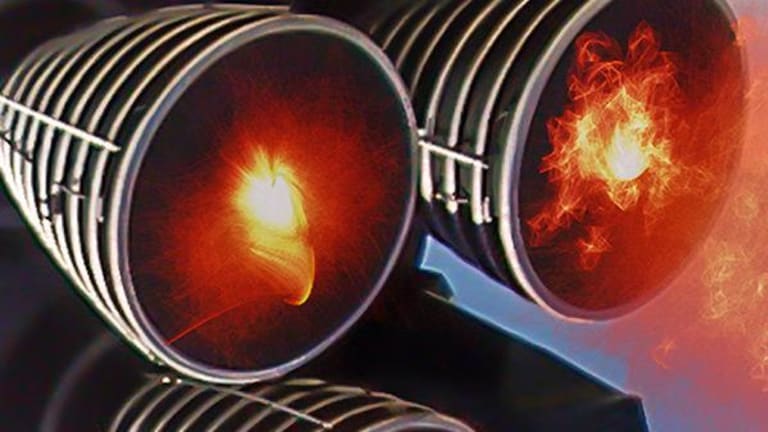 Twitter's Stock Just Skyrocketed -- Now What?
Buyers are close to taking back control of Twitter this summer.
Forget about Twitter Inc.'s (TWTR) - Get Report140 characters. Today all you need are 11: $500 million.
That's how much Twitter is adding to its market capitalization Wednesday following a bullish analyst note. Shares were up more than 5% at last count, and volume is through the roof -- enough to make Twitter one of the most actively traded issues on the NYSE as of this writing.
So, what's the $500 million update in Twitter?
And, more importantly, does it mean you should buy shares here?
First, the update. Cleveland Research wrote in a note this morning that it had received strong feedback from Twitter advertisers on the firm's execution around live content. That's a big deal considering the fact that advertising revenue made up about 89% of Twitter's total sales this past year. Ads are the firm's lifeblood -- and if active advertisers are seeing positive results from live content, the implication is that more ad dollars are likely to follow.
(And ironically, the analyst update is sending investors flocking to Twitter to figure out the catalysts behind today's move -- Bloomberg notes that tweets about Twitter's stock are about four times as high as is typical this morning.)
But the note from Cleveland Research isn't the whole story in Twitter's price action -- there's a major technical element, too. So, to figure out Twitter's near-term price trajectory, we're turning to the charts for a technical look.
Meanwhile, Jim Cramer isn't buying Apple (AAPL) - Get Report here, and says Facebook (FB) - Get Report and Alphabet (GOOGL) - Get Report look better on a dip.
In case you're unfamiliar with technical analysis, here's the executive summary: Technical analysis is a way for investors to quantify qualitative factors, such as investor psychology, based on a stock's price action and trends. Once the domain of cloistered trading teams on Wall Street, technicals can help top traders make consistently profitable trades and can aid fundamental investors in better planning their stock execution.
So, what do the technicals say about Twitter right now? Here's a closer look:
For starters, Twitter's price performance has been relatively strong in 2017 -- shares are up more than 10% since the calendar flipped to January. But that stat doesn't come close to describing the technical picture in Twitter year to date. Shares may be up 10% this year, but they've reached that point through an extremely volatile back-and-forth.
Twitter was down 11% just a couple of months ago. That's a more than 20% trough-to-peak swing since the middle of April.
Despite that volatility, the price action has been pretty technically obedient this year. For starters, Twitter kicked off 2017 in a well-defined downtrend, a drag on shares that didn't actually reverse until an earnings-fueled breakout at the end of April. In other words, you can break apart Twitter's price chart at that April up-move and focus on the more recent action in isolation.
Shares spent most of May forming a pretty textbook example of a head-and-shoulders top, a bearish reversal pattern that signals exhaustion among buyers -- following the rally from April's lows, it's not hard to see why buyers were feeling winded at that point. The head and shoulders triggered a sell when shares slipped through their neckline level at $18. That brings us to where shares sit now.
After correcting about 15% from its highs following the head-and-shoulders top, Twitter is making a second run for that $18 price level.
What makes $18 such a key level for Twitter? It all comes down to buyers and sellers.
The $18 resistance level is a price where we've already previously seen an excess of supply of shares. In other words, it's a spot where sellers have previously been more eager to step in and take gains than buyers have been to buy. That's what makes a breakout above $18 so significant -- the move means that buyers are finally strong enough to absorb all of the excess supply above that price level.
Simply put, Twitter is in "make or break mode" right now from a technical standpoint.
If shares get swatted down from newfound resistance up at $18, there's more downside risk ahead. On the other hand, if shares can materially push through $18 this week, we're likely to see a very quick retest of prior highs at $19.50. That's a good reason to keep a close eye on Twitter right now, particularly given the size of Wednesday's up-move.
Buyers are close to taking back control of Twitter this summer.
Twitter's shares rose 5.1% to $17.78 by Wednesday's close.
Visit here for the latest business headlines.
This article is commentary by an independent contributor. At the time of publication, the author held no positions in the stocks mentioned.