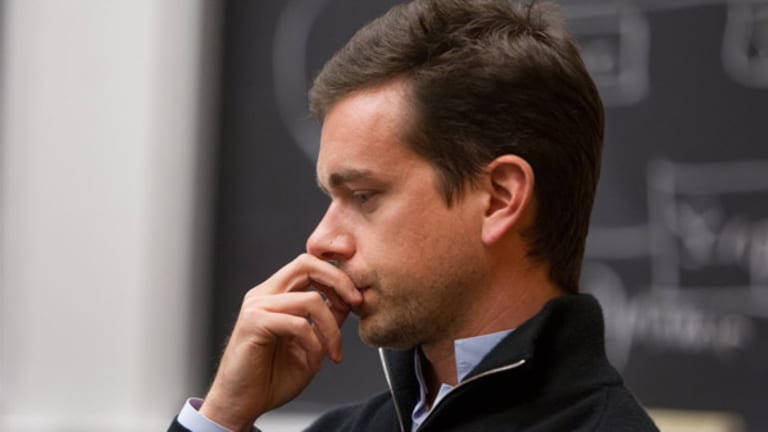 Twitter's Jack Dorsey on the Hot Seat Again After Company Adds ZERO New Users
Twitter's Jack Dorsey is spread too thin and everyone seems to see it except him.
Twitter Inc. (TWTR) - Get Twitter, Inc. Report CEO Jack Dorsey couldn't turn down the opportunity at a second chance to make his company profitable—but maybe he should have. 
Dorsey is the CEO of both Twitter and Square Inc. (SQ) - Get Block Inc Class A Report , as well as a director on the board of the Walt Disney Company (DIS) - Get Walt Disney Company Report . He became Square CEO in 2009 when he co-founded the mobile payment company, a Disney director in December 2013, and Twitter CEO (again) in September 2015. Dorsey has been on the board of Twitter since 2010.
Editor's note: This article was originally published by The Deal, a sister publication of TheStreet that offers sophisticated insight and analysis on all types of deals, from inception to integration. Click here for a free trial.
Since Dorsey was renamed CEO of Twitter on October 5, 2015, the stock has fallen 36% to $16.84, nearly $10 below its $26 initial IPO price. Of course, 14% of the drop happened on Thursday after the company reported a shocking number of monthly active user (MAUs) additions for the second quarter: zero. Analysts were expecting Twitter to add one million MAUs. 
Dorsey seems to now be back in the same position as he was in October of 2008, when he was fired from the CEO position of a company he helped start because of poor leadership skills. At the time, he was replaced by Twitter co-founder Evan Williams. "It was like being punched in the stomach," Dorsey told Vanity Fair. When Williams stepped down in October 2010, Dick Costolo took his place until Dorsey eventually came back.
What would the world be like without Twitter? 
Most CEOs are only allowed to serve on one separate board, but that's assuming their own company is steady, said Charles Elson, director of the John L. Weinberg Center for Corporate Governance at the University of Delaware. "While it's flattering to be asked to serve as the CEO of two companies and on the board of one company, you have to remember that your duty is to serve the shareholders and not to serve your personal gratification," he said. 
More of What's Trending on TheStreet:
10 Crazy Fees Airlines Use to Rip You Off Even More
Serving on a board takes about 250 hours per year, but that figure is higher if a company is struggling, Elson said. For that reason, some companies don't even let their CEOs serve on one separate board, he added. "Perhaps looking back, he should have foregone the opportunity," he said. 
While Twitter doesn't have a tech-focused activist hedge fund trying to take control and call for a sale of the company or Dorsey's ouster at the moment, the CEO's over-commitment could be a "hook to hang their complaints on," Elson noted. 
Tigress Financial CIO Ivan Feinseth said that activists usually go after companies where they feel they can unlock the value of their assets, but Twitter doesn't seem to have any value to unlock. Feinseth said he can't even see a company buying Twitter at this point because it still isn't profitable. Takeover talks surrounded Twitter in the fall of 2016 but died down by late 2016 after Disney, Salesforce.com (CRM) - Get salesforce.com, inc. Report and other potential suitors lost interest. 
Twitter seems to have tried everything to turn itself around. The platform has added countless new options, such as the "Moments" feature that collects popular tweets around a live topic to spark engagement or its live video efforts, which will include a 24-hour news channel from Bloomberg this fall and a 24-hour sports channel called Stadium. Twitter has also made improvements to the Twitter timeline in the past year with an algorithm that now collects the tweets it thinks a user would be most interested in and displays those at the top of the feed for the user to easily view when they log back on. This helps users deal with the overwhelming amount of tweets they miss when they are logged off.
The one option Twitter hasn't tried is charging users to use the service, as famed investor Bill Miller first suggested (his proposal was $1 a month). This could generate millions at first, but it could also drive users to Facebook (FB) - Get Meta Platforms Inc. Class A Report even faster, Feinseth said. Twitter added zero MAUs for the past quarter, while Facebook hit two billion MAUs in the quarter. 
Miller told CNBC last October that it was "insane" for Dorsey to be part-time CEO at Twitter considering how bad it was struggling. "If a part-time CEO makes sense, then so does a part-time CFO, part-time chief technology officer," he said at the time. "That just makes no sense whatsoever."
Twitter's Revenue Gains Won't Last Long If Its American User Base Keeps Declining
Dorsey is split between Square, which is doing well; Twitter, which is doing really poorly; and Disney, which is currently looking for a new CEO to replace Bob Iger when he eventually retires. Dorsey is an example of someone who spreads himself too thin when he thought he could spread himself thickly, Feinseth said. 
Unfortunately for investors, Twitter doesn't have a backup plan if Dorsey can't turn the company around, according to executives that spoke to Vanity Fair's Nick Bilton last year. "There is no plan B," Bilton was told. "This is it." 
Maybe Plan B is up to an activist hedge fund to decide.
Twitter shares fell 0.7% to $16.72 early Friday afternoon.
Watch More with TheStreet: