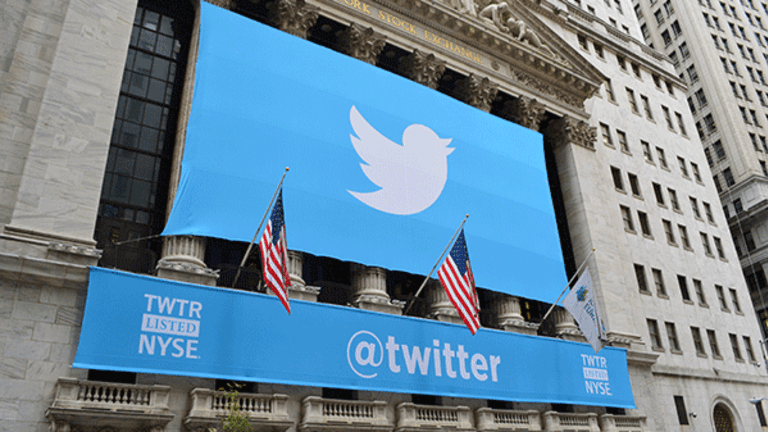 Twitter's Earnings Feature Some Encouraging Signs, but Many Big Problems Remain
With the help of product tweaks and greater political news interest, Twitter beat low expectations. But its ad sales and user growth both remain weak relative to peers.
With the help of product tweaks and greater political news interest, Twitter beat low expectations. But its ad sales and user growth both remain weak relative to peers.
Mark Zuckerberg famously called Twitter (TWTR) - Get Reporta clown car that fell into a gold mine. The microblogging service's first-quarter results show why it's hard to keep its "gold mine" from paying off to some degree, particularly when external conditions have become a little more favorable. Even if the company's mining efforts still often conjure images of entertainers with red noses and colorful wigs.
Twitter reported first-quarter revenue of $548.3 million (down 8% annually) and adjusted EPS of $0.11 (down $0.04 annually), easily topping consensus analyst estimates of $511.9 million and $0.01. Given Twitter's recent sales trends and the fact that the company stopped providing quarterly sales guidance last fall, many analysts clearly feared the worst, and Twitter didn't deliver that.
Also going over well: Monthly active users (MAUs) rose by 3% sequentially and 6% annually to 328 million, beating a consensus of 321 million. Daily active users (DAUs) rose by 14% annually, an improvement from Q4's 11% growth and Q3's 7%. However, Twitter still isn't providing a DAU count.
Shares are up 8.9% as of the time of this article to $15.97. They're still down 68% from where they traded two years ago, and 38% from their $26 2013 IPO price.
It should be noted that a lot of Twitter's numbers are still far from cheery. Ad revenue, while better than expected, fell 11% annually to $474 million. International ad sales, a business for which per-user revenue has been fairly low, rose 1% to $190 million, but U.S. ad sales fell 17% to $284 million.
The company's data licensing and other sales were healthier, rising 17% to $74 million (13% of total revenue). But overall, Twitter still expects revenue growth to "meaningfully lag audience growth in 2017."
Facebook's (FB) - Get Report fourth-quarter ad revenue, for comparison, grew 53% annually to $8.6 billion. Alphabet's (GOOGL) - Get ReportGoogle saw Q4 ad revenue rise 17% to $22.4 billion, with 20% growth on Google's sites and apps.
Jim Cramer and the AAP team hold positions in Facebook and Alphabet for their Action Alerts PLUS Charitable Trust Portfolio. Want to be alerted before Cramer buys or sells FB or GOOGL? Learn more now.
And while Twitter's MAU growth is improving, it continues to trail what Facebook's platforms are delivering off of much larger bases. Facebook proper saw its MAUs rise 17% annually in Q4 to 1.86 billion. And Instagram announced today it has surpassed 700 million MAUs just four months after topping 600 million, and ten months after topping 500 million. That makes the nine million MAUs Twitter added over the last three months look paltry by comparison.
In Twitter's defense, some of the tweaks that the company has made to its core services do seem to be providing a moderate boost to usage and engagement. These include the "In Case You Missed It" feature, which relies on an algorithm to show interesting tweets from followed accounts published since the last time a user logged in, the striking of live streaming deals with a slew of major content providers and the creation of an "Explore" tab that shows trending topics and noteworthy Moments photo/video streams. The company's efforts to combat and filter out abusive tweets also could be helping.
Twitter mentioned in its shareholder letter that it had 45 million unique viewers for its live premium video content in Q1, up 31% sequentially. And CEO Jack Dorsey noted on the earnings call that 40% of DAUs visit the Explore tab, and that about 60% of these people return the next day. He also claimed Twitter is "seeing a significant decrease in people experiencing abuse on Twitter as measured by reports and blogs," but didn't give any numbers.
And as others have pointed out, President Donald Trump's Twitter account, along with interest in following those tweeting about what Trump is doing, seems to be providing a lift. CFO/COO Anthony Noto said there's "some evidence that [Twitter] benefited from our new and resurrected users following more news and political accounts in Q1, particularly in the U.S." Considering how many news and political sites have reported increases in traffic and/or subscribers since Trump's election, it's hard to doubt Noto's claim.
But for all the incremental positives, the limited MAU growth off a relatively small base shows that Twitter still has a ways to go when it comes to appealing to a broader base of consumers. Providing new users with compelling accounts to follow, making users with small follower counts feel as if their content is being read and giving users better options for filtering out repetitive and/or low-quality content are still major challenges. And the abuse issue hasn't exactly gone away.
On the advertising front, Twitter did indicate video ad sales continue to grow, and claimed its efforts to use machine learning to improve ad relevancy yielded a 12% increase in ad engagement rates. But its numbers didn't exactly put to rest concerns that its lack of scale and data relative to Facebook and Google limit how much big advertisers are willing to spend on it, or that the company is set to fix the poor performance of direct response products such as e-commerce and app install ads.
And when it comes to video, the fact that most videos shared on Twitter are shorter than one minute, and that a lot of them are user-uploaded clips that Twitter sensibly shows ad-free, restricts both how much video ad inventory Twitter can sell, and how often users are willing to watch Twitter video ads. At least outside of live professional video streams.
With shares trading at about 5 times a 2017 revenue consensus of $2.35 billion, Twitter still isn't especially cheap when valued based on its current growth rates. Even at current, depressed levels, an investment in the company is a bet that it will figure out how to better tap the unrealized potential of its very unique real-time news, communication and content-sharing platform over time. Or that a suitor believing it can help Twitter realize this potential will make a bid.
Investing on hopes of the latter outcome is of course very much a gamble. But the same might still hold for investing on hopes of the former scenario playing out, even if Twitter's latest numbers are a little more encouraging than the ones it shared for its prior two quarters.