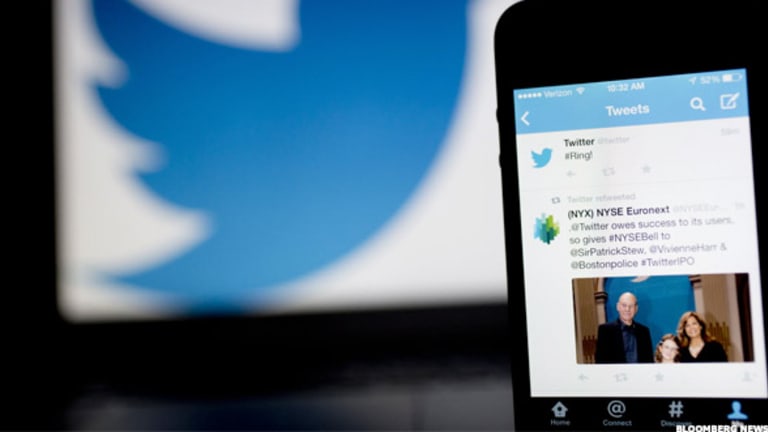 Twitter Isn't a Social Network, Co-Founder Explains
It's all about the news instead.
Twitter (TWTR) co-founder Biz Stone, who last month announced his return to the company, spoke about the future of the beleaguered social media platform at the Founders Forum in London on Thursday.
"I'm coming back to make everyone happy again," Stone said about his return to Twitter. "Finally we're doing what I said we should be doing." 
He explained how Twitter is a news company and not a tech company, and due to its location in Silicon Valley, it is commonly misunderstood.
"It's not a social network," Stone argued.
The co-founder also touched on President Donald Trump's impact and influence on Twitter, as the President has made the social media platform his preferred way of communicating with the nation online.
"Just as with any tool Twitter can be used for good or ill. Sometimes you just have to take it on the chin," Stone said. "Twitter isn't responsible for silencing something we disagree with or trying to be the arbiter of truth."

What's Hot on TheStreet
Beware Tesla fanboys: Tesla (TSLA) burning money, but shareholders are the likely ones to blister and feel the pain. The standard 90-day corporate equity lockup period for Tesla, following its $402.5 million stock sale of March 16, ends Thursday TheStreetreports. As a result, Tesla will be free to conduct another stock offering as soon as Thursday, which is a real possibility given the electric car company's debt situation, partly due to its Solar City investment, and need for additional cash. Any new issuance the company may seek would likely need to take place before July, which is when Tesla issues its quarterly report on car sales. Alternatively, an offering could come in late August after Tesla issues its quarterly financial report.
Shares could start to come under pressure.
Mining stocks get whipped: Global mining stocks found themselves in a hole Thursday TheStreetreports, after South Africa's government said that at least 30% of domestic mining assets should be black-owned even if previous black owners sell their stakes. South African-exposed mining companies fell sharply in the wake of the announcement. London-listed Anglo American plc (AAUKF) tumbled 4.4% to 1,013 pence ($23.87) a share, South32 Ltd fell 4% to 158 pence, BHP Billiton plc (BHP) was down 2% to 1,155 pence, Rio Tinto (RIO) fell 2% to 3,079 pence and Glencore plc (GLNCY) fell 2.6% to 279.2 pence. South African gold producers were hit even harder. Sibanye Gold Ltd. (SBGLF) plummeted 6.7% to 1,562 South African rand ($121.38) and AngloGold Ashanti Ltd. (AU) fell 4.8% to 14,015 rand.
Amazon eyes a new prize: Amazon (AMZN) may be preparing a deal to buy Slack Technologies in a deal that could value the messaging startup group at more than $9 billion, TheStreetpoints out. With Microsoft's (MSFT) deal for LinkedIn being well-received, this deal seems logical for an Amazon that is aggressively expanding into the cloud.
Worried about how to pay for your golden years? Ken Fisher, founder of Fisher Investments, and TheStreet's Jim Cramer will tell you what you need to know in a June 21 webinar on the market trends that are shaping retirement planning today. Register here for the event, which starts at 11 a.m. ET.