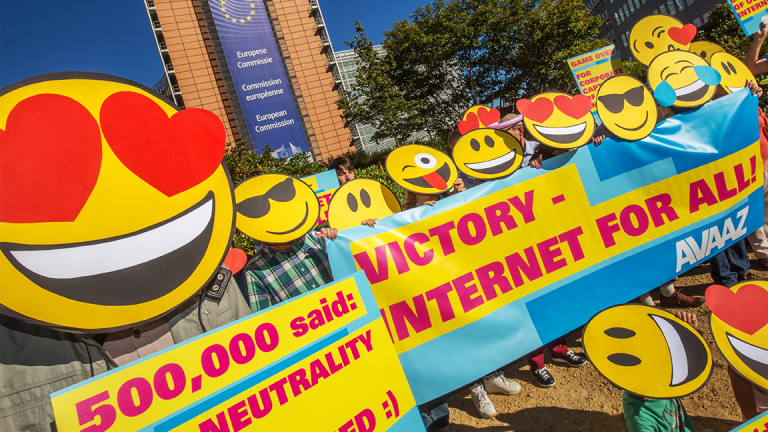 Facebook, Amazon, Other Tech Giants Denounce FCC's Net Neutrality Repeal
Many top tech leaders called the FCC's rollback of net neutrality 'extremely disappointing' and vowed to work with Congress.
As expected, Silicon Valley giants weren't pleased by the Federal Communications Commission's decision to roll back net neutrality. 
In a 3-2 vote, the FCC on Thursday approved a measure to eliminate net neutrality, an Obama-era rule passed in 2015 that classified internet access as a basic utility. The ruling will open the door for internet service providers to determine pricing and prioritize different types of internet traffic.
Opponents of net neutrality argue that the rules have reduced investment and innovation in broadband networks, while supporters say that net neutrality supports a free and open internet that allows smaller companies to compete with more established ones. Many consumer advocacy groups say they're preparing for a legal fight to push back against FCC Chairman Ajit Pai's Restoring Internet Freedom order. 
Pai defended his agency's decision to end net neutrality, saying that "Americans will still be able to access the websites they want to visit."
Big tech companies including Facebook Inc. (FB) - Get Facebook, Inc. Class A Report , Amazon.com Inc. (AMZN) - Get Amazon.com, Inc. Report and Twitter Inc. (TWTR) - Get Twitter, Inc. Report sounded off about the vote to repeal net neutrality on Thursday afternoon. Appropriately, Twitter said in a tweet that the decision to "gut" net neutrality serves as a "blow to innovation and free expression." The microblogging website added that it would continue fighting the FCC's decision. 
In a post to her Facebook, COO Sheryl Sandberg called the FCC's decision "disappointing and harmful" and said the social media juggernaut would work with Congress to help keep the internet free and open. Meanwhile, Amazon CTO Werner Vogels tweeted that he was "extremely disappointed" in the decision to eliminate net neutrality. 
Netflix Inc. (NFLX) - Get Netflix, Inc. (NFLX) Report said it was disappointed by the FCC's order in a tweet shortly after the decision was announced. 
Airbnb's head of policy, Chris Lehane, also denounced the FCC vote in a tweet, saying that a free and open internet is a critical part of an open society. "We will continue to speak out for net neutrality," he added. 
The Internet Association, a Washington, D.C.-based lobbying group that counts Alphabet Inc. (GOOGL) - Get Alphabet Inc. Class A Report , Facebook and Amazon as its members, called the FCC's decision bad for consumers and said it represents a departure from "more than a decade" of broad, bipartisan consensus on rules that govern the internet. 
"Let's remember why we have these rules in the first place," said Michael Beckerman, CEO of the Internet Association, in a statement. "There is little competition in the broadband service market - more than half of all Americans have no choice in their provider - so consumers will be forced to accept ISP interference in their online experience. This is in stark contrast to the websites and apps that make up Internet Association, where competition is a click away and switching costs are low." 
Beckerman added that the Internet Associaton is weighing its options in a lawsuit against the FCC order. 
Smaller tech firms like browser company Mozilla Corp., an outspoken advocate of net neutrality, called Pai's Restoring Internet Freedom order "internet-killing" and urged people to utilize the Congressional Review Act, which could reverse the FCC's actions. 
"It's time again to remind them that they need to protect us and net neutrality, not protect the big companies that want to control your internet," Mozilla added. 
Outside Silicon Valley, several big telcos took a decidedly different stance on the FCC's decision. In a statement, David Cohen, Comcast Corp.'s (CMCSA) - Get Comcast Corporation Class A Report senior executive vice president and chief diversity officer, said he commended Pai and the FCC for voting to return to a regulatory environment that would allow the internet to thrive. 
"Today's action does not mark the 'end of the internet as we know it,' rather it heralds in a new era of light regulation that will benefit consumers," Cohen said.
AT&T Inc. (T) - Get AT&T Inc. Report also applauded the FCC's vote to approve Pai's order. 
"We do not block websites, nor censor online content, nor throttle or degrade traffic based on the content, nor unfairly discriminate in our treatment of internet traffic," said Bob Quinn, AT&T senior executive vice president of external and legal affairs, in a statement. "...In short, the internet will continue to work tomorrow just as it always has." 
Alphabet, Facebook and Comcast are holdings in Jim Cramer's Action Alerts PLUS Charitable Trust Portfolio. Want to be alerted before Cramer buys or sells GOOGL, FB or CMCSA? Learn more now.
More of What's Trending on TheStreet: