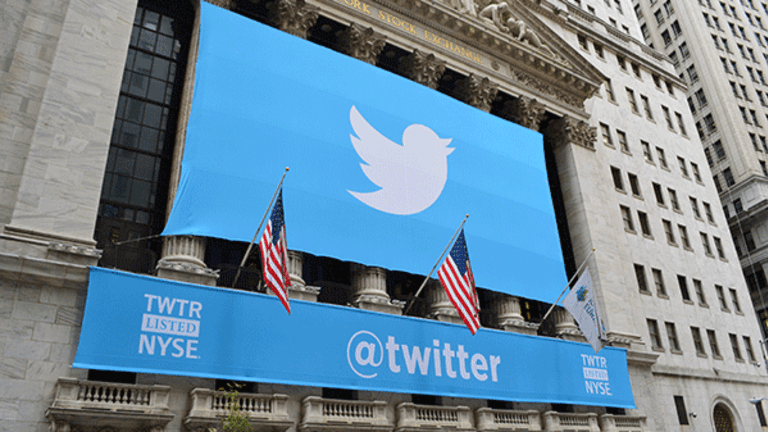 Twitter May Turn Out to Be a Tough Sell, Despite Apparent Interest from Many Suitors
The struggling social media network isn't likely to get as sweet a deal as LinkedIn did from Microsoft, according to one analyst.
The struggling social media network isn't likely to get as sweet a deal as LinkedIn did from Microsoft, according to one analyst.
Twitter (TWTR) - Get Report investors thinking they could get a bump comparable to LinkedIn's (LNKD) rise when it was acquired by Microsoft MSFT for a roughly 50% premium might do well to think again, according to Mizuho Securities analyst Neil Doshi.
"Some may point to LinkedIn as a comp, but LinkedIn has a larger member base that is growing faster, has deep moats around its core recruiting business, and has shown solid diversification into advertising and other businesses," Doshi wrote on Wednesday.
Even with the deal potential surrounding Twitter, the stock was down 72 cents, or 3.1%, to $23.00 on Wednesday afternoon after Mizuho downgraded the stock in a report that voiced skepticism about takeout scenarios.
And aside from disparities in Twitter and LinkedIn's user bases and business models, there is price. At Wednesday's open, Twitter traded at 23 times Mizuho's projected 2016 Ebitda, a bit of a premium to LinkedIn's sale at 20 times projected Ebitda.
"For a company where revenue growth is [a third] of what it was a year ago, and growing slower than many of its peers, we believe the stock is expensive at current levels," Doshi added.
Reported suitors Salesforce.com (CRM) - Get Report , Alphabet (GOOGL) - Get Report and AT&T (T) - Get Report could take interest, Doshi wrote, but might rankle shareholders by doing so.
Alphabet is a holding in Jim Cramer's Action Alerts PLUS Charitable Trust Portfolio. Want to be alerted before Cramer buys or sells GOOGL? Learn more now.
Salesforce.com Chief Digital Evangelist Vala Afshon helped spur speculation when he recently tweeted about Twitter's appeal.
Evercore analyst Kirk Materne tested shareholder interest in a Salesforce.com acquisition of Twitter during a survey over the weekend. "Not surprisingly the vast majority of investors surveyed (43% hedge fund / 43% long only / 14% other) are not in favor of [Salesforce] buying Twitter," he wrote.
Salesforce's purchase of social media marketing company Buddy Media "did not pan out well," Materne wrote, and it's not clear that Salesforce CEO Marc Benioff could solve the mystery of how to make money from Twitter.
Alphabet would make a good strategic fit, BTIG LLC analyst Rich Greenfield wrote Tuesday, but suggested that a deal could upset regulators in the U.S. and Europe. "A failed sale could have devastating consequences on Twitter's ability to both retain employees and quickly make critical improvements to the core product," he wrote.
Jack Dorsey has been on the board of reported Twitter suitorDisney (DIS) - Get Report since 2013. Buying Twitter would "instantly give Disney its own global mobile platform to distribute new and existing content," Greenfield wrote.
Acquiring Twitter at its $16 billion market cap would not fit with Disney's style of tuck-in acquisitions that the company can plug into its global entertainment, theme park and merchandise marketing machine, however. Twitter would cost about four times the $4 billion Disney paid for LucasFilm, as well as of the $4.3 billion price tag for Marvel Entertainment, for example.
Disney has been less successful with tech deals, Greenfield suggested. "Everything Disney touches technology-wise blows up, literally," the analyst wrote. "Remember Moviebeam? How about Club Penguin and Playdom?  Or how about Maker Studios, which management does not even want to talk about anymore?"
Microsoft would be a better match, and Mazuho's Doshi noted that the software group's search business gives it experience with online advertising. The company already has plenty on its plate, however, with the acqusition of LinkedIn. And like Alphabet, Microsoft could face regulatory resistance in the U.S. and Europe.
With respect to AT&T, Twitter could dovetail with the telecom's wireless and DirecTV lines and provide it with a mobile content distribution platform, Doshi suggested. However, the analyst questioned the cultural fit and the ability of AT&T to revive Twitter's growth.
Twitter did not immediately respond to a request for comment for this story, and Salesforce.com and AT&T declined to comment. Representatives of Alphabet, Microsoft and Disney could not immediately be reached.