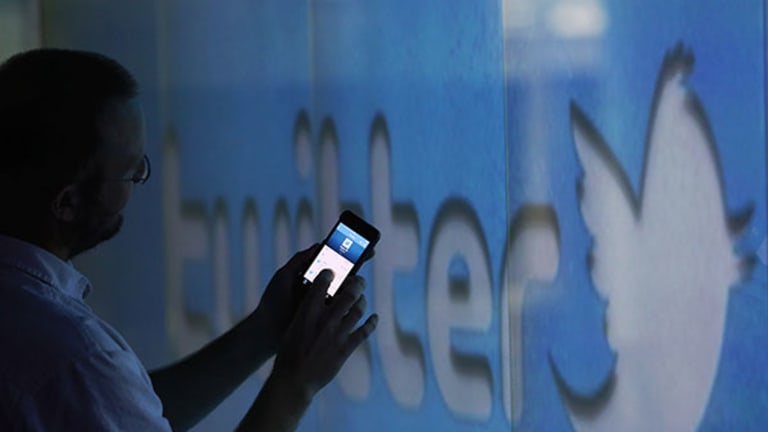 Twitter's New Longer Tweets Won't Solve Its Biggest Problem
The struggling social media company just can't seem to figure out how to attract new users.
Tweets on Twitter Inc. (TWTR)  may be about to double in size, but will the change have the same impact on the struggling social media site's user growth? 
According to analysts, it seems unlikely that an expanded 280-character limit would cause a flurry of new users to rush to the platform. That's bad news for Twitter, which has been plagued by the same, bleak story for years now: shrinking revenue, flattening user growth and a slew of uninspiring product updates. 
Late Tuesday, Twitter announced its latest update, which will double each tweet's word limit from 140 characters to 280 characters. The feature is currently being tested among a limited number of users (including CEO Jack Dorsey), but is likely to roll out to everyone else soon. 
Twitter said in a blog post that its user research found that a high percentage of English-speaking users were using the full 140-character limit and found the restriction frustrating. More specifically, about 9% of tweets in English hit the 140 character limit, the company noted. With the change, Twitter said it's hoping that people will feel compelled to tweet more often and for longer. 
"We're hoping fewer Tweets run into the character limit, which should make it easier for everyone to Tweet," the company wrote. "We understand since many of you have been Tweeting for years, there may be an emotional attachment to 140 characters -- we felt it, too. But we tried this, saw the power of what it will do, and fell in love with this new, still brief constraint." 

By raising the character limit, Twitter is probably hoping that people will be able to convey their thoughts better and thereby increase engagement, said Monness, Crespi, Hardt analyst James Cakmak. The move might attract "peripheral users" who didn't like the conciseness of Twitter, but Cakmak said that's the bull case assuming the word limit is as much of a problem as Twitter thinks it is.
More of What's Trending on TheStreet:
Editors' pick: Originally published Sept. 27.
"If this is seen as a core problem for Twitter, then it likely signals a bigger problem in itself," Cakmak said. "We believe Twitter is likely reaching a natural limit on MAUs, while hope remains in improving engagement." 
While the 280-character limit might get existing users to tweet more, it's unlikely to address investors' larger concern about Twitter's new user growth, which pales next to Facebook's, said Wedbush analyst Michael Pachter. The only way Twitter "works as a stock" is if it grows and can attract new users, Pachter said. 
Many users seemed just as unsatisfied with the 280-character limit as they have been with other recent Twitter updates. Pachter believes Twitter should have instead added a button to tweets that allows users to expand them and view the whole message, rather than elongating all tweets and potentially clogging up users' feeds. Facebook uses a similar feature to limit lengthy posts. 
In 2016, Dorsey reached out to users more directly to hear what changes they'd like to see on the service. Many called for an edit button, a bookmark tool and, perhaps most consistently, better tools for preventing harassment and bullying. Users have become increasingly frustrated by Twitter's slow-moving response to reported cases of harassment, with many saying that their reports went unnoticed when they notified Twitter directly.
"There's so many other things they could be doing to improve this service that they're not doing," Pachter said. "I don't think this is something that there was a huge cry [among users] for. There was a huge cry for editing tweets."
There's also something of an elephant in the room when discussing Twitter's harassment and abuse problem. President Donald Trump is a prolific Twitter user whose tweets can be rancorous, but the company has yet to block his account. Earlier this week, Twitter declined to take down a tweet from Trump saying North Korea's leaders "won't be around much longer" if they keep listening to Kim-Jong Un, who he referred to derisively as "Little Rocket Man."
Twitter's terms of service prohibit threats of violence against others, as well as targeted abuse and harassment, and some wondered why Trump's tweet didn't qualify. Twitter responded on its site that it also considers the newsworthiness of a tweet and whether it's of public interest when deciding what to allow.
Trump, who has 39.4 million followers, has been estimated to be worth as much as $2 billion to Twitter.
"They haven't done anything [about all this hate on Twitter]. It's not safe and I don't think they make it safe." Pachter noted. 
Ultimately, Twitter will have to make some serious changes in order to actually spur new user growth, Pachter said. So far, it doesn't seem that 280 characters will be enough. 
"I've never heard someone say that they're not on Twitter because of the 140-character limit," Pachter said. "So they still need to attract new users and that is not a function of new features as much as it is a function of marketing exactly what the service is and why you as a non-user can benefit from using the service."