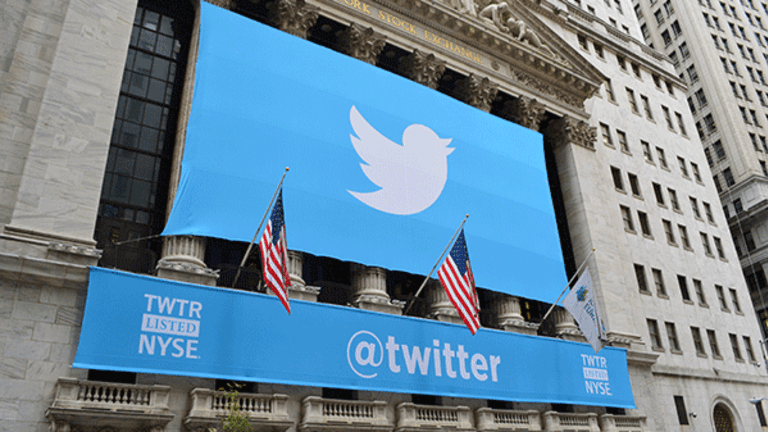 Twitter Gets Rocked and Top Exec Says He Can't Explain Why Zero New Users Were Added in Q2
Twitter lost two million MAUs in the U.S.
Jack Dorsey's struggling social media company, Twitter Inc.  (TWTR) - Get Free Report  , shocked investors in a bad way Thursday, July 27, by reporting zero new users for the latest quarter. 
Shares of the San Francisco-based company were sinking by 12% to $17.31 on Thursday morning. For the latest quarter, Twitter reported earnings of 12 cents a share, handily topping Wall Street's estimates of 5 cents. Revenue decreased by 5% year over year to $574 million, but also beat expectations of $536.7 million.
Twitter reported 328 million monthly active users (MAUs), the same as was reported in the previous quarter. In the U.S., Twitter's MAUs actually dropped by 2 million this past quarter. Analysts were expecting total MAUs to jump by 1 million to 329 million. Investors had been feeling hopeful about potential MAU additions because Twitter reported 9 million more MAUs than analysts were expecting in the previous quarter.
When asked about the disappointing MAU results, Chief Operating Officer Anthony Noto said on the earnings call, "We don't have data that would explain that." He then said that Twitter's best guess for the reason behind the lack of MAU growth is due to "exogenous factors," including fewer events that would draw in users to the platform. This is a bad sign for a company that said it has been concentrating on growing its user base, rather than growing revenue. 
"You have zero user growth vs. Facebook reporting 70 million new users," Aegis Capital internet analyst Victor Anthony said Thursday morning on CNBC. "It's not a recipe for a stock you want to buy."
Hot Tickers: Facebook, Twitter, Procter & Gamble, AstraZeneca
Twitter did emphasize that daily active users (DAUs) grew by 12% year over year, making this the third consecutive quarter of double-digit growth for the figure. However, the company didn't specify its number of DAUs, just that they were growing. Dorsey said the company is "strengthening our execution, which gives us confidence that our product improvements will continue to contribute to meaningful increases in daily active usage." 
Noto noted that the best way to adjust for seasonality is to look at year-over-year growth rates, which was 12% for DAUs and 5% for MAUs. 
On the conference call, analysts asked a number of questions about Twitter's live video strategy, which the company said was doing well. Twitter streamed 1,200 hours of live premium video over the past quarter vs. 900 hours in the previous quarter. In addition, the live video streams reached 55 million unique viewers, representing a 22% increase from the first quarter. 
Noto noted that Twitter will be adding a 24/7 sports channel called Stadium later in 2017, as well as a 24-hours news channel from Bloomberg. He also noted that it can compete in the video space because of the "uniqueness of Twitter" and how engaged its audience is on the platform. "We're building live off a position of strength," he said, adding that Twitter is encouraged by the content, audience, engagement, and number of advertisers coming to live video. 
When asked about exploring other revenue streams, Noto said, "We're leaving no stone unturned." 
Quiz:Who Did It First, Facebook Or Snapchat?
Are you following your favorite CEO on Twitter? 
Watch More with TheStreet: