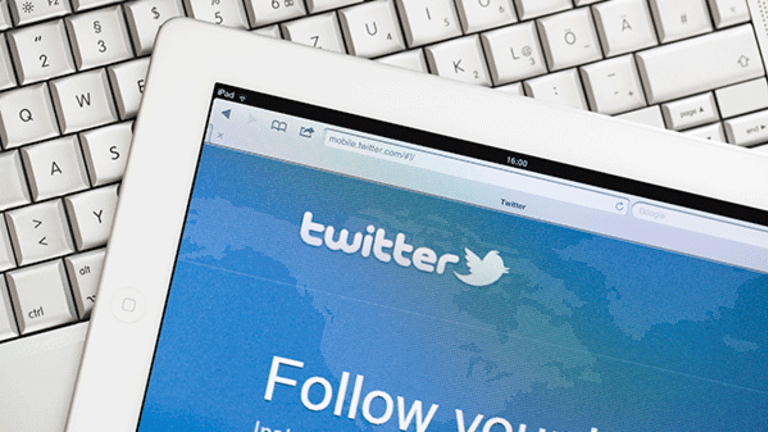 Twitter Is Too Valuable to Not Be Acquired by Disney
Twitter's improved algorithm is clearly working, BTIG analyst Richard Greenfield claims.
Takeover talks surrounding Twitter (TWTR) - Get Twitter Inc. Report  died down in late 2016 after Disney (DIS) - Get The Walt Disney Company Report , Salesforce.com (CRM) - Get Salesforce Inc. Report and other potential suitors lost interest in the struggling social media company, but BTIG analyst Richard Greenfield says that the improvements to Twitter's timeline make it an "inevitable" takeover target again. 
For more than a year, Twitter has been tweaking its timeline to prioritize the most relevant tweets for its users, according to a blog post from Twitter's engineers released earlier in May. Previously, when a user logged onto the platform they simply saw all the tweets they had missed in reverse-chronological order. Now Twitter uses an algorithm to determine which tweets would be the most interesting and engaging to each specific user. 
Greenfield said this new algorithm is leading to increased usage and engagement on Twitter and gives BTIG increased confidence in the company's future. In April, the company reported nine million additions daily active users (DAUs) for the first quarter of 2017. "A better consumer experience leads to a more valuable service that brings users back more often," he wrote in a note on Friday morning. 
It's not surprising that a number of investors think Twitter is close to joining Yahoo! (YHOO) , AOL (AOL) and MySpace in the tech graveyard, he admitted. But that's because Twitter had a tough 2016 with management changes, takeover speculation and slower growth that led to a drop in ad dollars. In 2017, Twitter's future is looking bright with DAUs up 14% in the 2017 first quarter.
Although some analysts suggest the growth in DAUs is mainly a result of Twitter spamming users with notifications, BTIG argues that Twitter has actually updated its notification system to only alert users to content that is specifically relevant to them. Once these users follow the notification to the platform they're spending more time on it because of the more relevant tweets that are showing up. 
As usage and engagement continues to improve, the ad dollars will start rolling in again after a few quarters, Greenfield claimed. In addition, Twitter's push into premium video content, such as a daily NFL-produced series in-season and a 24/7 news channel with Bloomberg, will also boost engagement. The firm is confident that "ad dollars follow eyeballs," he added. 
If Twitter can continue on this upward trend in both its core tweeting platform, as well as its news video streaming efforts, then it is "inevitable that it will be acquired by a larger media/tech company," Greenfield wrote. Scooping up Twitter would be fairly easy for a number of companies considering its enterprise value of just $11 billion, compared with $190 billion for Disney and over $400 billion for Facebook (FB) - Get Meta Platforms Inc. Report . The platform would also be extremely beneficial to a number of media companies that haven't yet figured out how to create mobile apps that are useful to people either daily or hourly, Greenfield said. 
The most logical Twitter acquirer is Disney  (DIS) - Get The Walt Disney Company Report , as Twitter is delving into sports streaming and has a number of sports reporters with large followings on its platform, while Disney's ESPN sports channel has been struggling, Greenfield wrote in a note earlier in May. The acquisition would be small for Disney and would give it an application to promote sports on mobile, as well as first-party data to improve its content, consumer products and theme park divisions. Diving into M&A is a better option for Disney than continuing to buy back stock to drive up earnings, he claimed. "We believe they have tremendous firepower to make a series of acquisitions over the coming 12 to 24 months," he wrote. 
Shares of Twitter dropped more than 20% in February after the company reported an earnings beat but revenue miss for the 2016 fourth quarter, leading investors to worry about its ability to make money. However, the stock recovered in April after topping estimates on the top and bottom line for the 2017 first quarter and reporting nine million new DAUs. Twitter's stock is now trading up over 11% YTD to $18.13 and BTIG has a $25 price target on it. 
While the company's user growth looks encouraging, some investors are not as confident that Twitter can reverse its declining revenue. "The problem with Twitter is while they have more users, they can't monetize," TheStreet's Jim Cramer said after Twitter's fourth-quarter results came out. "And it's not really their fault as much as you would think. There's just not a lot of ad dollars falling away from Facebook and (Alphabet's) Google (GOOGL) - Get Alphabet Inc. Report ."
Alphabet and Facebook are holdings in Jim Cramer's Action Alerts PLUS Charitable Trust Portfolio. Want to be alerted before Cramer buys or sells GOOGL or FB? Learn more now.
Read More Trending Articles:
Why Alibaba's Founder Jack Ma Thinks You Will Eventually Only Work Four Hours a Day
Now We Have an Idea When the iPhone 8 Will Launch, Thanks to Vacationing Apple Employees