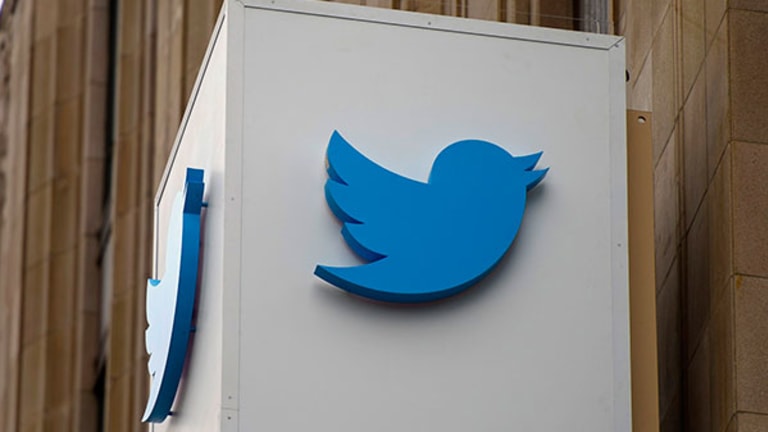 Twitter Is Shaking Things Up, but What Is It Exactly Accomplishing?
CEO Jack Dorsey isn't scared to revamp Twitter's management or features. But a lot of the issues that seem to be weighing on user and revenue growth remain in place.
CEO Jack Dorsey isn't scared to revamp Twitter's management or features. But a lot of the issues that seem to be weighing on user and revenue growth remain in place.
Twitter (TWTR) - Get Reportsales growth is set to fall into the single digits and its recent attempts to find a buyer have apparently gone nowhere. And its embattled CEO Jack Dorsey isn't squeamish about making a slew of changes.
But whether changes to the microblogging platform's management structure and core services will do much to boost user growth and engagement or ad revenue is far from clear.
As part of Twitter's latest C-suite shakeup, Adam Messinger, who has been CTO since 2013 and a company exec since 2011, is leaving the company. He'll effectively be replaced by Ed Ho, who has been Twitter's product chief since June, when consumer product chief Jeff Seibert was removed from the role.
Ho will now be in charge of all of Twitter's product and engineering efforts, and report to Dorsey. Keith Coleman, who just joined the company via Twitter's "acqui-hire" of mobile app startup Yes, will be the new product chief and report to Ho.
If all of this sounds confusing, that's because there's little that's neat and tidy about Twitter's multiyear executive merry-go-round. Messinger's departure follows Twitter's November announcement that COO Adam Bain, who was in charge of the company's ad sales, partnerships and business development teams (among other things), would be stepping down and replaced by CFO Anthony Noto. Noto will also remain CFO until Twitter finds a successor.
Twitter shares are down 4.5% as of the time of this article. They're down 26% in 2016, and 34% from their $26 November 2013 IPO price.
In addition to Messinger and Bain, notable 2016 Twitter departures include product chief Kevin Weil -- Twitter has had several product chiefs in recent years -- media chief Katie Stanton, HR chief Skip Schipper, engineering senior vice president Alex Roetter, business development chief Jana Messerschmidt and media and commerce chief Nathan Hubbard. Some of these departures were part of restructurings; some were purely voluntary.
Amid all this management turmoil, Dorsey has also been signing off a number of changes to Twitter's user interface and feature set. Some recent ones include:
Discontinuing the Vine six-second video platform in favor of solely supporting Twitter's core video platform (has a 140-second limit).
Changing the appearance of replies on Twitter feeds and profile pages.
Adjusting Twitter's "Top" tweet search results so that tweets are shown based on relevance (as a Twitter algorithm defines it) rather than in reverse chronological order.
Testing "Breaking News" mobile notifications for big stories.
Revamping Twitter's Moments platform so that users can create Moments photo/video streams for stories of their own choosing.
Providing users with new content-filtering tools to combat abuse and harassment, as well as giving users the ability to mute specific threads.
Tweaking the 140-character limit so that uploaded media doesn't count against the limit, and 140 characters can be used in replies quoting the tweet being responded to.
It's hard to object to most of these changes -- the merits of discontinuing Vine are debatable, but even here, there's a logic to having just one video platform to avoid overlap and confusion -- but it's also questionable whether they'll do much to lift monthly active user (MAU) growth that only amounted to 3% in the third quarter.
A lot of the issues that seem to have inhibited Twitter's user growth remain very much in place. Compared with
Facebook (FB) - Get Report
proper and Instagram's feeds, Twitter's tweet streams can look messy, bewildering, repetitive and PR-filled to social media users.
Users with few followers can struggle to get noticed, leading them to feel as if there's little value in sharing their thoughts. And while Twitter is doing a better job of handling abuse than it was a year ago, the problem is far from gone.
Facebook is a holding in Jim Cramer's Action Alerts PLUS Charitable Trust Portfolio. Want to be alerted before Cramer buys or sells FB? Learn more now.
Also: Outside of the aforementioned tweaks, there appears to be little willingness to rethink the 140-character limit, which is 20 characters smaller than the SMS character limit and can force users to get creative with their writing skills to express a two-sentence thought.
Re/code reported in January Twitter is working on a feature that supports longer tweets (up to 10,000 characters) whose full contents could be accessed by clicking/tapping on a 140-character post, but we haven't heard much about it since.
And given how many executive restructurings/departures there have been over the last two years, and how little impact they seem to have had on user and revenue growth (at least in a positive direction), one can't fault markets for being less than enthusiastic about the latest ones.
In the absence of a sale, Twitter is very much a show-me story right now.