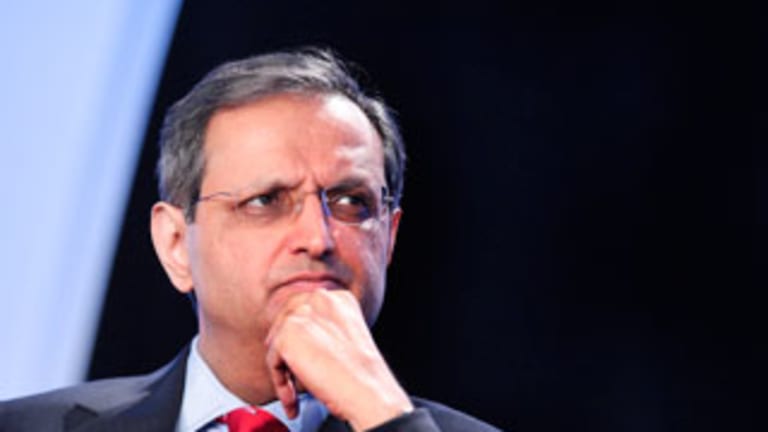 Twitter Erupts With Citigroup Conspiracies
On Twitter conspiracy theories mount on Vikram Pandit's sudden departure from Citigroup.
NEW YORK (
) -- In a shocker Tuesday morning announcement on Wall Street,
Citigroup
(C) - Get Report
that Vikram Pandit has resigned from his position as chief executive of the bank after five years at the helm and just a day after it reported
third quarter earnings.
The news came as a surprise to investors and the financial press as a whole. Citigroup - the nation's third largest lender - gave no hints in its Monday earnings release that a management change was underway and Pandit made no mention of it on the bank's call with analysts.
In the wake of Pandit's sudden resignation investors and financial sector insiders took to
Twitter
to air theories on the ex-CEO's sudden departure.
Of particular note, some insiders highlighted that the bank faces big legal risks tied to mortgage securities it sold to government housing agencies Fannie Mae and Freddie Mac during the housing boom. Meanwhile the bank also faces allegations it was involved in the manipulation of global interest rates, an ongoing legal probe Pandit mentioned only in passing on the company's third quarter analyst call.
Could Pandit's resignation be tied to Citigroup's stack of post-crisis legal probes and investor lawsuits?
What Do Banks Do With a Generation That Doesn't Bank?>>
"Look Pandit's gone because he will take the fall for cooking the books when this
expletive gets real.
End of story!!," Chris Canham, a FX trader and fund manager at Baystone Capital, wrote on Twitter. "
It's called taking one for the team," Canham added moments later.
Peter Tchir, a former credit derivatives trader with Royal Bank of Scotland and Deutsche Bank and founder of financial consultancy TF Market Advisors highlighted a probe into Citigroup's involvement in the alleged manipulation of benchmark interest rates like
LIBOR
, the London Interbank Offered Rate. Tchir linked to a July
showing irregularities in Citigroup's published rates during the heat of the financial crisis and wrote, "an old one but 2 CEO's now gone," referring to Pandit and Bob Diamond of Barclays.
In early July, Diamond of Barclays resigned after the bank paid nearly $500 million in fines to global regulators on its involvement in manipulating interest rates.
"Did Libor play a role in Pandit's exit?" wrote Financial Times journalist Duncan Robinson, on Twitter.
Some were less aggressive in drawing the connection between Pandit's resignation and any of Citigroup's pending legal risks.
The bank made no indication in a
that Pandit left other than on his own volition.
Christopher Whelan of Tangent Capital Partners questioned the timing of the announcement, following Citigroup's third quarter earnings. "You don't leave voluntarily at the end of the Third Quarter, especially at a bank...," wrote Whelan on Twitter. In a
Bloomberg TV
interview, Whelan added that because Citigroup will spend the next months finaliing its 2012 full-year earnings, certifying the bank's earnings will likely fall onto chief financial officer John Gerspach over incoming CEO Michael Corbat - the former head of the Citigroup's Europe, Middle East and Africa operations.
Meanwhile, others saw reason to view Pandit's resignation in light of Citigroup's poor performance during and after the crisis. Barry Ritholtz founder of equity research firm Fusion IQ wrote, "The question we should be asking: IS CITI TECHNICALLY INSOLVENT? SINCE 2007, HAVE THEY EVER NOT BEEN?"
Pandit's resignation gave some reason to highlight a general sea change on Wall Street, as bank's change leadership in the wake of the crisis.
Max Abelson of
Bloomberg Businessweek
pointed out that of the major investment banks that made it through the crisis only Jamie Dimon of
JPMorgan
(JPM) - Get Report
and Lloyd Blankfein of
Goldman Sachs
(GS) - Get Report
now remain at the helm of their respective banks. Notably, earlier in the fall, Goldman Sachs chief financial officer David Viniar said he will resign at the end of the year to join the company's board full time.
5 Big Trades From the Financial Sector>>
David Benoit of the
Wall Street Journal
pointed out that amid a Tuesday morning shocker on Pandit's resignation, few paid attention to
earnings from Goldman Sachs announced moments prior to Citigroup's release.
"Maybe Vikram Pandit just wanted to stick it to Goldman, who reported earnings no one is paying attention to?" wrote Benoit on Twitter.
Interested in more on Citigroup? See TheStreet Ratings' report card for this stock.
Follow @agara2004
-- Written by Antoine Gara in New York