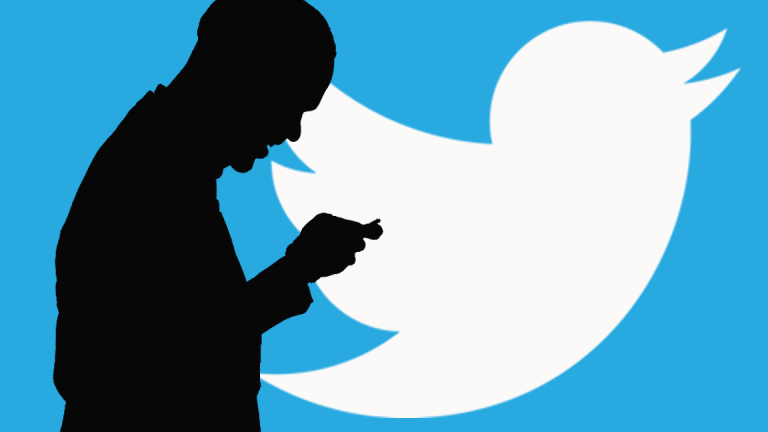 Twitter's Earnings Beat Is a Little Less Impressive Than It First Looks
Job cuts and better ad execution helped Twitter beat estimates. But user growth was disappointing given recent changes.
New CFO Ned Segal and departing COO Anthony Noto can take a bow following Twitter's (TWTR) - Get Twitter, Inc. Report sales and EPS beats, which have led shares to rise about 12% on Thursday. Though no one will confuse the microblogging platform's fourth-quarter performance with that of Facebook's (FB) - Get Facebook, Inc. Class A Report , financial discipline and improved ad execution did yield a payoff.
CEO Jack Dorsey and Twitter's consumer product teams might want to hold off on celebrating, however. In spite of a character limit expansion that was mostly well-received, Twitter's closely-watched user growth actually looks weaker than it did three months ago, when its stock was still in the teens.
Twitter reported Q4 revenue of $731.6 million and adjusted EPS of $0.19, topping consensus analyst estimates of $686.1 million and $0.14. This was the fourth straight quarter during which Twitter beat estimates; analysts have often been conservative with their estimates since the company stopped giving quarterly sales guidance.
Still, with an assist from favorable comps, Twitter did see revenue growth swing from a 4% Q3 decline to a 2% Q4 increase. Ad revenue, which was down 8% in Q3, grew 1% annually in seasonally strong Q4 to $644 million, and was up 8% if one backs out $40 million in year-ago revenue from Twitter's shuttered TellApart e-commerce ad business. Data licensing & other revenue grew 10% to $87 million, after having grown 22% in Q3.
Shares opened up over 25% following the news -- short-covering appears to have helped -- but gradually pared their gains. In addition to a market selloff, a downgrade to Sell from Pivotal Research's Brian Weiser, who thinks Twitter's post-earnings gains are excessive, could be pressuring shares a bit. Twitter is still up close to 100% from August levels.

Though Twitter beat revenue and earnings estimates, its monthly active user growth was light.
U.S. ad revenue, pressured by stagnant revenue growth and stiff competition from Facebook, fell 8% to $342 million. But international ad revenue grew 18% to $302 million, as Twitter continued making progress in narrowing the gap between U.S. and international user monetization. As is the case for Snap (SNAP) - Get Snap, Inc. Class A Report , growing sales of video ad products that are seeing average prices steadily drop is providing a lift.
Twitter's ad engagements rose 75% annually, offsetting a 42% drop in cost per engagement (average ad price). Ad engagements also benefited from rising click-through rates (CTRs); Twitter's efforts to use both its own and third-party data to improve ad targeting seem to be helping. There are also anecdotal reports of Twitter's sometimes-rocky relationships with advertisers improving.
And with Facebook having reported its average ad price rose 43% in Q4 (partly thanks to limited supply growth), some social media advertisers could be more willing to spend on Snap and Twitter, even if those platforms can't match Facebook's scale and targeting abilities.
Meanwhile, six months after naming former Intuit and Goldman Sachs exec Ned Segal as its CFO, Twitter's costs and expenses fell 28% on a GAAP basis to $621 million, and 14% on a non-GAAP basis to $511 million. On an adjusted basis, Twitter's cost of revenue fell 14% to $207.3 million, its R&D spend fell 26% to $77.2 million, and its sales/marketing spend fell 12% to $162 million. G&A expenses roughly held steady at $64.4 million.
But for all its top-line and bottom-line improvements, Twitter's Q4 monthly active users (MAU) only totaled 330 million -- flat sequentially, up a modest 4% annually and below a 333 million consensus estimate. In the U.S., which still accounts for over half of Twitter's revenue, MAUs actually fell by 1 million sequentially to 68 million.
Twitter did note that Q4 is a seasonally weak quarter for MAU growth, and that changes to Apple's (AAPL) - Get Apple Inc. (AAPL) Report Safari browser that restrict support for third-parties hurt its MAU count by 2 million. It also claimed "information quality efforts" meant to weed out malicious and fake accounts had an impact. Those efforts could have a larger still impact on Q1 MAUs, given Twitter's recent efforts (following a harsh exposé on the matter) to shut down bot accounts tied to services that sell fake followers.
What is the best social media stock? TheStreet's Executive Editor Brian Sozzi discusses.
Regardless of how it's spun, MAU growth remains pretty anemic for a platform that has about 60% fewer MAUs than Instagram, and about 85% fewer than Facebook proper. Daily active user (DAU) growth is a little better. But Q4's 12% annual growth was a little worse than Q3's 14%, and Twitter still declines to share its actual DAU count. The FactSet consensus estimate for DAUs is at 165 million, or less than one-third as many as Instagram.
User growth was soft even though Twitter rolled out its 280-character limit (a doubling of the old 140-character limit) to all users in early November; since the change, third-party research has indicated users are more likely to engage with tweets containing over 140 characters than with shorter tweets. Dorsey suggested as much on Twitter's earnings call, albeit adding that Twitter hasn't seen its average tweet length increase.
In spite of the character limit change and other recent improvements -- examples include a revamped Explore tab, efforts to crack down on abuse and attempts to use machine learning to surface tweets a user might want to see -- Twitter still hasn't cracked the code for appealing to a larger base of U.S. or international consumers. A lot of the platform's shortcomings in areas such as discovering interesting accounts, making regular users feel as if their content is being noticed (not a problem for Facebook and Instagram) and keeping Timelines from feeling as if they're filled with a mixture of snark and self-promotion haven't gone away.
It's also worth noting that as Facebook -- perhaps in the name of its own long-term interests as much as anyone else's -- engages in soul-searching about its impact on user well-being and changes its news feed algorithm to address the issue, Twitter doesn't seem to be doing anything similar. That's the case even though Mark Zuckerberg's rationale for making the changes involves an issue that's arguably a larger problem for Twitter, where users interact relatively little with friends and family, than for Facebook. Namely, that while interactions with friends and family on a social platform can enhance feelings of well-being, "passive consumption" of social content can harm user well-being and contribute to an atmosphere of political divisiveness and misinformation.
Until Twitter gets a better handle on those kinds of big-picture issues with its service, user growth will likely remain modest. And that, when paired with ongoing competitive pressure from Facebook and Alphabet/Google's (GOOGL) - Get Alphabet Inc. Class A Report ad businesses, could keep a lid on just how much progress Twitter sees for its turnaround efforts.
Jim Cramer and the AAP team hold positions in Facebook, Apple and Alphabet for their Action Alerts PLUS Charitable Trust Portfolio. Want to be alerted before Cramer buys or sells FB, AAPL or GOOGL? Learn more now.