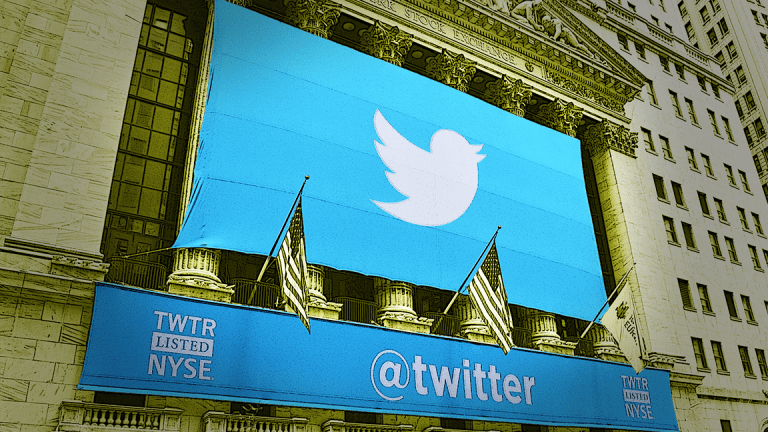 Is Twitter Back on the Block? If So, Here's Who Might Be Interested
A meeting between Twitter CEO Jack Dorsey and Goldman Sachs CEO Lloyd Blankfein has some wondering whether the struggling social media platform could get acquired soon.
A meeting between Twitter CEO Jack Dorsey and Goldman Sachs CEO Lloyd Blankfein has some wondering whether the struggling social media platform could get acquired soon.
Let the speculation about who might acquire the struggling Twitter Inc. (TWTR) - Get Report begin again.
On Thursday, Goldman Sachs Group Inc. (GS) - Get Report CEO Lloyd Blankfein tweeted a photo of him with Twitter CEO Jack Dorsey, prompting speculation of renewed deal talks that sent shares of the microblogging platform surging more than 7% in afternoon trading. The stock closed at $22.58 a share on Thursday -- the highest level it has reached in more than a year (on Friday afternoon, shares of Twitter fell 1.6% to $22.22). 
Editor's note: This article was originally published by The Deal, a sister publication of TheStreet that offers sophisticated insight and analysis on all types of deals, from inception to integration. Click here for a free trial.
In the fall of 2016, Twitter was reportedly courting suitors from Silicon Valley and beyond, with Walt Disney Co. (DIS) - Get Report , Alphabet Inc. (GOOGL) - Get Report , Apple Inc. (AAPL) - Get Report and Salesforce.com Inc. (CRM) - Get Report all said to be interested. At the time, it was reported that Twitter had hired advisers from Goldman and investment bank Allen & Co. LLC to consider potential offers. 
Traders consequently saw the meeting between Blankfein and Dorsey as an indicator that deal talks might be back on the table. Possibly adding to the excitement was the fact that the photo was posted on the same day that Disney announced that it would purchase most of Twenty-First Century Fox Inc.'s (FOXA) assets in a monster $52.4 billion acquisition. 
But Twitter spokeswoman Brielle Villablanca told TheStreet on Friday that Blankfein's visit to Twitter's San Francisco office was simply part of an ongoing Q&A series for employees with well-known users. "Lloyd Blankfein was in the office this week to speak to Twitter employees about leadership and his use of Twitter," Villablanca said. The Goldman CEO started tweeting in June and has amassed about 75,000 followers.  
Nevertheless, speculation continues to abound about whether Twitter could be on the block again. 
Wall Street has become freshly optimistic about Twitter's prospects after the company posted a rare earnings beat in the fiscal third quarter and said it will "likely" be profitable in Q4 on a GAAP basis. The positive results were the shot in the arm that Twitter's stock needed -- shares have surged 39% year to date and 22% in October alone. 
Twitter's most recent quarter also showed a modestly growing user base, which seems to indicate the company is turning things around. Despite this, the company still struggles to show that it can effectively monetize the Twitter platform, which is a major roadblock that it must figure out how to navigate in order to prove that its growth story is sustainable. 
"It's an incredible platform, but i'm not paying for it [now]," said Tigress Financial CIO Ivan Feinseth. "The majority of people use Twitter for free. But if they charged users $1 per month to use the service, it would be about $400 million a month and that's $5 billion a year. It would be of very little additional cost to users." 
Those underlying concerns about Twitter's underlying business could be what stands in the way of it becoming a takeover target again, he added. 
That said, if Twitter reports another strong quarter and its stock price continues to surge, it may become less desirable to potential acquirers who hope to buy Twitter at a discount. 
"If they have another great quarter [and] pop into the $20 [per share range], that makes them more expensive," Feinseth explained. "Some buyers think it's smarter to buy at a low and then fix or change the business." 
Should Twitter become a takeover target again, Feinseth believes Salesforce would be the best fit. The enterprise software and cloud computing giant missed its chance to make a splash in the social media market when Microsoft Inc. (MSFT) - Get Report outbid it to buy career-focused social networking site LinkedIn for $26 billion in 2016. 
Buying Twitter would help make up for that loss, and the Twitter platform would fit well into many of Salesforce's products, such as its instant messaging and social networking app Chatter. 
Ultimately, Feinseth thinks Twitter could command a $20 billion price tag if Salesforce or any other tech giant became serious about pursuing a deal. Twitter's current market cap stands at $16.6 billion.
"I would say once one company is interested, that could start further interest," Feinseth noted. "It would be a bigger acquisition for Salesforce, but for Alphabet Inc. (GOOGL) - Get Report or Microsoft, it would not be significant at all."
Apple,Alphabet and Microsoft are holdings in Jim Cramer'sAction Alerts PLUS Charitable Trust Portfolio. Want to be alerted before Cramer buys or sellsAAPL, GOOGL or MSFT? Learn more now.
More of What's Trending on TheStreet: