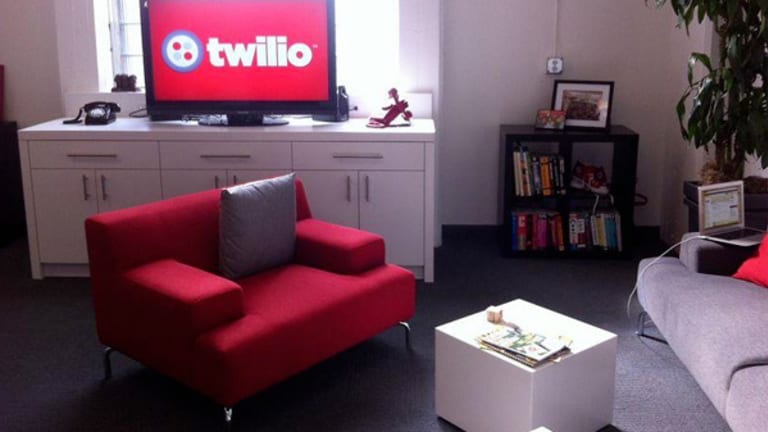 Twilio Led a Meager IPO Market in 2016, but Snap and Spotify Could Change Things Next Year
Software company IPOs performed much better than they did last year, but tech's wider IPO drought continued in 2016.
Led by cloud communications company Twilio (TWLO) - Get Report , the software IPO class of 2016 handily topped last year's group. But despite the performance of some market newcomers, the tech IPO drought continues and the list of private company "unicorns" with high valuations mounts.
This year's software public offerings scored an average unweighted return of 35% for the year through Dec. 15, compared to an average of 7% for the 2015 group, according to RBC Capital Markets. RBC analyst Matt Hedberg suggested in an email that the quality of the companies going public was higher than last year, and that the offerings were priced appropriately.
This year's top performer was Twilio, which posted a 98% gain from its IPO price of $15 and was the sole company on RBC's list to go public on the New York Stock Exchange. Backers Bessemer Venture Partners, Union Square Ventures and Fidelity Investments LLC took the company public in June.
Next were cloud computing company Nutanix (NTNX) - Get Report with a 79% gain, emergency communications outfit Everbridge (EVBG) - Get Report with a 59% increase, and expenditure-management software developer Coupa Software (COUP) - Get Report , which is up 46% since its market debut.
Gridsum Holdings (GSUM) - Get Report , a Beijing data analysis software developer, was down 1% through Dec. 15. The stock amplified the losses on Monday, however, dropping 6.5%. On Tuesday, it was down another 2%.
Secureworx (SCWX) - Get Report , which Dell spun out April, was the biggest loser on RBC's list, recording a 24% drop between its April 2016 IPO and mid-December.
While some software companies did well, the overall IPO market had the lowest number of offerings since 2009, with 105, and the lowest cumulative proceeds since 2003, with $18.8 billion, according to Renaissance Capital.
Overall, technology IPOs showed an average return of 40%, Renaissance Capital reported, the highest of any sector. However, fewer tech companies went public than in any year from 2012 to 2015.
Renaissance Capital attributed the shortcoming to the high valuations of private tech companies, in a Dec. 16 report.
"It is our long-held opinion that the primary reason for the lack of tech IPOs is the public-private disconnect on valuation, a tension that can only be remedied by VCs caving in to their growing urgency to sell aging vintages in their portfolios, or by time as companies grow enough to justify their lofty private valuations," Renaissance Capital wrote. "With high-growth recent tech IPOs like Twilio and Nutanix trading very strongly, we believe that tech IPO activity will pick up significantly in 2017 and 2018, breaking the long IPO Recession of 2015-16."
Two candidates to break the drought include Snap, which filed confidential papers for an IPO last month, and Spotify. Snap alone could raise $4 billion, Renaissance Capital noted, setting a valuation at $25 billion.
"The two alone stand to raise more capital than all VC-backed tech IPOs in the last two years combined," the IPO tracking firm stated.
Snap and Spotify did not immediately respond to queries about the potential for an IPO.