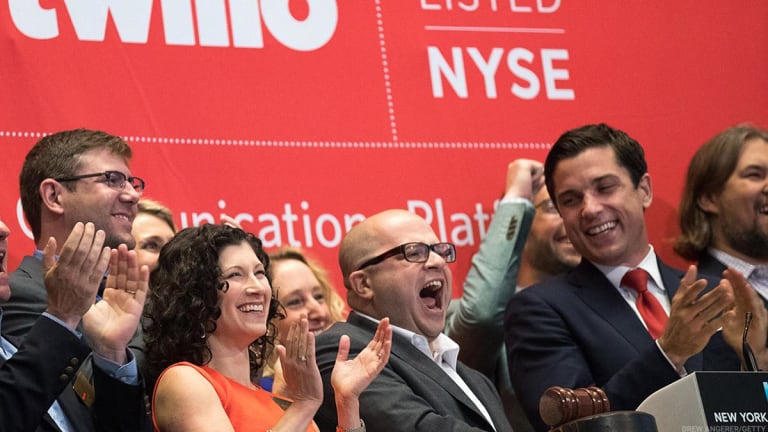 Twilio CFO Tells TheStreet: 'We Are in Very Rare Company'
Twilio's stock has more than tripled in the past year, and CFO Khozema Shipchandler says the cloud software vendor is continuing to invest for growth.
"We are in very rare company in terms of what we're doing here," says Twilio (TWLO) - Get Twilio Inc. Class A Report CFO Khozema Shipchandler, when asked if his stock, which has more than tripled in the past year, is a good buy. 
Shipchandler talked with TheStreet on Tuesday evening following the cloud computing software vendor's beat-and-raise first-quarter report, marked by robust growth and a better-than-expected outlook.
Despite the performance, the stock was weak on Wednesday, declining by almost 6% to $129.24, reversing the previous night's gains. After Twilio's recent appreciation, the dip likely reflects some profit-taking.
Shipchandler was initially reluctant to make any comment at all about the shares, but when pressed, responded "there are very few companies growing at these rates, at this scale, so, I think it's a decision for investors to make."
As for the main message Shipchandler, who joined the company last fall from General Electric (GE) - Get General Electric Company Report wanted to bring to investors, he said simply that "it was another quarter of continued strong growth."
"We had a pretty good run here over the course of 2018," Shipchandler added. "Q1 of 2019 validates that we are in early stages of a long game; we are investing for growth and seeing really good outcomes."
To recap, the company's quarterly revenue rose over 80% to $233 million, yielding EPS of 5 cents a share, excluding some costs, topping consensus estimates for $223.5 million and 4 cents. 
For the current quarter, the company sees revenue in a range of $262 million to $265 million, and EPS of 2 cents to 3 cents, again, ahead of analysts' estimates for, on average, $253 million and 2 cents per share. 
The year's outlook has been raised to a range between $1.1 billion to $1.11 billion, up from a prior range of $1.065 billion to $1.077 billion, and ahead of consensus estimates for $1.07 billion. All of that additional revenue is coming from organic growth at Twilio, not from the addition of email platform SendGrid, whose acquisition Twilio completed a month ago.
Twilio's market is what it refers to as the "engagement cloud," a kind of remodeling of front-office tasks such as sales and customer support. Its cloud computing platform allows developers to quickly string together communications channels such as telephone and text and now, with the addition of SendGrid, email. The company is also moving into the more ambitious, larger-scale area of supplying contact centers via a product called Flex.
I asked how the company can remain nimble given as it crosses the threshold of $1 billion in revenue this year. 
"The way we look at it is, we will continue reinvesting for growth," he replied. "We are at really the early innings of a really large TAM [total addressable market], with a multi-year opportunity to invest."
The goal, he said, of those investments is "to continue to retain the size of the results we've been able to retain historically."
At the same time, Shipchandler said the company is "very focused" on how to speed up its "go to market" approach, and that it is "putting a heck of a lot of investment in more traditional G&A, and making pretty substantial investments in things like systems" to handle the volume of business. He noted, for example, merging the back-office technology used for Twilio with that of SendGrid, for a common infrastructure. 
Asked if Twilio would ever enter that back-office market itself for tasks such as human resources or other "enterprise resource planning (ERP)" functions, Shipchandler demurred. "I think we have our hands full right now," he said. "We just launched Flex as a general availability product, so there's a lot going on.
"Never say never, but it's pretty far from here and the world of ERP, and we already see great growth off of the platforms that we have; Flex will allow us to expand pretty considerably."
As for acquisitions, Shipchandler brushed aside suggestions that tech valuations are rich. "I think in general with M&A, we will do it opportunistically -- if it's a good fit, and there's good technology.
"There are not a lot of assets out there that really fit those characteristics," he continued. "It's less about whether it's under- or over- or fairly valued, and more about if we can get something that accelerates our roadmap."
Shipchandler also commented on Twilio's unusual practice of removing clients' shoes when they visit its San Francisco offices, and putting those shoes on display around its offices. 
"The gist of it is, on a lot of the support structures and walls, we have pairs of shoes that we literally removed from the feet of our customers; we walk in our customers' shoes," he told me. "They are the ones who guide us in terms of how we innovate."
But what, I asked, if a customer shows up with a pair of $570 alligator-skin brogues? "In my experience, it's mostly sneakers they come in wearing," Shipchandler said.
Tiernan Ray neither trades nor owns any shares of any of the companies mentioned in this article.