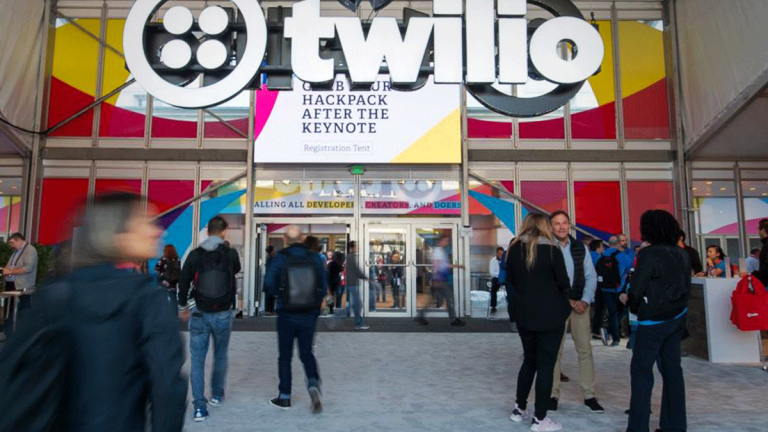 Twilio CFO: SendGrid Acquisition Only Beginning to Take Hold
Twilio's CFO Khozema Shipchandler described the company's revenue growth last quarter as broad-based.
Twilio (TWLO) is charging ahead with its growth trajectory, according to its CFO. 
On Wednesday, the cloud communications firm posted revenue of $275 million, topping a $264 million consensus and yielding earnings of 3 cents per share. The revenue figure represents 86% growth year-over-year and 18% sequentially. 
Shares were down 1.6% in after-hours trading as investors digested the results; heading into earnings, Twilio's stock had risen 55% year to date. 
In an interview with TheStreet, Twilio's CFO Khozema Shipchandler was upbeat about the company's outlook, saying that the growth in revenue is broad-based across its organic holdings in addition to SendGrid, which it acquired in October 2018 for $2 billion in stock. 
Last quarter was the first full quarter since the deal closed, and SendGrid adds email API capability to Twilio's portfolio, which was otherwise centered around calling, SMS and videoconferencing products for customer service use. 
"Its very early; we've only owned the company for five months. Opportunities to cross-sell and things of that nature are just now starting to take hold," said Shipchandler. "We're just now seeing what we can do from a SendGrid perspective." 
Shipchandler also pointed to Twilio's continuous move away from a handful of big customers as a disproportionate source of revenue. The percentage of revenue concentrated in "top 10" customers -- a common critique of the stock -- has been gradually dropping, with Twilio reporting 161,869 active customer accounts for the quarter as opposed to 57,350 at this time last year. 
Investors can expect to see more growth from the cloud communications firm in the quarters, he added. On Wednesday, the company said that it's exceeded a $1 billion annualized run rate, and pointed out a number of product developments, such as an Internet of Things-focused product called Trust Onboard, that will bear fruit down the road.  
"There are few companies that are growing at this rate, at this scale," Shipchandler said. 
Save 76% with our Summer Break Sale. Subscribe to our premium site Real Money and become a smarter investor! Click here today to sign up!
Twilio is a key holding in Jim Cramer's Action Alerts PLUS charitable trust.